Beating the housing shortage: one home, three generations
More than 500,000 households now contain children, parents and grandparents – and the figure is set to soar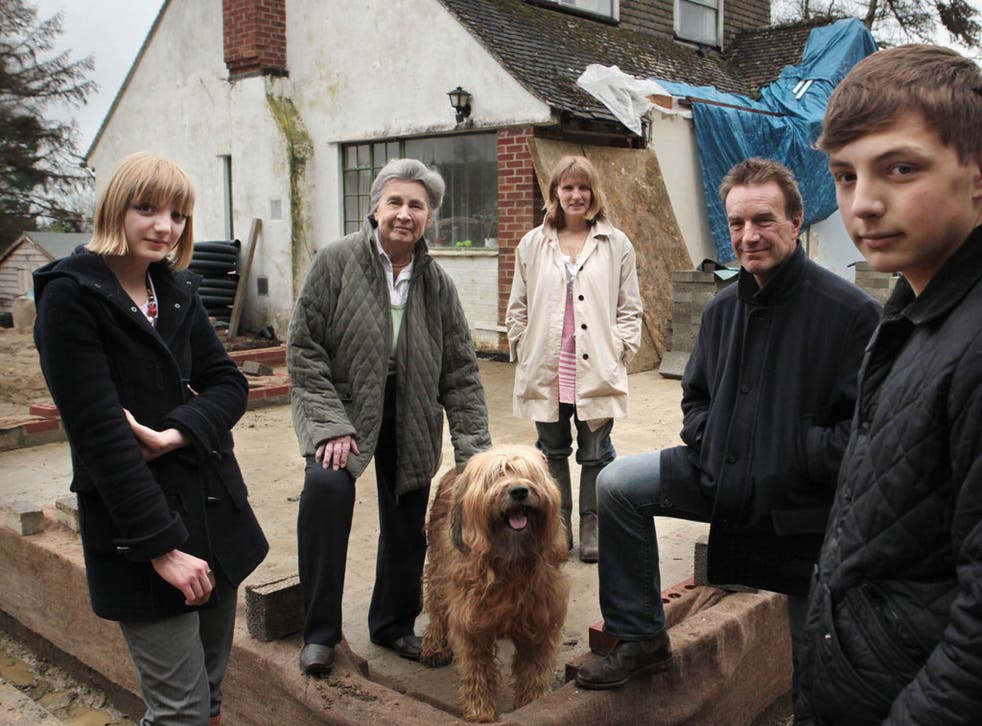 They are the generation that thought their children would grow up and fly the nest. Now they're doing up the spare room; extending the house and inviting their offspring into their retirement homes, as the trend towards multigenerational living takes hold in the UK.
Growing numbers of young families are forgoing the dream of climbing the property ladder and are returning to their parents to pool costs and responsibilities. The housing shortage, the rising cost of childcare and an ageing population are all contributing to the figures, which are at their highest in four decades.
More than 500,000 households now contain three generations. That figure is expected to reach 556,000 by 2019, according to the Intergenerational Foundation think tank. There has been a 30 per cent increase in the number of multigenerational households in the past decade, according to figures from the Office for National Statistics (ONS).
Clare Gallagher, 25, a publicist, is one such statistic. She swapped her rented flat for her fiancé's grandparents' house in north London. "The main reason was financial," she said. "We are lucky that they have a big house... and the mortgage is already paid. It means we get to save money, our three-year-old son gets to spend much more time with his great-grandparents, while we help them with their bills."
In embracing a return to an extended family culture, Britain is moving closer to southern European countries, where the recession has driven it further and faster. Unlike Britain, where a social stigma is still pinned to those moving back in with their parents, in Spain and Italy there is no such shame.
The phenomenon is such that major brands are specifically targeting the extended family unit. Ikea, the Swedish furniture giant, recently ran television commercials in Spain with the slogan: "If two [generations] fit in, three will too." One ad featured a middle-aged man who tells his father he has been laid off and asks if he can move home with his wife and children. Instead of a hostile response, the three generations celebrate together as they plan how to renovate the house.
Daniel Plant, strategy director for Ikea at the media agency Vizeum, said: "In Britain, it is happening through the force of financial circumstances." He believes the fact that a lack of affordable housing, the rising cost of childcare and other factors are affecting everyone means that moving in with parents or in-laws is losing its stigma.
The move comes as a welcome solution to Britain's acute housing shortage and has benefited the beleaguered construction industry. Loft and basement conversions and home extensions are among the few areas that have witnessed a growth in spending.
Carpenter Oak, based in Devon, is one of the construction firms that has seen orders for house extensions rise by nearly 10 per cent between 2007 and 2010. "We have noticed a growing number of families combining funds to purchase a site and then cohabiting," said its managing director, Jamie Wilson. "This trend is likely to continue as house and land prices rise."
Marc Vlessing, co-founder of the affordable-housing scheme Pocket, said: "The phenomenon of 'doubling up' is a welcome solution for a Government grappling with the problem of under-occupied housing. It won't be long before you see politicians trying to give people fiscal reasons for relinquishing their family home."
But Jack Dromey, the shadow housing minister, said: "This is just another example of how – under current housing policy – families are being forced to abandon the dream of ever buying a home of their own."
The Warrens: The all-inclusive retirement home
Janet Warren lives with her husband, John in Sandbach, Cheshire. Their daughter, Helen, 37, has moved back with her husband, Mark, 41, and their two children, Daisy, 10, and Jack, 12
"Helen was 18 when she left home. The last thing that I expected is that she would return 20 years later.
"Yet this new arrangement works for everyone. Helen and her husband were looking for a new house at the same time we were looking to build a retirement home. So we started planning it together. Our house is constructed so both families can have their privacy.
"As long as you are prepared to compromise, the benefits are fantastic. The children have permanent babysitters and our dogs are always looked after.
"Helen has rented out their old house, and it feels like we have found our own solution to the housing problem."
The Dhinsas: The shared house
Kam Dhinsa, 33, lives in Oadby, Leicestershire, with her husband Kulbir, 35, and their two children, Akaal, five, and Rajveer, three. Also living in the same three-bedroom house are her husband's parents, Harmesh, 65, and Gian, 61
"Some of our friends think that it is weird being married for nine years and still living with your family, but for us, especially in an Asian culture, it works well. Your parents supported you while you were growing up, so why shouldn't we offer them that support in older age as well?
"Before we had children, we used to go on holiday twice a year, so we have had a lot of time to ourselves. Now that has changed and we need a lot more space. This year we are knocking down parts of the house and redesigning them so that it can accommodate everyone.
"The financial expenses are shared. It's been a lot easier than living in our own house.
"The only thing I would say about living together – you don't really get a lot of time as a couple, most of it becomes centred around the family anyway. But when you have kids a lot of your time is dedicated to them.
"As our kids get older, they're going to want their own space, and their privacy from us, so we are now extending the house so that everyone's needs are met."
The Marsdens: The granny flat
Rachael Marsden, 47, lives in South Hinksey, Oxfordshire, with her husband, Bob, 53, their children Johanna, 21, Pieteke, 18, and Ari, 15, and her mother, Barbara, 85
"We had never thought that we would end up living together like this. But one summer I jokingly suggested it to my mother and the idea just stuck. I didn't want my mother living in a nursing home. So we have worked hard to define the correct living arrangement – she has her own front door in an adjoining annexe.
"When you have three generations under one roof you suddenly become a magnet to the rest of the family... [and] living together in a carefully considered housing arrangement makes you realise that it's possible to live in harmony while enriching each other's lives."
The Stangroomes: The bungalow extension
Jon Stangroome, 59, lives in Wiston, Pembrokeshire, with his wife, Lindsay, 50, and their 10-year-old daughter, Grace, as well Lindsay's parents, Myra and Tom, who are both in their 70s
"We were looking to downsize and move to the countryside a few years ago but realised that Lindsay's parents and late grandmother would need looking after. Eventually we all moved to a new house on a big plot of land and built a bungalow extension for Myra and Tom.
"The arrangement works particularly well because both parts of the house have their own kitchens and living space. Both families, if they wanted to, could live an entirely separate existence. Instead we found ourselves wanting to spend time together. Myra cooks on Monday and Tuesday, while I cook Wednesday and Thursday. Over the weekend [we] have separate arrangements.
"We have a constant stream of visitors; in the summer it often feels like a continuous party. Plus for us, the availability of childcare has been crucial.
"Lindsay and I were beneficiaries of the baby-boomer generation. It allowed us to move up the property ladder while accumulating our own wealth. For our daughter it might be very different. If things carry on the way they are she may be living with us for a long time."
Additional research by Koos Couvée
Register for free to continue reading
Registration is a free and easy way to support our truly independent journalism
By registering, you will also enjoy limited access to Premium articles, exclusive newsletters, commenting, and virtual events with our leading journalists
Already have an account? sign in
Register for free to continue reading
Registration is a free and easy way to support our truly independent journalism
By registering, you will also enjoy limited access to Premium articles, exclusive newsletters, commenting, and virtual events with our leading journalists
Already have an account? sign in
Join our new commenting forum
Join thought-provoking conversations, follow other Independent readers and see their replies