Belfast riots: Two men charged and police pelted with petrol bombs as Northern Ireland disorder continues
Roads have been blocked and cars set on fire amid ongoing unrest in Northern Ireland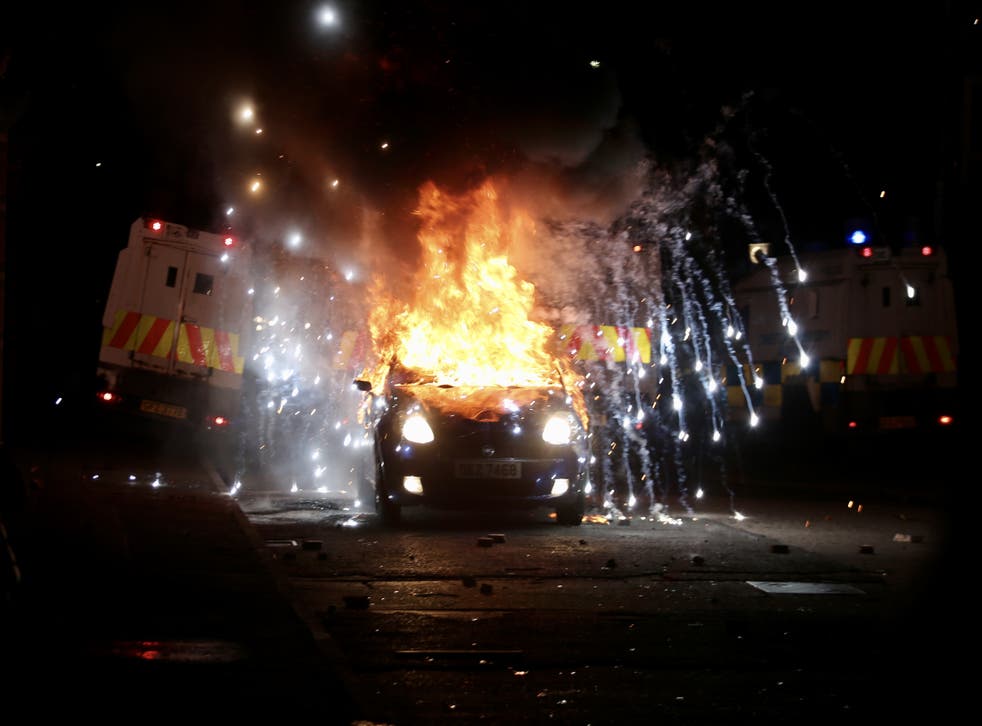 Rioting in Northern Ireland continued on Friday evening with bricks and petrol bombs being hurled at police officers, the force have said.
A crowd of around 40 people gathered in Coleraine and attempted to block Atlantic Road by setting fire to wooden pallets.
In a separate incident in Tiger's Bay, Belfast, a car was set on fire and police were pelted with stones, bottles and petrol bombs.
On Saturday, two men charged with rioting offences in Belfast earlier this week were denied bail at Laganside Court. Jonathan Maitland, 25, and Matthew Shaw, 32, were arrested on Thursday.
Riots have broken out in Northern Ireland over several days, in spite of calls for peace from across the political spectrum.
They were sparked in part by loyalist anger over post-Brexit trade arrangements which have created economic barriers between Britain and Northern Ireland.
Another source of anger among loyalists – who staunchly support the region's union with Britain – was the announcement that the 24 Sinn Fein politicians who attended the funeral of former IRA leader Bobby Storey wouldn't be punished in spite of restrictions on public gatherings.
Some loyalists called for a pause to protesting out of respect for the Duke of Edinburgh, who died at Windsor Castle on Friday.
Signs posted in Lanark Way called on PUL (Protestant, Unionist, Loyalist) protesters to cease further activity during a period of mourning.
Stormont and Westminster politicians have also called for peace, with Sinn Fein vice president and Deputy First Leader Michelle O'Neill urging "all young people" not to "allow yourself to be used or manipulated in any sort of way, and to stay off the streets".
Prime Minister Boris Johnson said that he is "deeply concerned by scenes of violence in Northern Ireland" and particularly by attacks on its police force.
On Friday night in Coleraine, two petrol bombs were thrown at police officers, followed by five more when extra resources were deployed in the area.
Bricks and other objects were also thrown and police vehicles damaged. The unrest lasted for three hours, between around 7:45pm and 10:45pm.
Chief superintendent Davy Beck described the disorder as "senseless" and said it left people "petrified in their homes".
"Such reckless criminal activity has only served to harm the local community by those who deliberately chose to engage in such disorder," he said.
Mr Beck added that no police officers were hurt, and that an investigation into the riot is underway. "Evidence gathered will now be reviewed and those identified will face the full rigour of the law," he said.
Riots also broke out in Tiger Bay, where stones, bottles and petrol bombs were thrown at police. Objects were also thrown at officers in the nearby area of New Lodge.
Northern Irish leaders have expressed fears that violence could continue over the weekend.
Ms O'Neill said: "I'm worried about the weekend ahead. We all need to be very careful and very consciously try to do all we can to prevent this happening."
Local Social Democratic and Labour Party (SDLP) MLA Cara Hunter said: "The crowd burning refuse, blocking roads and intimidating people in this community needs to stop.
"This is a time for calm. Things don't need to escalate. Young people don't need to end up with criminal convictions. I'm appealing for everyone to exercise their influence to reduce tensions in our community."
Join our new commenting forum
Join thought-provoking conversations, follow other Independent readers and see their replies