Belfast violence: Rioting youths clapped by adults as fears grow of spiralling unrest
Older men linked to paramilitary groups encouraging disorder, says Police Service of Northern Ireland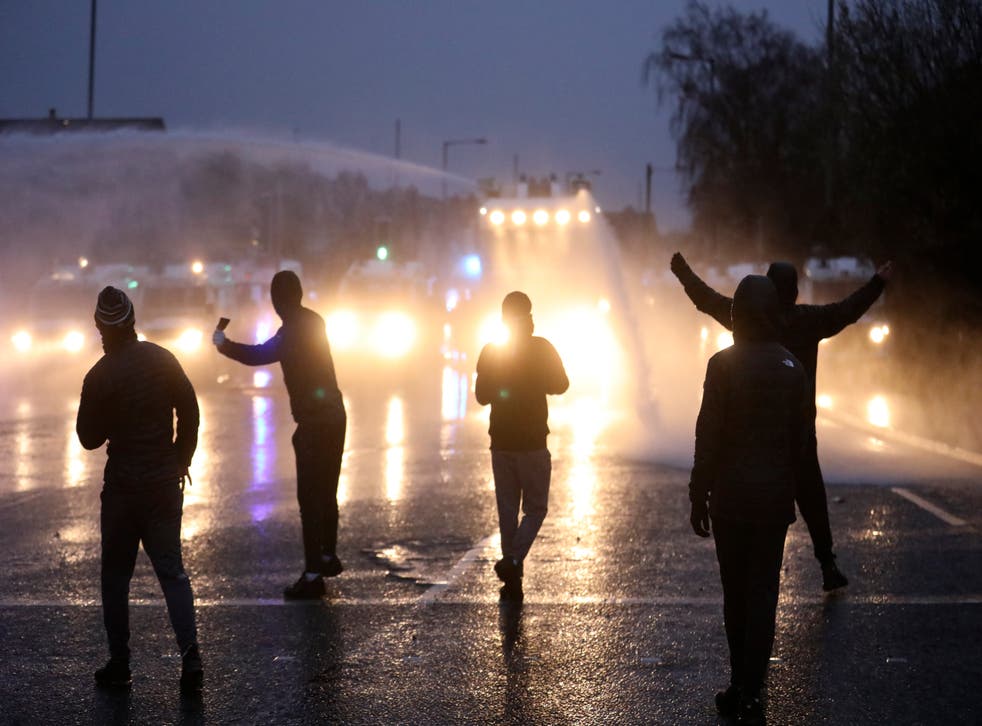 Adults in Belfast applauded teenagers and young men rioting during a seventh successive night of violence in the city's west end, police said on Friday.
Older men – some suspected of being involved with paramilitary groups – encouraged the disorder, in which a total of 74 police officers have been injured, according to assistant chief constable Jonathan Roberts of the Police Service of Northern Ireland.
He spoke out after water cannons, armoured Land Rovers and dog teams had to be deployed as gangs of loyalist and nationalist youths clashed around the Lanark Way area on Thursday night.
Fireworks, petrol bombs and bottles were once again pelted across the dividing lines.
"It's clear some of those people are operating independently, some of them are being encouraged and supported by adults who are involving young people in the disorder," Roberts said. "There are some people who may be close to, or involved with, proscribed paramilitary organisations."
But he added: "It is not our overall assessment that those organisations, as a group, are directing young people to get involved or are orchestrating the disorder."
The week of violence – which started with youths from the unionist community attacking property and police – has been sparked by anger at the post-Brexit Irish Sea border and the fact that Sinn Fein politicians will not be prosecuted for breaching coronavirus restrictions to attend the sprawling funeral of former IRA commander Bobby Storey.
But there are now growing fears that the clashes could expose old sectarian tensions and usher in a new era of unrest across the province.
In a tweet pleading for calm, the justice minister, Naomi Long, called the behaviour, "utterly reckless and depressing".
She added: "My heart goes out to those living in the area who are living with this fear and disturbance. This needs to stop now, before lives are lost."
The post came after the five parties of Stormont's power-sharing executive and assembly released a joint statement that unambiguously condemned the violence.
It says: "Attacks on police officers, public services and communities are deplorable and they must stop. Destruction, violence and the threat of violence are completely unacceptable and unjustifiable, no matter what concerns may exist in communities.
"Those who would seek to use and abuse our children and young people to carry out these attacks have no place in our society.
"While our political positions are very different on many issues, we are all united in our support for law and order and we collectively state our support for policing and for the police officers who have been putting themselves in harm's way to protect others."
Boris Johnson and his Irish counterpart, Micheál Martin, also issued a joint appeal for calm after speaking on the phone. The White House says Joe Biden has made the same plea.
Register for free to continue reading
Registration is a free and easy way to support our truly independent journalism
By registering, you will also enjoy limited access to Premium articles, exclusive newsletters, commenting, and virtual events with our leading journalists
Already have an account? sign in
Register for free to continue reading
Registration is a free and easy way to support our truly independent journalism
By registering, you will also enjoy limited access to Premium articles, exclusive newsletters, commenting, and virtual events with our leading journalists
Already have an account? sign in
Join our new commenting forum
Join thought-provoking conversations, follow other Independent readers and see their replies