Study finds 'clear evidence' that benefit sanctions increase food bank use
Benefit payments can be stopped for between four weeks and three years if claimants break rules such as missing appointments or deciding not to take a job they are offered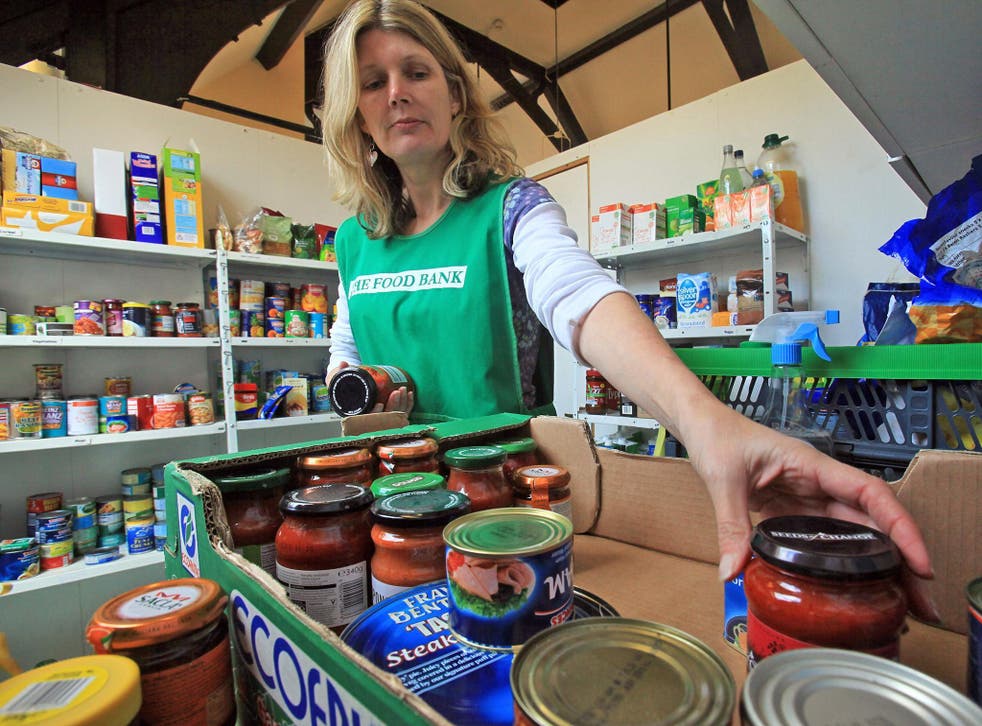 The growing number of people relying on food banks is linked to the government's benefit sanctions policy, a study has found.
Benefit payments can be stopped for between four weeks and three years if claimants break rules such as missing appointments or deciding not to take a job they are offered.
Researchers from the University of Oxford found that as the rate of sanctioning increased within local authorities, the rate of food bank use also increased.
"These findings show clear evidence of sanctions being linked to economic hardship and hunger," said lead researcher Dr Rachel Loopstra.
"We see a close relationship between sanctioning rates and rates of food bank usage across local authorities in the UK."
Dr Loopstra and her team analysed food bank data from 259 local authorities between 2012 and 2015.
They found that for every 10 additional sanctions applied between one three-month period and the next, on average five more adults were referred to one of the more than 400 food banks run by the charity the Trussell Trust.
As sanctioning decreased, food bank use also decreased, which the report suggests is evidence of a strong link between sanctioning and people not having enough money to meet basic needs.
The financial penalties were introduced four years ago, but the government said sanctions had fallen sharply over the past year.
The Trussell Trust is calling for a 'yellow card' warning system, giving claimants 14 days to appeal before a financial sanction is imposed.
"A true 'yellow card' system, which gives people a non-financial warning first, would mean less people thrown into crisis and ultimately, less people needing food banks," said Adrian Curtis, the Trust's food bank network director.
This system is currently being piloted in Scotland, but the Wiltshire-based charity has recommended that it is extended across the UK.
"There is much to be hopeful about – we're very pleased to see sanctioning rates have decreased and that the new Secretary of State has announced that work capability re-assessments for employment and support allowance claimants with incurable or progressive illnesses have been scrapped," said Mr Curtis.
"However, we still see people being referred to our food banks who have been sanctioned unfairly."
More than a million emergency food packages were distributed by the Trust in 2015-16, a slight rise from the year before, according to a report published in April.
The average number of visits per food bank user was two, meaning that the number of people who had to rely on the charity is likely to be around 554,000.
A separate report by the All Party Parliamentary Group suggested the true scale of hunger in the UK could be far greater, as more than half of emergency food is supplied by independent food banks and other organisations not covered by the Trussell Trust's figures.
The Department for Work and Pensions dismissed the findings as "misleading".
"The reasons for food bank use are complex, and it is misleading to link them to any one issue," said a government spokesperson.
"We're clear that work is the best route out of poverty, and the number of people in employment is at a record high, up by 2.7 million since 2010."
They said £90 billion was spent on working age benefits "to ensure a strong safety net".
The most ridiculous reasons people had their benefits sanctioned

Show all 16
The study's findings are from the first phase of a 16-month study into how trends in food bank usage over the last four years relate to changes in the economy and welfare system.
The report said food banks in the Trussell Trust network experienced a spike in numbers after 2013, when over one million sanctions were applied.
Food banks distributed three times as much over the period – from just under 350,000 three-day emergency food supplies in 2012-13 to around 913,000 in 2013-14.
Join our new commenting forum
Join thought-provoking conversations, follow other Independent readers and see their replies