Benjamin Netanyahu demands anti-Israel posters put on Tube by pro-Palestinian activists be taken down
Transport for London called the unauthorised adverts an 'act of vandalism'
Lizzie Dearden
Tuesday 23 February 2016 16:04 Comments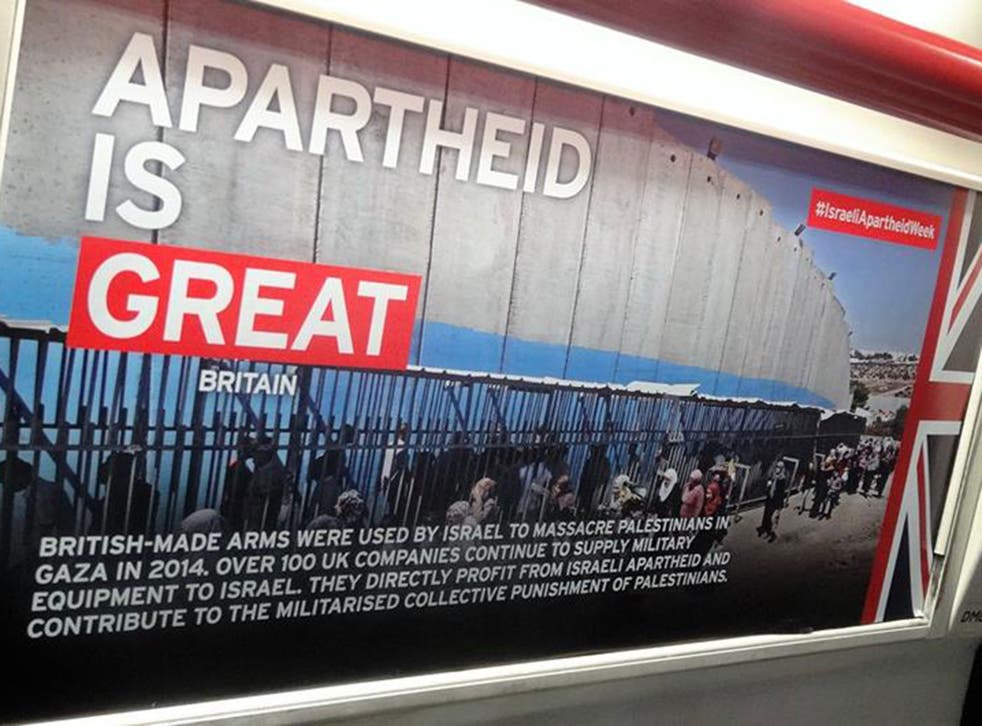 Benjamin Netanyahu has reportedly ordered officials to demand anti-Israel posters put up on the London Underground be taken down.
More than 100 of the unauthorised posters were displayed by London Palestine Action to mark "Israeli Apartheid Week".
Transport for London (TfL) called them an "act of vandalism" and vowed to remove them as quickly as possible, while a Jewish group said the stunt "put strain on inter-community relations" in the capital.
The adverts accused the BBC of pro-Israel bias and condemned G4S-run prisons, the 2014 Gaza war, arms trade and house demolitions.
Activists had hailed a "wave of truth hitting London Underground" on Sunday, dubbing its authentic-looking adverts "subvertisments".
"Israel and its supporters are used to having the mainstream media repeat their talking points," London Palestine Action said in a statement.
"We put up around 150 posters on the tube to shine a spotlight on the support Israel gets from the UK: the government, arms industry, and companies like G4S.
"At a time when the government is undermining local democracy to protect Israel, it's vital to show that we'll continue to take action in solidarity with the Palestinian popular resistance."
The Israeli–Palestinian conflict intensifies

Show all 10
The stunt came after plans emerged to ban public institutions and councils boycotting products from Israel and the Occupied Palestinian Territories as part of the BDS (Boycott, Divestment and Sanctions) movement.
It prompted the Israeli Prime Minister to instruct the head of his foreign ministry to demand the posters be removed in a meeting with his British counterparts.
Yair Lapid, head of the Yesh Atid party, claimed he spoke to Boris Johnson on the matter and was reassured by the London Mayor that action would be taken, the Jerusalem Post reported.
"The residents of London entered the Underground and found a series of anti-Semitic, anti-Israel signs calling us an apartheid state, accusing us of torturing children, or murder, of terrible things," Mr Lapid reportedly told a meeting.
"I talked to Johnson, a great friend of Israel, and explained to him that the State of Israel will not tolerate such things."
The London Jewish Forum accused activists of "seeking to undermine the UK's relationship with Israel and foster discomfort".
"These posters are awful smears that do nothing to contribute to peace and dialogue, placing significant strains on inter-community relations across London," a spokesperson said.
The Israeli Embassy in London confirmed that Mr Netanyahu instructed the director-general of the Israeli Ministry of Foreign Affairs to raise the issue.
"Over the past few weeks we've witnessed the ugly side of BDS activism: from vandalism on the tube, to violence at King's College, to serious allegations of antisemitism at Oxford," a spokesperson said. "When your agenda is based on hatred and divisiveness rather than dialogue, these results are inevitable."
British Transport Police responded to complaints on Twitter on Monday by saying it was working with TfL to "establish the full circumstances".
Officers were urging people to alert them to the posters' locations so they could be removed.
A spokesperson for TfL said: "These are not authorised adverts. It is fly posting and therefore an act of vandalism which we take extremely seriously.
"Our staff and contractors are working to immediately remove any found on our network."
Register for free to continue reading
Registration is a free and easy way to support our truly independent journalism
By registering, you will also enjoy limited access to Premium articles, exclusive newsletters, commenting, and virtual events with our leading journalists
Already have an account? sign in
Join our new commenting forum
Join thought-provoking conversations, follow other Independent readers and see their replies