Berlinah Wallace: Woman who threw sulphuric acid at boyfriend is cleared of murder
Scorned lover found guilty of throwing corrosive substance in attack that left ex-partner with injuries so severe he chose to end his life
Tom Barnes
Thursday 17 May 2018 14:02 Comments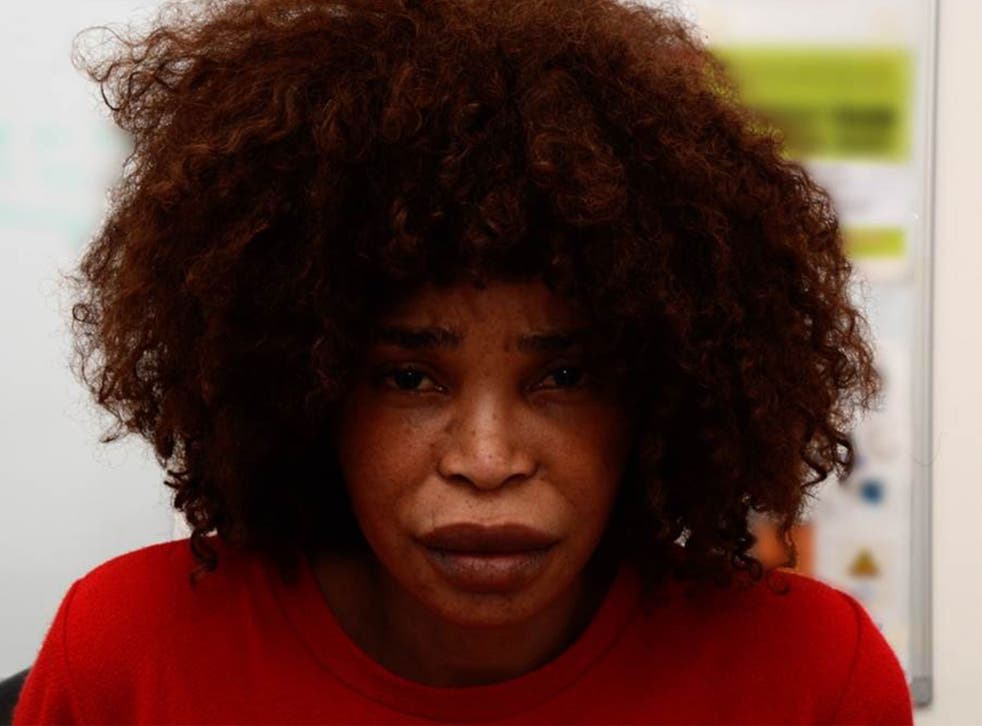 An acid attacker whose ex-boyfriend ended his life with euthanasia because of the debilitating injuries he suffered after she threw the toxic substance at him, has been acquitted of murder.
Berlinah Wallace meticulously researched the effects of sulphuric acid before purchasing a bottle and throwing it over former lover Mark van Dongen as he slept in September 2015, Bristol Crown Court heard.
The 48-year-old, described as controlling, jealous and vindictive, attacked the engineer at her flat in Bristol after he left her for another woman, the jury was told.
Mr van Dongen lost the sight in his left eye, had his lower left leg amputated and was paralysed from the neck down.
The 29-year-old spent more than a year in hospital receiving treatment for his injuries before he was discharged to a residential care home.
He later contacted his father, Cornelius, begging to travel to Belgium, where he ended his life through euthanasia in January 2017.
Following more than 15 hours of deliberations, a jury of 10 men and two women unanimously acquitted Wallace of Mr van Dongen's murder or manslaughter.
However, they did find her guilty of throwing a corrosive substance with intent.
Jurors were told the attack had been the culmination of a campaign of domestic abuse Dutch-born Mr van Dongen had suffered at the hands of his ex, which included silent phone calls and threats of blackmail.
Wallace poured the sulphuric acid into a glass and then threw it over her sleeping victim, causing her him to scream in agony and run out into the street.
Witnesses to the immediate aftermath of the attack described Mr van Dongen's cries of anguish to the court.
"His face was grey. One of the legs of his boxer shorts seemed to be ripped. He had what looked like black paint on him," Dominic Wooding said. "He was screaming and pacing and being incoherent."
Paramedic Dean Carter said he arrived at the scene to find Mr van Dongen with "significant chemical burns and his face, abdomen, chest and thighs".
He said he was "frothing at the mouth" and kept saying he could not see, asking at one point if he still had eyelids.
The injuries Mr van Dongen suffered meant he was not fit to be interviewed by detectives for eight months after the attack.
When he was finally well enough to speak to officers, he told them how South African national Wallace had laughed as she threw the acid over him.
During interviews with police, Wallace claimed it was her boyfriend who had poured the liquid into the glass, stating it was water before urging her to drink it.
UK news in pictures

Show all 50
However, investigations of her computer found the sulphuric acid has been purchased online for £17.07 using her Amazon account.
Investigators also found dozens of web searches Wallace had cleared from her browsing history, in which she had carried out research into victims of acid attacks.
"Mark van Dongen suffered the most inconceivable pain imaginable following what was a cowardly attack borne out of jealousy," said DI Paul Catton of Avon and Somerset Constabulary following the verdict. "He went from being a healthy young man with his whole life ahead of him to having extensive and repeated surgery on the most hideous injuries just to keep him alive.
"In the end, his pain was so devastating, so catastrophic, he sought the assistance of doctors to help him die. While the jury has concluded Wallace's actions did not amount to murder, we felt it was the right thing to do to ask them to consider the charge based on the evidence. Wallace is undoubtedly a manipulative individual who abused Mark throughout their relationship."
She will be sentenced at a later date.
Additional reporting by PA
Register for free to continue reading
Registration is a free and easy way to support our truly independent journalism
By registering, you will also enjoy limited access to Premium articles, exclusive newsletters, commenting, and virtual events with our leading journalists
Already have an account? sign in
Join our new commenting forum
Join thought-provoking conversations, follow other Independent readers and see their replies