UK's 'biggest-ever beach clean up' launched as lockdown eases
Surfers against Sewage hope to inspire 100,000 people to take part in cleaning initiative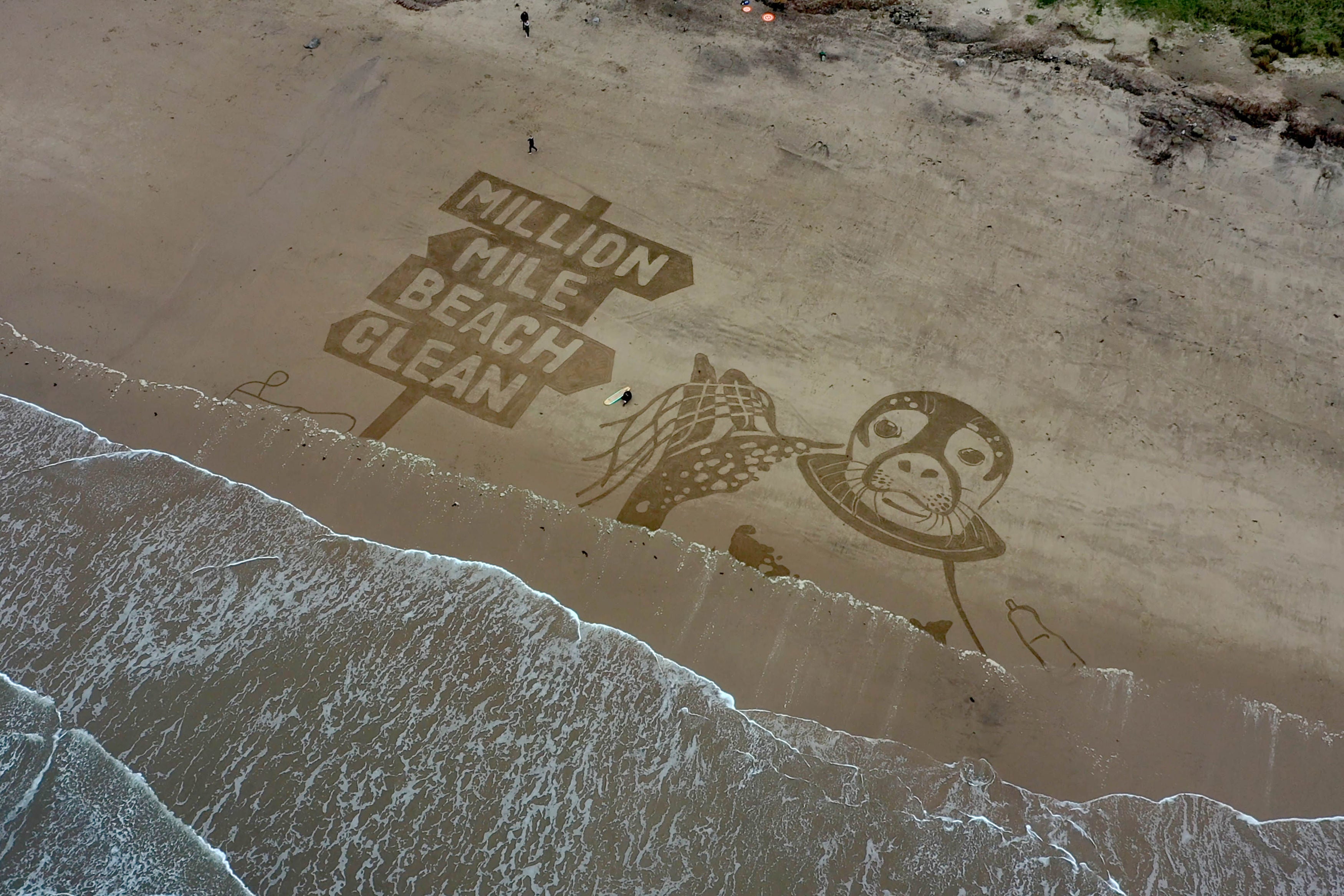 Campaigners have urged the public to take part in what they hope will be the country's largest ever beach clean, involving 100,000 people across the UK.
The environmental group Surfers Against Sewage wants each of their volunteers to walk 10 miles collecting litter from their local beach, street, park or river by the end of the year.
If the campaign is successful, a "million miles" of rubbish will be cleared over the course of the next nine months.
To launch the initiative, a 50-metre drawing of a seal – with pieces of plastic stuck around its body – was made on the beach at Cayton Bay, Yorkshire.
The charity believes the new "million mile clean" will strengthen people's connection to their local environment and benefit their wellbeing.
It is looking for "clean leaders" to run events and register participants, ahead of the first week of the campaign, which is scheduled to start on 15 May.
Read more:
The scheme comes as an Opinium poll found that 54 per cent of people in the UK think that plastic waste has increased with Covid-19.
In a survey of 2,000 British adults, 59 per cent of respondents reported seeing more rubbish around and 18 per cent admitted buying more plastic items since the start of the pandemic.
Hugo Tagholm, chief executive of Surfers Against Sewage, said the campaign aimed "to inspire an army of ocean activists to join the cause and put an end to plastic pollution in the UK".
"After more than a year of isolation, social distancing and reduced physical activity, the Million Mile Beach Clean reconnects communities with the environment and provides numerous benefits to mental health and physical well-being," he added.
Iceland Foods Charitable Foundation (IFCF) has paired up with Surfers Against Sewage to support the scheme for the next three years.
Richard Walker, managing director of  IFCF, stressed what a great opportunity the beach clean was, saying it was "imperative" to restore our oceans because of their fundamental importance.
The "million mile" initiative follows calls earlier this week from the Blue Marine Foundation for 10 national parks to be established in the waters off Britain.
The conservation group said it was "remarkable" that there are no parks in the sea, 70 years on from the establishment of the first national park on land.
Additional reporting by PA
Join our commenting forum
Join thought-provoking conversations, follow other Independent readers and see their replies