Bike lanes save lives of drivers as well as cyclists, study finds
Cars slow down and those behind wheel are more aware of surroundings in areas with good cycling infrastructure, research reveals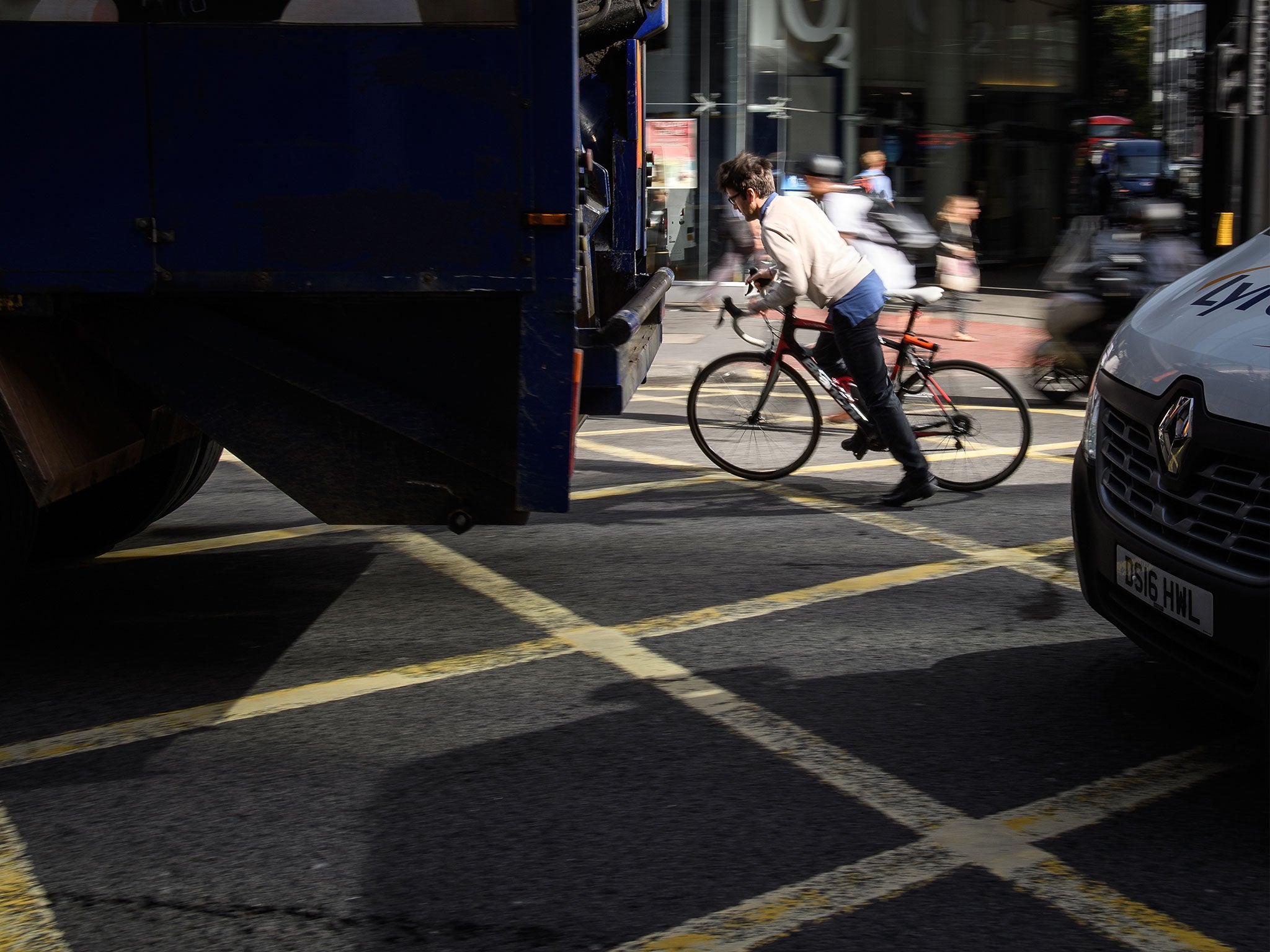 Installing protected bike lanes reduces deaths not only for cyclists but for drivers too, a major study of road safety has found.
Researchers noted that in cities which invested in high-quality protected space for bikes, there was a dramatic reduction in fatalities among all road users.
Drivers were more aware of their surroundings and more willing to slow down in areas that had extensive cycling infrastructure, the report from the University of Colorado Denver and the University of New Mexico found.
Notably, they found that painted lines on the road did not help bring down deaths for all road users, with only physical barriers observed as reducing fatalities.
"Regular, painted bike lanes turned out to be insignificant," study co-author Wesley Marshall told The Independent. "They may help in terms of bicyclist safety but weren't a factor when we focused on all road users."
He added: "We are both surprised and encouraged by our results. When you think about travelling by different modes, a mile on public transport is about 20 times safer than a mile in a car, and a mile in a car is about 10 times safer than a mile on a bicycle.
"Thus, it stands to reason that a city (or country) with a lot of bicycling would be the least safe. However, the places with a lot of bicycling turned out to be some of our safest places – and not just for bicyclists."
Researchers looked at road fatality rates in 12 large US cities with high rates of cycling. In Portland, Oregon, they found that as the number of people using a bike to get around rose from 1.2 per cent to 6 per cent between 1990 and 2010, the road fatality rate dropped by 75 per cent.
With added bike lanes, fatal crash rates dropped in Seattle (by 61 per cent), San Francisco (by 49 per cent), Denver (by 40 per cent) and Chicago (by 38 per cent).
Co-author Nicholas Ferenchak said: "When we believed it was the old safety-in-numbers concept that meant we had to figure out how to get more people on bicycles to make a city safer.
"That's not easy. But this research has boiled it down for city planners: create cycling facilities, and you'll see the impact."
In the UK, 26,610 people were killed or seriously injured on the roads in the year to June 2018, the last period for which government statistics are available. Around one in 20 of those were cyclists.
Last year saw the highest levels of cycling in central London since records began, with an average 188,000 journeys a day.
But Simon Munk, infrastructure lead at the London Cycling Campaign, told The Independent the latest research showed it was "imperative for the [London] mayor to crack on and deliver his pledge to triple the amount of segregated cycle lanes on main roads.
He added: "Sadiq Khan is on track to do that but it is important that the next mayor continues to accelerate the pace of change."
Dashcam video captures moment child cycling in Bromsgrove is almost hit by car
Roger Geffen, policy director at Cycling UK, said the government should heed the findings and spend more on road safety schemes.
"Investment in cycling is great value for reducing congestion, pollution and physical inactivity," he said. "The fact that it could also make our roads safer for everyone is another powerful argument for our government to increase substantially its investment in quality cycle provision."
Even motoring association the AA backed the findings. Edmund King, the group's president, said: "Our own extensive research shows that 84 per cent of drivers who cycle feel safest on dedicated cycle ways, hence we support calls for more cycle lanes."
"The fact that 65 per cent of drivers are still 'surprised when a cyclist appears from nowhere '– which obviously they don't – shows that they need to be more aware of their surroundings when driving at all times, and dedicated lanes would help."
He added that because the surface of cycle lanes are inspected and repaired when potholes reach a depth of 20mm, as opposed to 40mm on the main roadway, "a cyclist on a road is more likely to be injured by hitting a pothole, and indeed 22 cyclists have died as a result of defective road surfaces in the last decade".
Transport for London's Nigel Hardy said: "We know that building high-quality cycling infrastructure is vital to eliminating death and serious injury on London's roads, which is why we're investing record amounts to significantly expand our network of cycleways across the capital.
"Lighter methods to protect people cycling, such as 'armadillos' and plastic bollards, are used on London's roads as part of a range of measures to keep cyclists safe. However, 73 per cent of collisions resulting in death or serious injury for vulnerable road users in London take place at junctions, and transforming London's most dangerous road locations often requires much more significant wholescale changes to road layout."
Join our commenting forum
Join thought-provoking conversations, follow other Independent readers and see their replies