Painted bike lanes 'a waste of public money', Britain's cycling commissioners say
Government must commit to properly fund real cycle routes, joint letter argues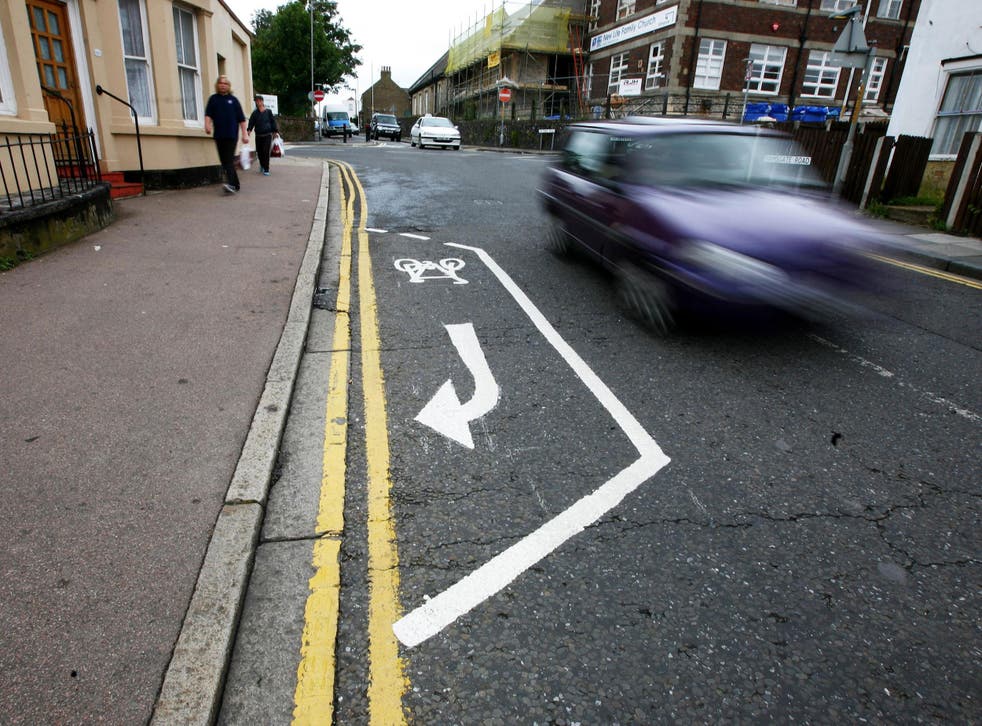 Six leading cycling commissioners have dismissed most of Britain's cycle lane network as nothing more than pointless white lines on the road, and demanded the government commit to long-term funding for actual bike infrastructure.
The officials spearheading cycling provision in London, Manchester, Sheffield, Liverpool, the West Midlands and Scotland have sent a joint letter to transport secretary Chris Grayling urging him to stop wasting "hundreds of millions of pounds" on "sub-standard cycling and walking infrastructure".
Former Olympic champion Chris Boardman, who is Greater Manchester's cycling commissioner, said it was vital central government got behind a healthy transport revolution and properly funded cycle lanes which actually worked.
As well as failing to protect cyclists from passing high-speed traffic, painted cycle paths actually encourage drivers to overtake people on bikes at even closer and more dangerous distances, a recent study in Australia has found.
"As there are currently no national minimum safety standards for walking and cycling infrastructure, these practices can and will continue wasting public money and failing to persuade people to change their travel habits," the letter reportedly states.
Britain's stupidest cycle lanes

Show all 13
The commissioners, who include Britain's most successful Paralympian of all time, Dame Sarah Storey, have five demands, including the government commit to long-term funding, promise to uphold a minimum quality level for infrastructure, allow local authorities to hold onto money from fixed penalty notices to spend it on road safety, and ensure the "true cost of car use to society" is factored into all transport investment decisions.
"We need to make decisions based on evidence and we've got evidence that this is the right thing to do for our society," Mr Boardman said.
"It's not a quick win, it's a 10-20 year evolution, but we can't afford not to do this and we simply cannot go on as we are. This is a no-brainer."
The commissioners' letter argues the current formulas the government uses to decide if a transport project is worth funding "do not take full account of the negative consequences of making private car use easier, nor do they take full account of the benefits of walking and cycling on our health, wellbeing and environment", according to The Guardian.
The practice of reinvesting income from fixed penalty notices in schemes to make roads safer has been pioneered in Scotland, where 19 local authorities are using the money to pay for road safety enforcement, public transport and car clubs.
Will Norman, London's walking and cycling commissioner, said investing in better quality cycling infrastructure also helped clean up toxic air and made streets more pleasant places to be in.
"But for the benefits of walking and cycling to be felt across the country, it is essential we now have a genuinely national commitment led by the Government."
Mr Norman said London had committed to spend £2.3bn on its "Healthy Streets" programme, but Mr Boardman said Greater Manchester had only so far secured 11 per cent of the £1.5bn it needs to build a network of safe cycling routes.
In 2017 Mr Grayling published the government's first ever cycling investment strategy, which set aside £1.2bn for improving cycling infrastructure, better proficiency training and more money for councils to spend on their own local schemes.
Support free-thinking journalism and attend Independent events
The strategy also sets a target for the number of cycling trips to double by 2025, which the Department for Transport has already admitted it will fall well short of.
A recent government report pinned the blame on local authorities for not building enough cycle lanes, although most of the £1.2bn is not ring-fenced and can be spent in other areas.
Join our new commenting forum
Join thought-provoking conversations, follow other Independent readers and see their replies