London school bans pupils from cycling unless they use bicycle number plates
Campaigners write to headteacher of Carshalton secondary urging him to reverse his decision
Tom Batchelor
Tuesday 25 September 2018 16:47 Comments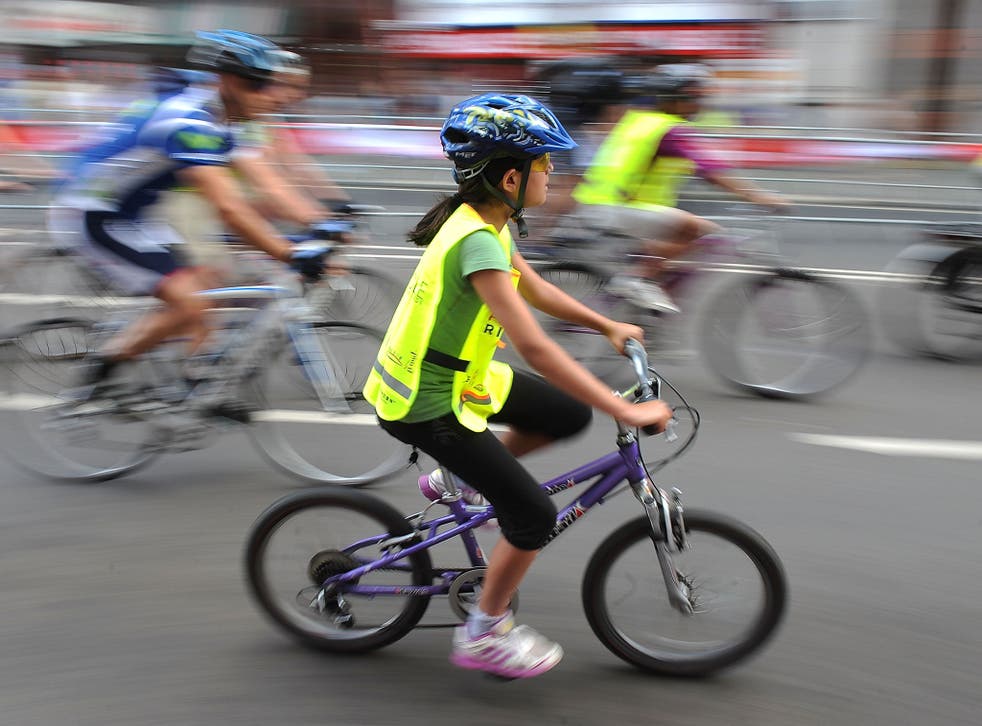 Pupils at a south London secondary school have been told they will be banned from cycling unless they display number plates on their bicycles.
Plans to force all students who cycle to Stanley Park High to use a bicycle licence plate have been condemned by cycling campaigners.
The measure, introduced following a collision between a pupil on a bike and a car, will be used to allow members of the public to report students cycling dangerously, the school's headteacher, Amit Amin, said.
"This will help us to identify students who are putting themselves at risk," he said in a statement.
"Students without a number plate will not be permitted to cycle to school, or lock their bicycles on school grounds."
However campaigners warned that the rollout would lead to a drop in the number of children cycling, could stigmatise children who were cycling to school safely and appeared to place the onus on pupils rather than drivers to improve road safety.
The London Cycling Campaign's infrastructure campaigner, Simon Munk, said the charity was writing to Mr Amin urging him to back safety improvements for roads near schools across the capital.
He said the licence plate proposal was a "bizarre" and "disproportionate" response that would discourage children from cycling to school.
Moment car ploughs into cyclists in Somerset
"We know from just about every piece of evidence going that in the vast majority of cycle-vehicle collisions, the driver is either wholly or majority at fault," he told The Independent.
"Is the school going to regulate parents who are driving unsafely?
"If you put a barrier in front of people cycling, people stop cycling. It will stigmatise cyclists. Are they going to be targets?
"It is going to reduce the number of children cycling to school."
Stanley Park High, which has promised pupils training in road awareness and bike maintenance and subsidised bike lights, is thought to be the first school in the country to propose licence plates for cyclists.
The school has separately urged parents to park further from the school gates and to encourage their children to cycle to school to tackle traffic congestion.
BikeStormz Ride Out against knife crime London 2018

Show all 21
But Duncan Dollimore, head of campaigns at Cycling UK, said the bike number plate plans would "make cycling to school more difficult".
He added: "Head teachers have a powerful voice in their community which they should use to encourage their local authorities to adopt 20mph speed limits and traffic calming measures on the streets their pupils are most likely to cycle on – this will make cycling safer for their pupils, not number plates on bikes."
Motoring groups and cycle campaigners have previously expressed concern about any moves to roll out bicycle number plates.
A survey carried out in November found a majority of the public backed the idea "to encourage responsible cycling".
But Edmund King, president of the AA, described the idea at the time as both "impractical and unnecessary" and said police already had powers to stop cyclists.
Cycle campaigners also warned that the huge cost of implementing a system of licenced bikes would fall to taxpayers and such a move would undoubtedly deter people from riding their bicycles.
In 2014 Sussex Police and Crime Commissioner Katy Bourne said cyclists should have the same identification as drivers so they can be prosecuted for jumping red lights.
A change in the law would be required for number plates to become mandatory on bicycles, as the Vehicle Excise and Registration Act 1994 only provides for the registration of mechanically propelled vehicles.
Register for free to continue reading
Registration is a free and easy way to support our truly independent journalism
By registering, you will also enjoy limited access to Premium articles, exclusive newsletters, commenting, and virtual events with our leading journalists
Already have an account? sign in
Register for free to continue reading
Registration is a free and easy way to support our truly independent journalism
By registering, you will also enjoy limited access to Premium articles, exclusive newsletters, commenting, and virtual events with our leading journalists
Already have an account? sign in
Join our new commenting forum
Join thought-provoking conversations, follow other Independent readers and see their replies