Bird-eating tarantulas 'on the loose in Derbyshire'
Locals 'terrified' as huge spiders thought to have escaped
Chris Baynes
Saturday 14 July 2018 17:17 Comments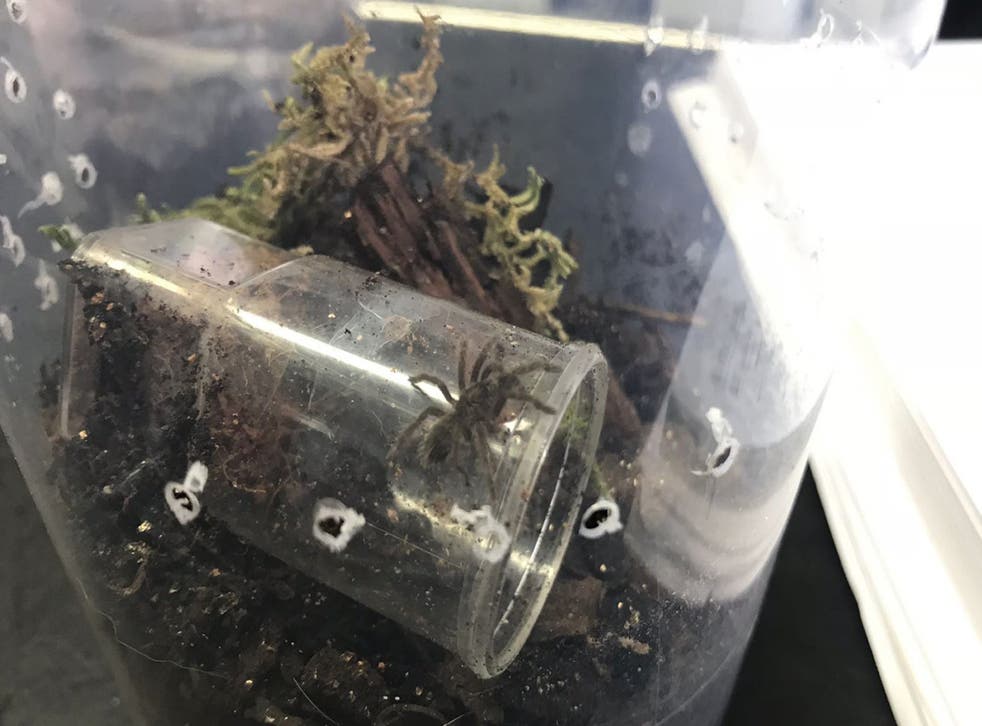 A pair of bird-eating tarantulas are feared to be on the loose in a Derbyshire village.
The Brazilian spiders are thought to have escaped from a case that was dumped in a car park in Somercotes, the RSPCA said.
Their bid for freedom has "terrified" local arachnophobes and left villagers worried their pets may be in danger.
The RSPCA said three baby tarantulas were found among 10 pots abandoned outside a stable on Thursday.
Two of the larger pots had been knocked over by a car and it is thought a pair of adult spiders may have been unwittingly released.
RSPCA inspector Kristy Ludlam, who attended the scene, said: "The woman caller who contacted us was understandably shaken when she realised the pots contained spiders as she is terrified of them.
"It appears someone ran over two of the pots and the driver told the woman who called us he thought he saw two larger spiders.
"No bodies were found so it is assumed they may have escaped.
"We collected all the pots and took them to a specialist, who found three baby arachnids in them which he believes are bird-eating spider - when he opened one pot a spider ran up his arm."
The species is among the largest in the world, with a leg span of up to 10 inches in adulthood.
The spiders are partially pink and usually live on the floor of the Brazilian rainforest, eating insects, lizards and mice, and occasionally small birds.
"This is very worrying. Two of the workers ran around the kennels screaming when they heard the news," said Sarah Towndrow, who owns Birchwood Boarding Kennels and Cattery, close to where the tarantulas are thought to have escaped.
She told the Derby Telegraph: "We are getting a vet out so they can take a good look and advise us on what we need to do. We're also all going to be searching the area to make sure they're not here and then report it if they are.
"They could cause real harm to the animals here, so we will be keeping a very close eye on them."
UK news in pictures

Show all 50
The RSCPA warned the public not to attempt the pick up the tarantulas if they encounter them, although it said the spiders were unlikely to survive for long in the UK climate if they are on the loose.
"It is likely that the spiders were unwanted pets which they may have been breeding and then decided to dispose of for whatever reason," said Ms Ludlam.
She added: "The RSPCA would always ask people who are struggling to cope to let us know.
"We would also recommend that anyone interested in keeping a tarantula as a pet thoroughly researches the particular species' needs carefully first before deciding to get one, so they know what is involved."
It is an offence under the Wildlife and Countryside Act to release or allow to escape any non-native species into the wild.
The baby spiders have been taken to Nottingham's Arnold and Carlton Veterinary Centre before being rehomed.
Register for free to continue reading
Registration is a free and easy way to support our truly independent journalism
By registering, you will also enjoy limited access to Premium articles, exclusive newsletters, commenting, and virtual events with our leading journalists
Already have an account? sign in
Join our new commenting forum
Join thought-provoking conversations, follow other Independent readers and see their replies