Bird flu: Outbreak in Herefordshire triggers Britain-wide prevention zone
Six confirmed cases of virus in England this month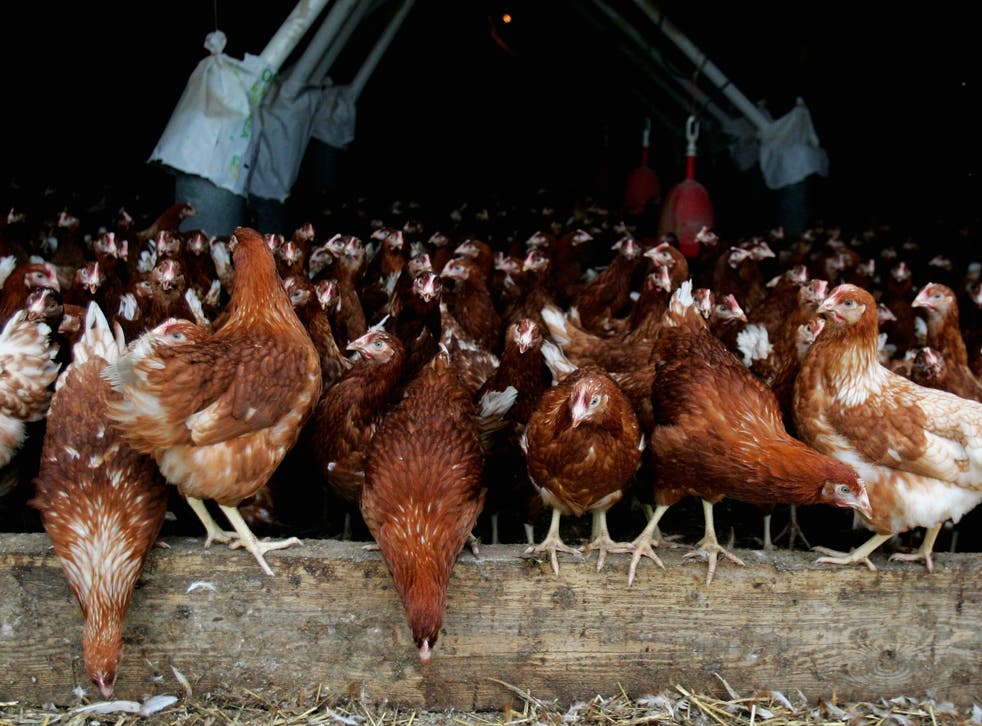 A confirmed outbreak of bid flu, in Herefordshire, has led to the implementation of a prevention zone across England, Wales and Scotland. 
The latest case was identified at a broiler breeder farm near Leominster, according to the Department for Environment, Food and Rural Affairs (Defra), making it the fifth outbreak of the virus' H5N8 strain to be detected in England this month.  
Other instances were found in Gloucestershire, Dorset and Devon on Wednesday, and in Cheshire on 2 November. 
A separate outbreak occurred in Kent, also on 2 November, but this was found to be of H5N2, a much milder strain of the virus.
Authorities have said "immediate and robust action" is being taken to contain the H5N8 strain. Birds in all affected zones are being culled "humanely", Defra confirmed, and control zones have been put in place.
An Avian Influenza Prevention Zone (AIPZ) means it is a legal requirement for all bird keepers to follow strict biosecurity measures.
Keepers with more than 500 birds have been instructed to restrict access for non-essential people on their sites, while workers will need to change clothing and footwear before entering bird enclosures and site vehicles will need to be cleaned and disinfected regularly, according to information listed on the gov.uk website.
Christine Middlemiss, UK chief veterinary officer, has said the threat to human life is "very low". Ms Middlemiss released a stement yesterday, saying: "I have today declared a national AIPZ legislating for actions all bird keepers must take to help prevent the disease spreading to more poultry and other domestic birds.
"Public Health England has confirmed that the risk to public health is very low and the Food Standards Agency advises that bird flu poses a very low food safety risk for UK consumers.
"Whether you keep just a few birds or thousands, you are now legally required to meet enhanced biosecurity requirements and this is in your interests to do, to protect your birds from this highly infectious disease."
The government also confirmed it was "working closely" with Scottish and Welsh governments to introduce national prevention zones at the same time.
At the broiler chicken farm in Hereford, the newly enforced 1.8m (3km) and 6.2m (10km) zone means restrictions are now in place around the movement of birds, how they are kept and visits made to the farm.
Experts initially believe wild birds are spreading the virus but investigations have been launched in each of the areas to confirm the source of the disease, Defra confirmed.
Bird flu outbreaks have also been reported across Europe in recent weeks. Two cases of H5N8 bird flu were detected on farms in Germany and on Tuesday, Dutch health officials ordered the culling of 48,000 chickens following a separate slew of cases.
Bird flu is the name used to refer to a collection of virus strains that infect specifically birds. It first emerged in 2007 and has rarely spread from birds to humans.
Join our new commenting forum
Join thought-provoking conversations, follow other Independent readers and see their replies