Birmingham Six: 40th anniversary of pub bombings that led to 'one of the worst miscarriages of British justice'
The Birmingham Six were in prison for nearly 17 years before justice in 1991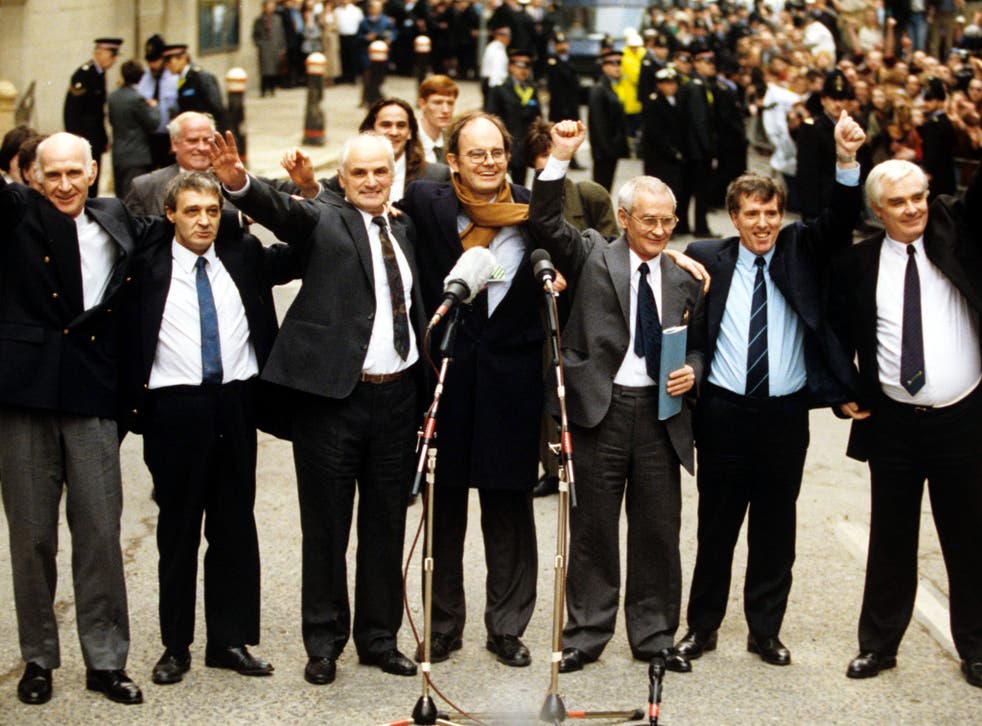 Today is the 40-year anniversary of two pub bombings in 1974, which killed 21 people and injured 182, that led to the charges and unjust life sentences of the Birmingham Six.
Bombs planted in the Mulberry Bush and Tavern in the Town pubs blew up ten minutes apart at 8.17pm and 8.27pm on 21 November and, although telephone warnings were sent to local newspapers six minutes before, the venues were not evacuated in time before detonation.
Six Irish men were jailed in 1975 for 16 years before their convictions were quashed in, what is considered to be, one of the worst miscarriages of justice in British history. They had claimed that police forced them to sign confession documents through methods of physical and psychological torture.
Paddy Hill, Gerry Hunter, Johnny Walker, Hugh Callaghan, Richard McIlkenny and Billy Power walked away from the Old Bailey on 14 March 1991 having had their innocence proved with the help of journalist, MP and campaigner Chris Mullin.
Members of the Provisional Irish Republican Army (IRA) were believed to have been the perpetrators as they had carried out bombings in England since 1973, however the group never claimed responsibility for the pub incidents and no others have admitted liability.
The alleged mastermind of the two attacks is today claimed by the Birmingham Mail, the newspaper who received the bomb warning call in 1974, as being Midlands high-ranking IRA officer Mick Murray - who was sentenced to nine years at Lancaster Crown Court to run concurrently to an existing 12-year sentence at Birmingham Crown Court for conspiracy to cause explosions.
Ten people died at the Mulberry Bush, housed on the lower two floors of the 25-storey Rotunda office block, which was devastated by a bomb hidden in a duffel bag. One woman was so badly wounded that she was given the last rites, a Catholic ritual for those close to death.
Eleven people were killed 46-metres away in the Tavern in the Town, where the blast was said to be so strong that several victims were blown through a brick wall and a passing bus was wrecked amid the explosion.
A third bomb was found in a bag outside a bank on Hagley Road about two miles away, at 9.15pm, however the detonator clicked but the bomb failed to set off when a policeman poked the bag.
The other attacks that were admitted by the separatist IRA are understood to be attempts to destabilise the economy and disrupt civilian life in order to put pressure on the British government to withdraw their presence from Northern Ireland.
There were on average three attacks a day by 1974; five bombs exploded in Birmingham on 14 July; two pubs were bombed in Guildford, killing four soldiers and one civilian on 5 October; and one soldier and one civilian were killed when a pub near the Woolwich Barracks that exploded on 7 November.
A premature bomb explosion killed IRA member James McDade, who was planting it in a telephone exchange, on 14 November in Coventry and hundreds of police were deployed to prevent a paramilitary guard of honour being held while his body was transported out of England.
Five of the Birmingham Six were arrested for their alleged involvement in the pub bombings while they were in Heysham, Lancashire, as they waited for a ferry to Northern Ireland to attend the funeral of McDade. The sixth man was arrested in Birmingham. Incorrect evidence and testaments led them to receive a total of 21 life sentences each - one for every person who died in the blasts.
No police officers were prosecuted for the imprisonment of the men although Mr Hill, one of the six who co-founded the Miscarriages of Justice Organisation, won the right to NHS trauma counselling.
Each of the six men received compensation between £840,000 to £1.2million around a decade after their release.
Register for free to continue reading
Registration is a free and easy way to support our truly independent journalism
By registering, you will also enjoy limited access to Premium articles, exclusive newsletters, commenting, and virtual events with our leading journalists
Already have an account? sign in
Register for free to continue reading
Registration is a free and easy way to support our truly independent journalism
By registering, you will also enjoy limited access to Premium articles, exclusive newsletters, commenting, and virtual events with our leading journalists
Already have an account? sign in
Join our new commenting forum
Join thought-provoking conversations, follow other Independent readers and see their replies