Bishop Rt Rev Tim Ellis warns that £10m cost of Margaret Thatcher's funeral is 'asking for trouble'
Andy McSmith
Monday 15 April 2013 12:17 Comments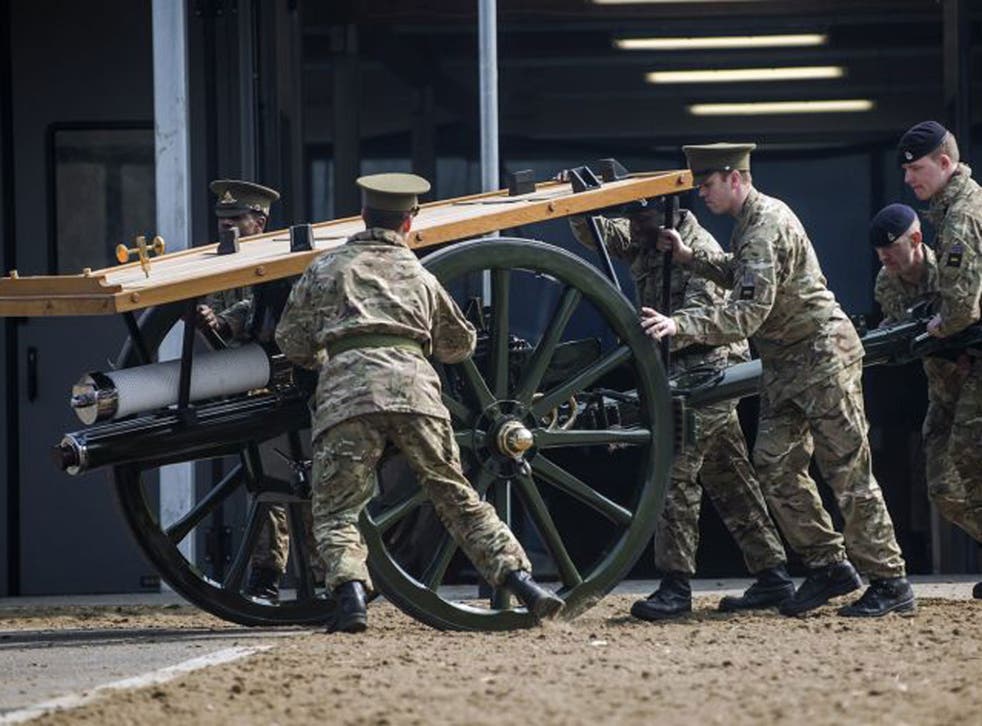 A senior Anglican clergyman from Baroness Thatcher's home town has criticised the cost of her funeral – saying the decision to spend an estimated £10m of public money on the ceremony was a "mistake".
The Rt Rev Tim Ellis criticised parties held to celebrate Lady Thatcher's death but added: "Events of 30 to 40 years ago still engender that kind of violent reaction because her reign was very divisive and controversial, and people still remember that today.
"In a context where there is great ill feeling about her legacy, we have a situation where we seem to be expecting the nation to glorify that with a £10m funeral. [It] is asking for trouble. People with extreme views will use it to promote their political views.
"We should be marking her as a person in Grantham and with a more low-key, personal marking."
Lady Thatcher's funeral, on Wednesday, will be the most lavish for any Prime Minister since Winston Churchill was accorded a state funeral in 1965, and the first since then that the Queen will attend.
The former Liberal Democrat leader Paddy Ashdown, who is expected to be among the mourners, also questioned whether it needed to be so lavish.
He told Sky News: "I have to say something a little more simple – just as solemn but a little more simple – might be better. But look, this is chosen by the Conservative Party to celebrate their great leader; it's chosen by her family – even if I might feel a bit uncomfortable about some aspects of it, I'm perfectly prepared to accept that."
Mrs Thatcher is to be buried with military honours. Though it is not formally classed as a state funeral, many of the public see it as such. A Downing Street petition opposing it has received more than 37,000 signatures, and a poll for The Independent on Sunday showed that 60 per cent thought that her funeral should not be paid for from public funds, as against 25 per cent who thought it should.
But Cabinet Office Minister Francis Maude insisted that it was a "fitting event". He told Sky News: "Of course, with any funeral of any former prime minister the state inevitably plays a big role. Normally there would be a funeral followed by a memorial service. She was very adamant that she didn't want that, she wanted a single service. So this needs to be a fitting event for a very great lady."
His remarks follow an article by the former Deputy Prime Minister John Prescott who wrote in his Sunday Mirror column: "Even in death, she is spinning from her grave. She claimed she never wanted a state funeral, but she planned to give herself the same ceremonial one as the Queen Mother.
"And her 'children', the out-of-touch Tory Boys Cameron and Osborne, are getting YOU to foot the £10m bill for the biggest political propaganda exercise this country has ever seen."
This contrasts with the attitude of the Labour leader, Ed Miliband, who has said that those who disagreed with Margaret Thatcher's policies should nonetheless show respect.
Sally Bercow, wife of Speaker John Bercow, has turned down an invitation to be among the 2,000 guests, according to The Sunday Times. During a radio debate in 2010, Mrs Bercow, who once ran as a Labour candidate in a council election, opposed giving Mrs Thatcher a funeral at public expense.
"To have a state funeral at a cost of three or four million funded by the taxpayer would not be the right thing to do," she said. "She ushered in a very greedy and selfish society."
Thatcher procession: the schedule
Before the 11am service, a single half-muffled bell will toll for the arrival of the cortège. After the service, the St Paul's Cathedral Guild of Ringers will ring "Stedman Cinques" with the cathedral's bells half-muffled. As the cathedral clock strikes the hour, the coffin will be carried into the cathedral and placed upon the bier under the dome. As the procession of the coffin moves through the nave, the choir will sing the sentences John 11: 25, 26; Job 19: 25-27; Timothy 1: 6, 7; and Job 1: 21.
There follows a Bidding given by David Ison, the Dean of St Paul's; First Reading by Amanda Thatcher, granddaughter, Ephesians 6: 10-18; Second Reading by David Cameron, John 14: 1-6; Address by Richard Chartres, the Bishop of London; prayers; the hymn "I Vow to Thee, My Country"; Blessing by Justin Welby, the Archbishop of Canterbury; the Recessional, during which the coffin is carried out of the cathedral; "Nimrod" from the Enigma Variations by Edward Elgar.
Register for free to continue reading
Registration is a free and easy way to support our truly independent journalism
By registering, you will also enjoy limited access to Premium articles, exclusive newsletters, commenting, and virtual events with our leading journalists
Already have an account? sign in
Join our new commenting forum
Join thought-provoking conversations, follow other Independent readers and see their replies