Black Londoners three times more likely to be murdered than other ethnic groups, figures show
Exclusive: Prominent race equality campaigners say statistics highlight 'unaddressed generational levels of systemic racism'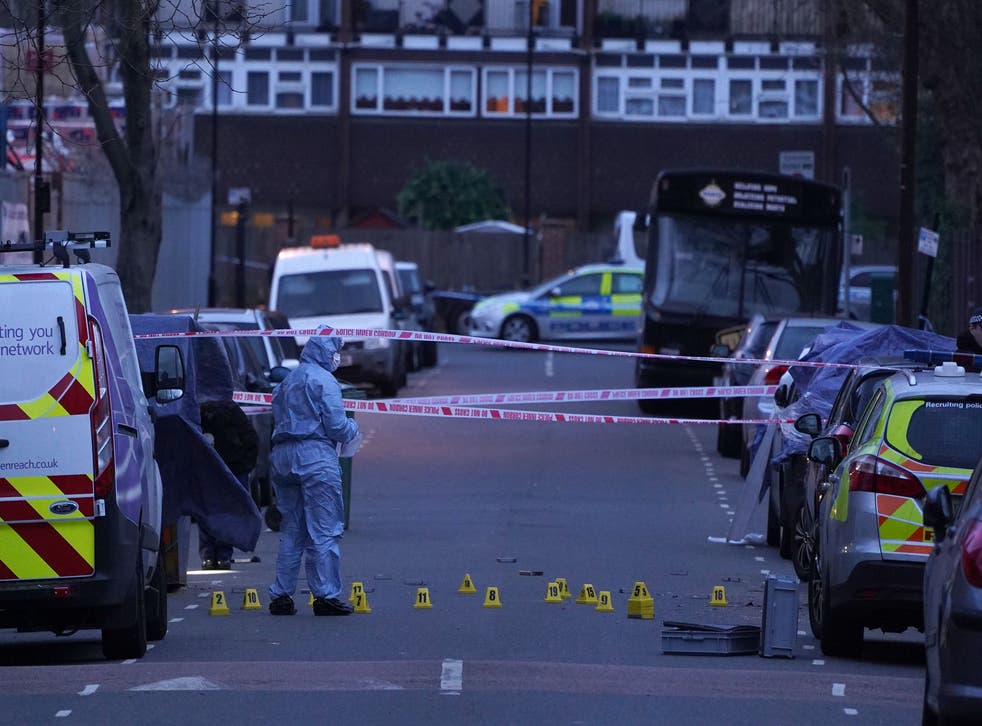 Black people are three times more likely to be killed on the streets of London than other ethnic groups, new figures show.
Almost half of all murder victims in the capital in 2019 were Black despite them making up only 13 per cent of the city's population, according to analysis conducted by the charity Action on Armed Violence (AOAV) and shared with The Independent.
The organisation used media reports and open-source data to establish the ethnicity of 135 of the 147 people who were violently killed in London that year. It found 62 (46.7 per cent) of that number were Black compared to 48 (35.6 per cent) White, 21 (15.6 per cent) Asian and four (3 per cent) Latin American or mixed heritage.
More of London's murder victims were Black than any other ethnic group despite 59.8 per cent of the city's wider population being white.
Of these victims, 57 (92 per cent) were male, and five (8 per cent) were female.
Black people were also four times more likely to be convicted of murder and were on average three years younger than the mean age of 23 at the time, while white killers were 10 years older.
Iain Overton, founder of AOAV, said: "All too often, news stories of killings in London fixate on individual tragedies. This research seeks to identify wider trends and patterns in both those killed and those who have perpetrated killings.
"Whilst our data often points to and reinforces widely held truths - such as men being far more likely to be killers than women - our findings point towards the need for more research, not least in areas such as why so many Black men are caught up in violence at a young age.
"Analysis into social deprivation, education, employment prospects and other factors that play a part in the fabric of violence need to be more widely examined, and government funding should be found to this end."
Campaigners expressed alarm at the research, and called on the government to "accept responsibility" for systemic racism.
It comes after a government-commissioned race report published earlier this month concluded structural racism did not exist in the UK.
Lee Jasper, one of Britain's most prominent race equality activists, told The Independent: "Research tells us that poverty is the mother of crime and violence. One of the dire consequences of high rates of poverty is wide spread family dysfunction - this the primary effect of unaddressed generational levels of systemic racism.
"We are disproportionately poor and that drives family breakdown, and as a result we are over represented in violence and homicide figures. For Black people, racism and poverty are the greatest forms of violence; institutional racism represents an existential threat and a public health crisis."
Sheldon Thomas, founder of Gangsline Foundation Trust, a non-profit organisation established in 2007 to provide assistance to young people involved in gang culture, said the reasons for the disparity between ethnic groups was varied.
"Fifty per cent of the blame lies with us as parents and fifty per cent is the government - both are in denial," Mr Thomas, who is a former gang member himself, toldThe Independent.
He added: "The government doesn't want to accept responsibility of bad schools and houses, reinforcing class issues around white kids, systemic racism. Meanwhile, some parts of our Black communities don't want to take responsibility for absent fathers and dysfunctional families."
Mr Thomas also pointed to issues around family structure which were not exclusive to Black communities and also affected working class white people.
"While we acknowledge that certain areas have a high percentage of Black gang members, we also got to acknowledge that most of the country have white gangs and those gangs are coming from the same kinds of backgrounds as many of those Black kids - lower socioeconomic backgrounds, deprived neighbourhoods, absent fathers," he said.
"London had the highest proportion of lone parent families in the UK in 2019, according to the Office for National Statistics. Poverty rates amongst most household types in London are higher than in the rest of England.
Single parents with children are more likely to be in poverty than any other type of household.
Over half of single parents in London (53 per cent) were in poverty, more than four times the proportion of couples without children, Trust for London research shows."
Commander Dave McLaren, homocide lead at the Metropolitan Police, said: "Any life lost through violence in London is a tragedy and simply one too many.
"Sadly, different crimes tend to affect different groups more than others and it remains a tragic truth that knife crime and street violence in London, disproportionately affects boys and young men, particularly of African-Caribbean heritage, both in terms of being victims and perpetrators. Equally, areas of London with higher crime levels, particularly violent crime, often tend to be home to more diverse communities.
"There are many complex, societal reasons and factors at play here and which go beyond the scope of policing, but we remain determined to do all we can to protect the people who live and work in these areas as well as those who are visiting or passing through."
The Met had recorded some 149 homicides up to 30 December 2019, while in five years the homicide rate in London had increased by more than 50 per cent from 94 cases in 2014.
This prompted AOAV to undertake deeper analysis of the violent deaths recorded during this period.
Safeguarding minister Victoria Atkins suggested county lines operations was a driving factor behind the "sad reality" of racial disproportionality in violence.
She added: "The government is determined to end the scourge of county lines, and we are investing £65m to tackle them.
"Our programme of investment, launched in November 2019, has already seen more than 3,400 people arrested, more than 550 lines closed, drugs with a street value of £9 million and £1.5 million cash seized, and more than 770 vulnerable people at risk of exploitation safeguarded."
Register for free to continue reading
Registration is a free and easy way to support our truly independent journalism
By registering, you will also enjoy limited access to Premium articles, exclusive newsletters, commenting, and virtual events with our leading journalists
Already have an account? sign in
Register for free to continue reading
Registration is a free and easy way to support our truly independent journalism
By registering, you will also enjoy limited access to Premium articles, exclusive newsletters, commenting, and virtual events with our leading journalists
Already have an account? sign in
Join our new commenting forum
Join thought-provoking conversations, follow other Independent readers and see their replies