Black students 50% more likely to drop out of university, new figures reveal
'Bold proposals' required to end disparity for black students after figures show more than one in 10 drop out before finishing their degrees, says shadow minister Dawn Butler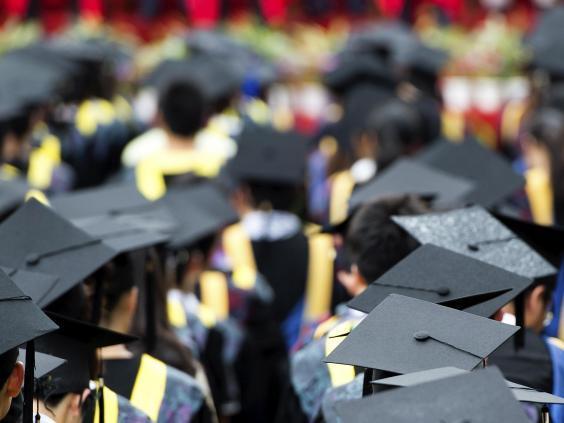 The Government has been called on to take "urgent" action after it emerged black students are more than 50 per cent more likely to drop out of university than their white and Asian counterparts.
More than one in 10 (10.3 per cent) black students drop out of university in England, compared with 6.9 per cent for the whole student population, according to a report by two charitable universities trusts, the UPP Foundation and the Social Market Foundation (SMF).
The figures have been described as "very disappointing" by the shadow minister for diverse communities, Dawn Butler, who has urged the Government to bring forward "urgent" proposals to end disparity for black students.
The study of student retention rates indicates that, while there has been heavy focus and activity on increasing the proportion of students from ethnic minority and disadvantaged backgrounds going to university, these groups remain most likely to drop out.
It reveals that London performs worst across all English regions, with nearly one in 10 students dropping out during their first year of study – which is put, in part, down to them having a higher intake of black students and students from low participation localities.
On average, 16 per cent of students at London universities identify as black, compared with two per cent in the North East and three per cent in the West.
Many universities themselves find it challenging to respond to often "complex" issues related to ethnicity, which tend to be "structural, organisational, attitudinal, cultural and financial", according to the report.
Factors contributing to retaining ethnic minorities include lack of cultural connection to the curriculum, difficulties making friends with students from other ethnicities and difficulties forming relationships with academic staff due to the differences in background and customs, it states.
Research cited in the report also shows that students from some ethnic backgrounds are much more likely to live at home during their studies.
It comes less than two months after it emerged that the proportion of young people from poorer families who do not continue after their first year reached its highest level in five years, according to a report by the Office for Fair Access (Offa).
It found that while universities were under increasing pressure to improve social mobility within application procedures, a student's chances of gaining at least a 2:1 still varied significantly depending on their ethnic background.
In response to the latest findings, Ms Butler told The Independent: "This is very disappointing news which shows that the Government must do more to support those from diverse backgrounds.
"Every drop-out is a huge loss for our country and I have no doubt that the trebling of tuition fees and the Tories' decision to end maintenance grants will have had a big impact, with students now faced with crippling debts.
"I would hope the Government's audit of racial disparities in public services may hold answers to these problems, however last week the Prime Minister chose to hide the report in order to avoid any potential embarrassment.
"I now call on the Government to urgently bring forward bold proposals to end the disparity for black students and ensure real opportunities for all."
In light of the report, the UPP Foundation urged the Government to introduce a new target to remove the completion gap for black students and those from disadvantaged backgrounds by 2025, with a focus "as much on retention as on widening the pool of applications and enrolments".
The Mayor of London and mayors across the country have also been urged to take action, with encouragement to assess how to better support students through housing, transport and leisure amenities to help students participate fully in university life.
Universities, schools and other institutions should also make greater efforts through outreach to prepare and support students in advance of university, whether through open days, taster sessions or other interventions, the report states.
The report's author, SMF research director Nigel Keohane, said: "It's futile to direct significant efforts to get poorer and ethnic minority students into higher education if the same students subsequently drop out.
"The Government, the Office for Students and universities themselves should now focus as much on retention as on widening the pool of applications and enrolments.
"Tackling non-continuation at university is vital. Each drop out represents a loss of potential, a poor and probably confidence-sapping experience for a student and an investment in tuition costs which is likely to have a low return."
Dr Paul Marshall, chair of the board of trustees at the UPP Foundation, meanwhile, said: "The available data sets show us that universities are currently doing a very good job at providing a higher education closely tailored to the needs of their students.
"However, like other industries, UK HE cannot be complacent and needs to keep improving to remain a world leading sector. The UPP Foundation sees the task of tackling non-continuation as an important element to improving social mobility throughout HE."
He added: "While it is important to think about retention at an institution-level, each non-completion is a lost opportunity for the individual from a welfare and economic perspective and for the economy at large. It's wasted talent that we believe should be nurtured and inspired."
Responding to the report, a Department of Education spokesperson said: "More students from disadvantaged backgrounds are going to and staying at university than ever before, but we know there is more work to do.
"The Higher Education and Research Act will go further by requiring all providers – including the most selective – to publish application, drop out and attainment data by gender, ethnicity and socio-economic background. This will hold universities to account and help students to make informed choices about where they go to study.
"The Teaching Excellence Framework is also refocusing the sector's attention on teaching – putting in place incentives that will raise standards and encourage providers to support students throughout their studies and equip the next generation of graduates for success."
Join our commenting forum
Join thought-provoking conversations, follow other Independent readers and see their replies