Black widow spider nest discovered in bunch of grapes bought at Asda supermarket
Supermarket opens investigation following discovery
James Rush
Thursday 04 June 2015 15:47 Comments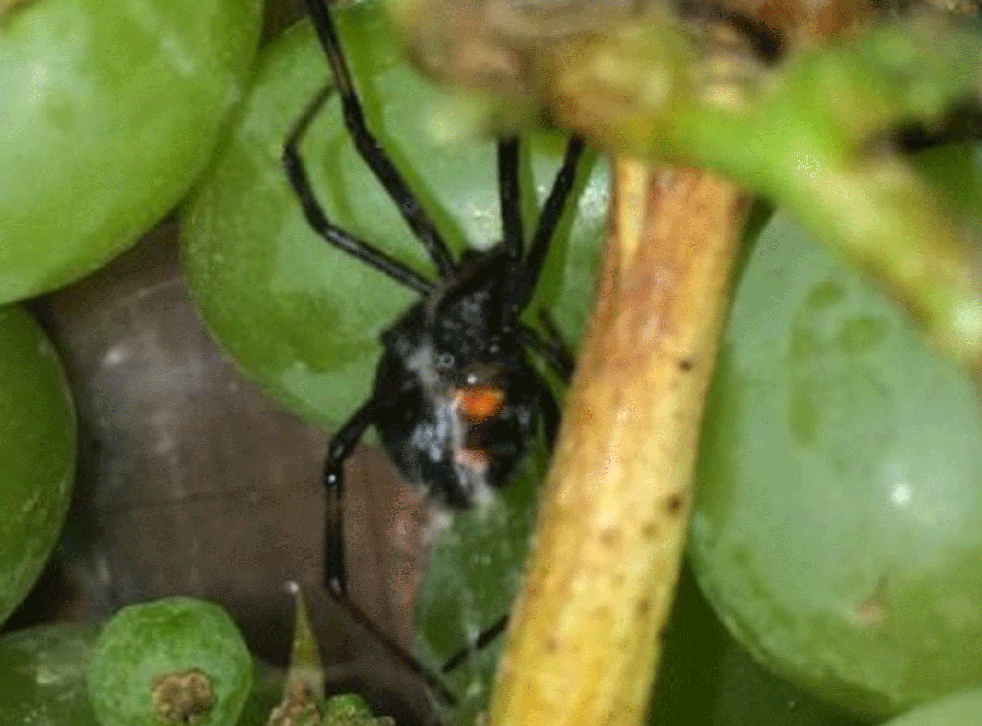 A black widow spider has been discovered in a bunch of grapes bought at a supermarket in Leamington Spa.
Asda has opened an investigation after the venomous spider was discovered in the fruit bought at its Leamington Spa store on Tuesday.
The shopper had taken the grapes home and opened them before the discovery was made.
Geoff Grewcock, of Nuneaton and Warwickshire Wildlife Sanctuary, told The Independent that he was informed of the discovery by police at about 7pm on Tuesday.
He said the shopper had picked up the grapes from the Asda store at Leamington Spa.
He said: "He broke open the carton to grab a grape and saw something moving, so he thought 'I better check it out'.
"So he picked the carton up and saw this spider in there.
"He thought it didn't look very nice and threw it in the wheelie bin."
Mr Grewcock said when he arrived at the house, the wheelie bin had been taped shut, but when they opened the bin they fortunately found the carton on top of the bin bags.
He said: "So I pulled the grapes out and it was lucky the spider was still in with the grapes.
The rarest animals in the world

Show all 23
"So I put it in a container, looked at it and said 'yes, it's a black widow'."
Mr Grewcock said he notified the vet who told him to keep hold of it overnight, but in the morning a new discovery was made.
He sad: "The following morning, I checked the spider and saw a load of things moving around the grapes, and it had given birth."
Mr Grewcock said the spiders had been taken away to be examined in order to trace where they came from. It is understood the grapes were imported from Mexico.
An Asda spokesman said: "We take these matters very seriously and have launched an investigation to determine how this particular spider got through our checks.
"We are in contact with the customer and would like to reassure all our customers that these types of incidents are extremely rare and that we have robust processes in place for identifying pests, including spiders.
"All our grapes are fumigated and cold stored but very occasionally a spider hangs around. We sincerely apologise for any distress caused."
Register for free to continue reading
Registration is a free and easy way to support our truly independent journalism
By registering, you will also enjoy limited access to Premium articles, exclusive newsletters, commenting, and virtual events with our leading journalists
Already have an account? sign in
Join our new commenting forum
Join thought-provoking conversations, follow other Independent readers and see their replies