Bluetongue disease identified in two cows imported from France, UK officials say
Virus transmitted by midge bites found in cattle brought to Yorkshire
Adam Forrest
Monday 24 September 2018 16:34 Comments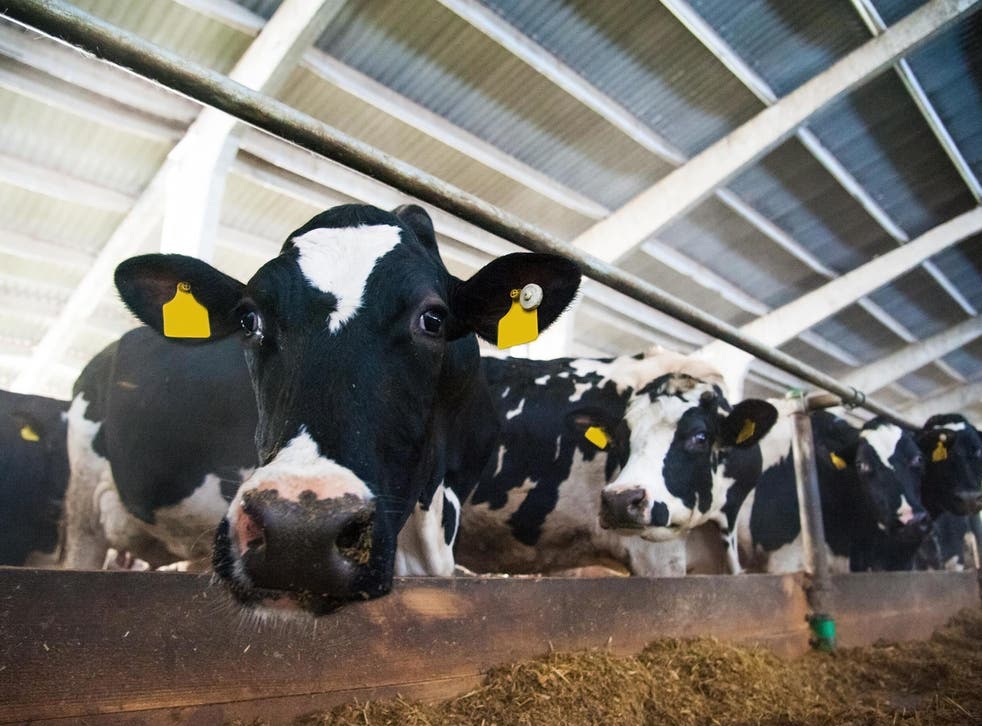 The contagious animal disease bluetongue has been found in two cows imported to the UK from France, health officials have revealed.
The virus was discovered in cattle brought to north Yorkshire from central France – where bluetongue has been spreading – by experts at the Animal and Plant Health Agency (APHA) and the Pirbright Institute.
The Department for Environment, Food and Rural Affairs (Defra) said action was now being taken to reduce the risk of the disease spreading, with restrictions on movement imposed on affected farms. The two infected cows have been culled.
Bluetongue is transmitted by midge bites and can reduce milk yield and cause infertility in livestock such as cows, goats, sheep and llamas. But it does not affect people or food safety.
Following the successful detection in north Yorkshire, the UK remains officially bluetongue free. Officials said risk of the disease remains low and exports are not affected.
Graeme Cooke, deputy chief veterinary officer for the UK, said: "This detection is an example of our robust disease surveillance procedures in action but must highlight to farmers the risks which come with bringing animals from disease-affected areas into their herds."
Mr Cooke said farmers must remain vigilant and report any concerns to the APHA and work with importers to make sure they comply with vaccination rules.
"Bluetongue does not pose a threat to human health or food safety, but the disease impacts farming, causing reduced milk yield in cows and infertility in sheep," warned Mr Cooke.
Farmers are also being reminded that the disease remains a threat despite the midge season coming to an end in October.
UK news in pictures

Show all 50
The movement restrictions in north Yorkshire will stay in place for a few weeks until testing proves local midges are not spreading the disease, Defra said.
Officials remain wary of anything that could damage the reputation of the UK's beef industry. China has imposed restrictions on Australian beef exports because of concerns over the bluetongue virus affecting two regions.
Beijing finally lifted a ban on British beef in July, more than 20 years after it was imposed following an outbreak of bovine spongiform encephalopathy (BSE) – better known as "mad cow disease".
According to Defra, the move could be worth £250m to British producers in the first five years alone.
An estimated 180,000 cattle were infected in the BSE outbreak of the 1990s.
Addition reporting by Press Association
Register for free to continue reading
Registration is a free and easy way to support our truly independent journalism
By registering, you will also enjoy limited access to Premium articles, exclusive newsletters, commenting, and virtual events with our leading journalists
Already have an account? sign in
Join our new commenting forum
Join thought-provoking conversations, follow other Independent readers and see their replies