Boris Berezovsky's former girlfriend claims he owes her millions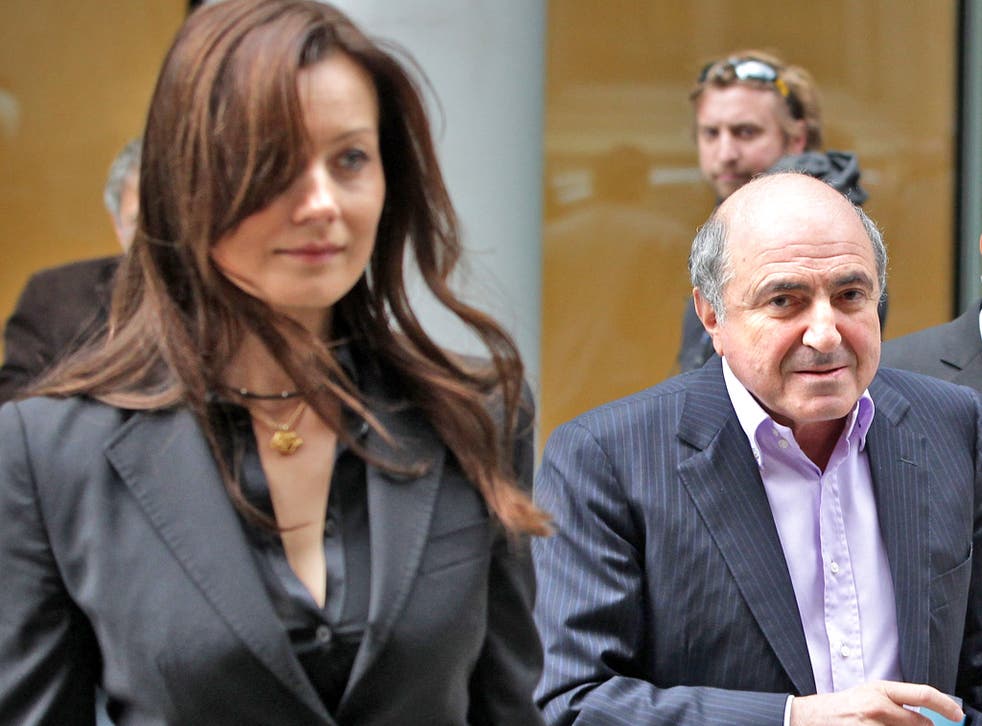 The former girlfriend of Russian oligarch Boris Berezovsky is seeking to have £200 million of his assets frozen after claiming he owes her millions of pounds.
Elena Gorbunova broke up with Mr Berezovsky last year despite sitting at his side in court during much of his abortive multibillion-pound legal fight with Chelsea Football Club owner Roman Abramovich.
Mr Berezovsky had sought to have his High Court fight with Ms Gorbunova, his former "long-term partner" with whom he had two children, kept secret.
But after complaints from journalists Mr Justice Mann agreed today that the case should be in the public domain and released a written ruling he made on January 18.
The ruling was part of a preliminary hearing of the case and related to attempts by Ms Gorbunova to have £200 million of Mr Berezovsky's assets frozen.
The judge said: "On the evidence, Mr Berezovsky is a man under financial pressure. It is likely he will feel a more pressing need to satisfy creditors than satisfy Ms Gorbunova.
"There is a risk (which, if the evidence is correct, is a serious risk) that he would apply property promised to Ms Gorbunova for other purposes."
Mr Justice Mann backed an order made in December by Deputy High Court Judge Roger Wyand QC which froze up to £200 million of Mr Berezovsky's assets, but noted that the oligarch is likely to "vigorously contest" Ms Gorbunova's claim.
He questioned how the £200 million figure had been arrived at but said the order should cover assets including proceeds of a property sale in England and properties in France. He did not specify a total value.
Earlier the judge had acceded to Mr Berezovsky's application for the hearing to be held in private but rebuffed his attempt to prevent his and Ms Gorbunova's names kept off the High Court's listings board, which can be read by the public.
"Mr Berezovsky wished to have this application accompanied by what amounted to total privacy," said the judge, in his written ruling.
"He proposed that the proceedings be anonymised, that the hearing should take place in private and that all sorts of strictures should be added to the order preventing disclosure."
Mr Justice Mann said he initially agreed the hearing could be held in private, subject to review, because of "confidentially issues affecting some of the evidence and the interests of the children".
He reversed his decision after the Press Association and the Financial Times made representations pointing out that the privacy order went against the general rule that court hearings should take place in public, and that it might give the impression rich and powerful people were being given privileged treatment by the courts.
Last year Mr Berezovsky lost his £3 billion claim against Mr Abramovich and was described by the judge, Mrs Justice Gloster, as an "unimpressive, and inherently unreliable, witness". She said he and had, at times, given evidence which was "deliberately dishonest" and "incredible".
Mrs Justice Gloster also said she had not been "able to accept" evidence from Ms Gorbunova supporting Mr Berezovsky's claims. "Ms Gorbunova, as Mr Berezovsky's long-time partner, was, understandably, fiercely loyal to him and had clearly discussed the issues in the case with him at length," she said. "This clearly affected the nature and quality of her evidence."
Register for free to continue reading
Registration is a free and easy way to support our truly independent journalism
By registering, you will also enjoy limited access to Premium articles, exclusive newsletters, commenting, and virtual events with our leading journalists
Already have an account? sign in
Register for free to continue reading
Registration is a free and easy way to support our truly independent journalism
By registering, you will also enjoy limited access to Premium articles, exclusive newsletters, commenting, and virtual events with our leading journalists
Already have an account? sign in
Join our new commenting forum
Join thought-provoking conversations, follow other Independent readers and see their replies