Boris Johnson's plan to keep violent and sexual offenders in prison for longer 'will increase violence'
MPs to debate moving automatic release for serious crimes from halfway to two thirds through sentence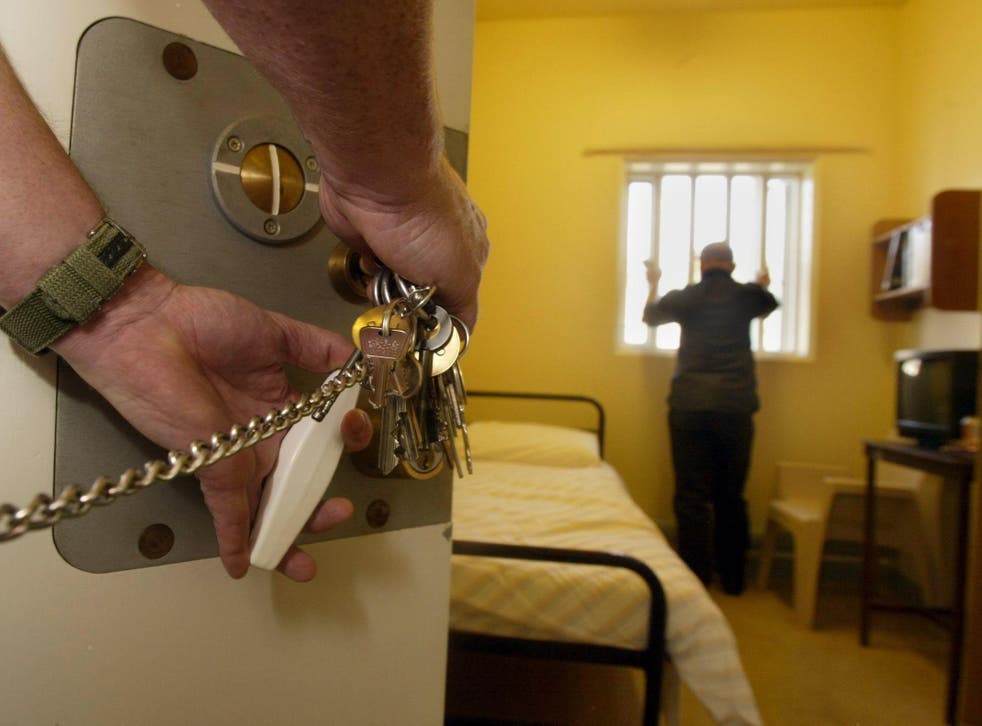 Violence in British prisons will increase under government plans to keep dangerous offenders in jail for longer, campaigners have warned.
Plans to be debated by MPs on Wednesday would see the automatic release point for serious sexual and violent offenders lengthened from halfway through their sentence to two thirds.
The government said its proposals would "better protect the public and restore confidence in the justice system" but critics said the effects could be damaging.
Prisons in England and Wales are currently filled to 98 per cent of their operational capacity, and violence and self-harm have reached record highs.
Frances Crook, chief executive of the Howard League for Penal Reform, said there was "no evidence" that longer prison sentences would prevent crime.
UK prison conditions: in pictures

Show all 8
"There is no evidence that the prospect of spending longer in prison will deter anyone from committing a crime in the first place, nor will longer sentences make anyone less likely to reoffend on release," she added.
"Rather than reducing crime, these reforms risk doing the exact opposite - by making prisons more violent as resentful prisoners spend longer in them, and by making people more truculent to reintegrate after additional years inside."
Boris Johnson had pledged to give violent and sexual offenders tougher prison sentences after becoming prime minister, despite warnings that the move ignored evidence on reoffending.
Peter Dawson, director of the Prison Reform Trust, said the government must "think strategically" about the ultimate aim of jail sentences.
"For two decades, successive governments have been making the law more rather than less complex, and this change will only add to the confusion," he added. "The government should take the time to listen and plan - this rushed approach does neither."
Legislation to be brought before parliament would move the automatic release of offenders given sentences of seven years or more, for crimes that can be met with life imprisonment.
The offences include rape, manslaughter, armed robbery and other serious violent and sexual crimes. Murder is already met with a mandatory life sentence.
The change would mean inmates have to spend two thirds of their term, rather than the current half, in jail before being released under licence conditions.
MPs are to debate two statutory instruments that would bring the new release point into effect on 1 April 2020 if approved.
The Ministry of Justice said that the vast majority of dangerous offenders receive "standard determinate sentences", which see them automatic released without a Parole Board review.
The Queen sets out Government's priorities including Brexit, NHS, knife crime and immigration
More than 4,000 such sentences were imposed for serious sexual and violent offences in 2018, as well as 250 extended determinate sentences – which require Parole Board reviews - and 400 life sentences where people are either kept in prison or monitored until death.
The move was announced a day after the government unveiled a package of new terror measures including lengthened jail sentences and lie detector tests for freed terrorists.
A union representing prison officers warned of the impact of increasing the prison population amid efforts to combat violence, self-harm, poor conditions and understaffing.
"It will certainly increase the prison population," Mark Fairhurst, national chair of the Prison Officers' Association, told The Independent.
"We need more prison spaces, more funding and more staff."
The most recent annual report released by HM chief inspector of prisons cited overcrowding and squalid conditions as one driver of rising violence and self-harm.
"At present 'overcrowding' in prisons is assessed by the prison service based on how many prisoners can be crammed into the available cells," said chief inspector Peter Clarke.
"Perhaps we should think about describing prisons as being overcrowded if, among other things, there are not enough meaningful education or work places for the prisoners being held in them."
Capacity issues have been linked to disorder in numerous prisons including HMP Liverpool, where a recent watchdog report said the removal of 500 inmates had been key to reversing its position as one of the worst prisons ever inspected.
The government has pledged to create 10,000 more prison places, including a new jail at HMP Full Sutton, but campaigners said 9,000 were needed just to eliminate existing overcrowding.
Days before losing his post as justice secretary last year, David Gauke appealed for the prime minister to "follow the evidence" rather than appeal to populist rhetoric on crime and punishment.
He commissioned Ministry of Justice research that resulted in calls for "ineffective" prison sentences of under six months to be abolished, but Mr Johnson scrapped the plans.
Robert Buckland, the justice secretary, said: "Time and again victims tell me they feel let down by a system that can see violent and sexual offenders back on the streets after serving just half their sentence.
"So we will end the automatic half-way release for these offenders – ensuring punishment truly fits the crime and restore the public's faith in the justice system."
Register for free to continue reading
Registration is a free and easy way to support our truly independent journalism
By registering, you will also enjoy limited access to Premium articles, exclusive newsletters, commenting, and virtual events with our leading journalists
Already have an account? sign in
Register for free to continue reading
Registration is a free and easy way to support our truly independent journalism
By registering, you will also enjoy limited access to Premium articles, exclusive newsletters, commenting, and virtual events with our leading journalists
Already have an account? sign in
Join our new commenting forum
Join thought-provoking conversations, follow other Independent readers and see their replies