One person responds to Boris Johnson's Russian embassy protest call
Pacifist, Buddhist, anti-war protester heard the Foreign Secretary's rallying call on the radio and felt he needed to protest against airstrikes in Aleppo to 'make my point'
Charlotte England
Thursday 13 October 2016 15:17 Comments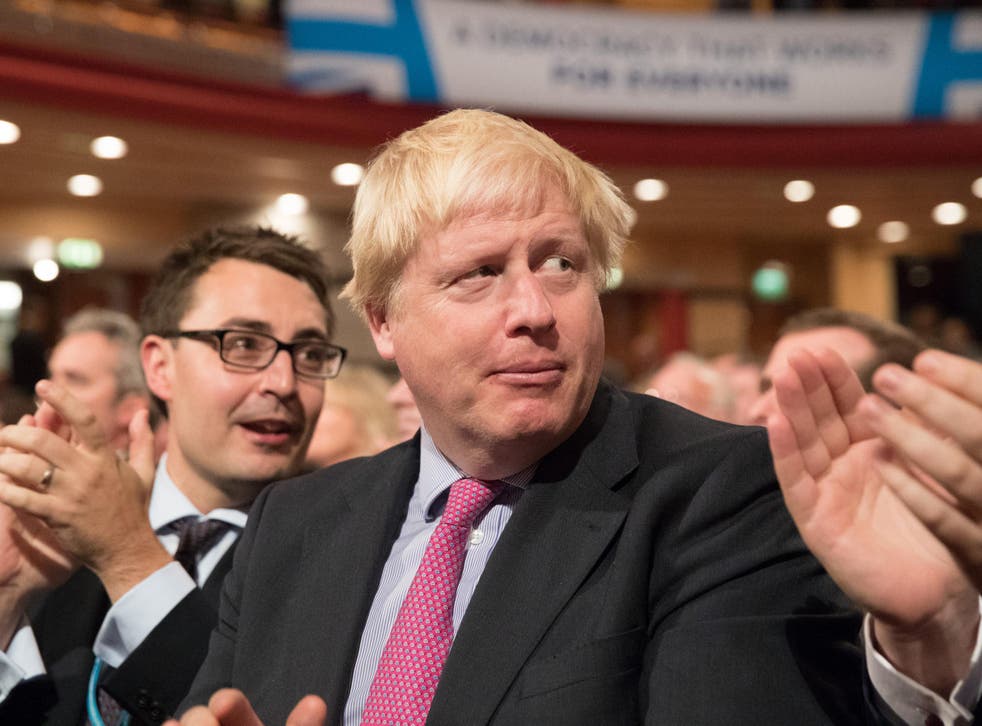 A lone man answered Foreign Secretary Boris Johnson's call for the public to protest outside the Russian Embassy against airstrikes in Syria.
Dan Harper, 43, stood outside the building in Kensington, west London, for two hours on Wednesday, before leaving to have a cup of tea and return to his home in north London.
Mr Johnson said in an emergency Commons debate on Tuesday he would "like to see demonstrations" outside the diplomatic mission, while simultaneously dismissing calls to implement no-fly zones over the besieged city of Aleppo and other parts of the region.
Mr Johnson's comments angered the Kremlin, who denied Vladimir Putin's forces had bombed the Syrian city and accused him of "Russophobic hysteria". The remarks also provoked criticism from some political pundits in the UK who said he had transgressed "diplomatic convention".
Mr Harper told the Telegraph that while he was protesting some passers-by asked "what's the point", but others applauded him as he held up a placard calling for bombing in Syria to stop.
Mr Harper described himself as a pacifist and a Buddhist, and said he often goes on anti-war protests. He told the newspaper he had heard Mr Johnson on the radio and felt he needed to "make my point".
"I particularly dislike heavy bombardment of residential areas," he said, adding he believed Mr Johnson was right to call on the public to demonstrate, and, in fact, he was considering going back to protest again.
It is highly unusual for an incumbent foreign secretary to encourage demonstrations, particularly targeting another country's embassy, not least because it could have repercussions for British diplomats in that country.
Mr Johnson called for the public to protest at the same time as refusing to commit to no-fly zones in the region, despite emotive calls to action.
"We cannot commit to a no-fly zone unless we are prepared to confront and perhaps shoot down planes or helicopters that violate that zone. We need to think very carefully about the consequences," Mr Johnson said during the Commons debate.
Downing Street later told journalists at a briefing "the notion that we would somehow be engaged in enforcing a no-fly zone with Russian aircrafts in the same airspace is clearly a potentially very difficult and challenging situation.
Aleppo bears the brunt in another day of carnage and defiance

Show all 3
"It is one which would need to be very carefully looked at and the risks attached to it very carefully analysed before we would head down that path."
In his speech, Mr Johnson also criticised the Stop the War Coalition, asking: "Where is the Stop the War coalition at the moment? Where are they?"
Chris Nineham, vice chair of the group, responded on the BBC Today programme, arguing the movement was set up to protest against British military action, because the group was based in Britain and so this was where they could exert pressure.
A protest outside the Russian embassy in London would not "make a blind bit of difference" he said.
Register for free to continue reading
Registration is a free and easy way to support our truly independent journalism
By registering, you will also enjoy limited access to Premium articles, exclusive newsletters, commenting, and virtual events with our leading journalists
Already have an account? sign in
Join our new commenting forum
Join thought-provoking conversations, follow other Independent readers and see their replies