Boris Johnson TFL information sign mocks Mayor ahead of planned tube strikes
Criticism comes as tube workers prepare for protests and two 48-hour industrial action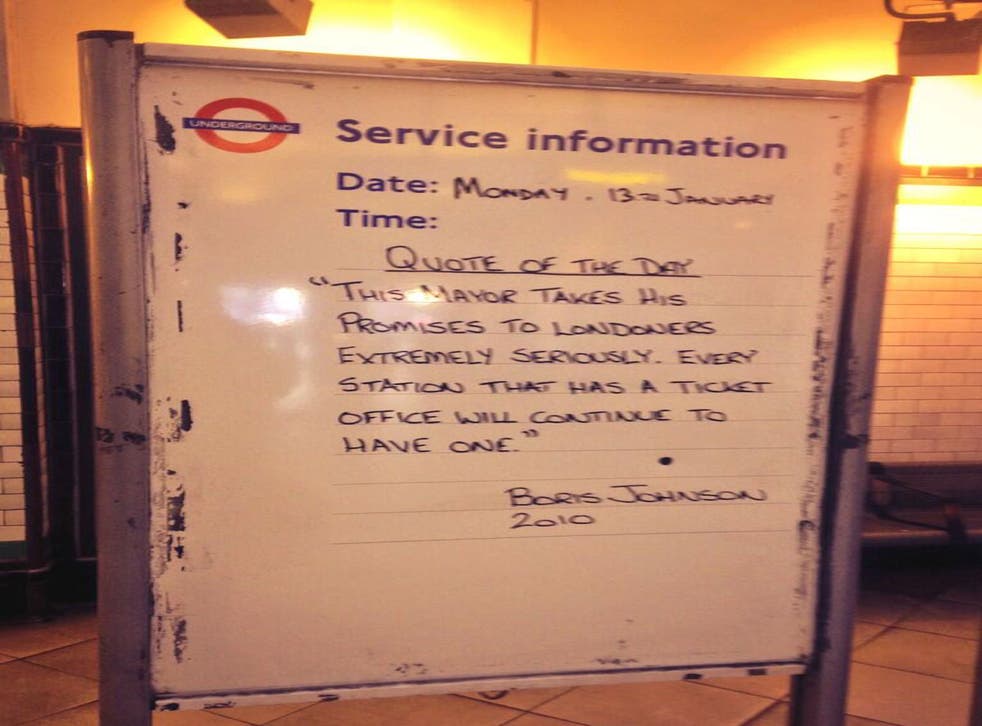 Workers at a London Underground tube station have hit out at the Mayor Boris Johnson's apparent U-turn on ticket office closures – by using his pledge to protect them as a "Quote of the Day".
Appearing on a service information board at Clapham South this morning, the message read: "This Mayor takes his promises to Londoners extremely seriously. Every station that has a ticket office will continue to have one."
That quotation appeared in a statement from City Hall in March 2010 at the same time as Mr Johnson told hundreds of Transport for London staff they faced an uncertain future.
Last week the general secretary of the Transport Salaried Staffs Association (TSSA), Manuel Cortes, also highlighted Mr Johnson's U-turn on ticket office closures, saying: "It was the Mayor who came into office in 2008 with a firm pledge to keep open every ticket office on the grounds of keeping passengers safe and secure at all times."
The Mayor recently announced a raft of changes that will see TFL's spending cut by more than £40 million a year, putting more than 750 jobs at risk and seeing the closure of 260 ticket offices by 2015.
That sparked a campaign to keep them open, which next month will see members of the Rail Maritime and Transport union stage two 48-hour strikes, on 4 and 11 February.
The union will also hold a demonstration opposite Parliament this Wednesday, when MPs are due to debate the closures and job losses.
Labour MP John McDonnell said: "Many MPs are expressing their concern at these drastic cuts in staffing. They know that this will not only undermine the quality of the service, but will also increase the risk to passengers travelling on our network."
Phil Hufton, London Underground's chief operating officer, said: "All Tube stations will remain staffed at all times when services are operating, and we'll be introducing a 24-hour service at weekends during 2015. In future, there will be more staff in ticket halls and on platforms to help customers buy the right ticket and keep them safe and secure.
"We're committed to working with unions and staff to implement changes to station staffing without compulsory redundancies and we've been clear that there'll be a job for everyone at LU who wants to work for us and be flexible. I urge our trade union colleagues to work with us to shape the future of the Tube."
Members of the TSSA will vote in the coming weeks on whether to launch their own campaign of industrial action.
Register for free to continue reading
Registration is a free and easy way to support our truly independent journalism
By registering, you will also enjoy limited access to Premium articles, exclusive newsletters, commenting, and virtual events with our leading journalists
Already have an account? sign in
Register for free to continue reading
Registration is a free and easy way to support our truly independent journalism
By registering, you will also enjoy limited access to Premium articles, exclusive newsletters, commenting, and virtual events with our leading journalists
Already have an account? sign in
Join our new commenting forum
Join thought-provoking conversations, follow other Independent readers and see their replies