Boris runs out of zip: Mayor of London gets stuck on zip wire after publicity stunt goes wrong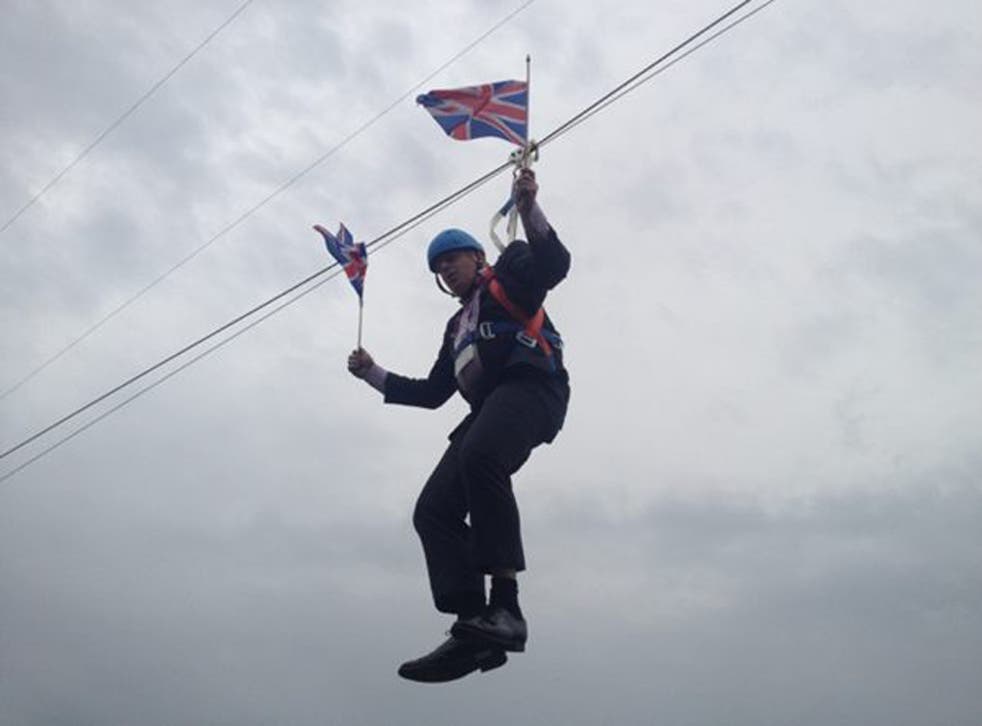 Is it a bird? Is it a plane?
No, it's Boris Johnson's latest publicity stunt gone slightly wrong.
The Mayor of London was left hanging twenty foot above Victoria Park in east London this afternoon when he got stuck halfway down a zip wire at a Games event.
Mr Johnson was the first person to use the 45-metre high, 320-metre long zip wire zip wire which offers views towards the Olympic stadium.
But as he descended, clutching union jack flags in each hand, the wire appeared to get stuck leaving the Mayor dangling in mid-air.
As ground teams moved in to pull the mayor back to terra-firma he was heard shouting "Get me a rope, get me a ladder… I think the brakes got stuck".
As onlookers snapped photos on their mobile phones, he added: "This is great fun but it needs to go faster."
Within minutes pictures of the rather bedraggled Mr Johnson hanging precariously next to the park's observation wheel were being posted over the internet – and were trending on Twitter.
Shortly afterwards they were parodied with cut-out images of the hanging Mr Johnson in other unlikely spots – including above the mace in House of Commons.
Mr Johnson was in the park to promote free Olympic events – some of which had been suffering from people's reluctance to travel during the games.
Mr Johnson today played down suggestions that his warnings over transport chaos had prompted an Olympics-related mini recession in the capital.
He insisted businesses which had engaged with the Games were prospering.
"What's happening is people are having a great time and those who are looking to engage with the Games are doing great business," he said.
Asked what his message to struggling businesses would be, he added: "The message is, London is the place to be and I hope as many people as possible get involved with everything that's on offer from attractions at Stratford to those in central London."
Register for free to continue reading
Registration is a free and easy way to support our truly independent journalism
By registering, you will also enjoy limited access to Premium articles, exclusive newsletters, commenting, and virtual events with our leading journalists
Already have an account? sign in
Register for free to continue reading
Registration is a free and easy way to support our truly independent journalism
By registering, you will also enjoy limited access to Premium articles, exclusive newsletters, commenting, and virtual events with our leading journalists
Already have an account? sign in
Join our new commenting forum
Join thought-provoking conversations, follow other Independent readers and see their replies