Boston: How a Lincolnshire town became 'the most divided place in England'
Policy Exchange report names town the least integrated in the country after huge numbers of arrivals from eastern Europe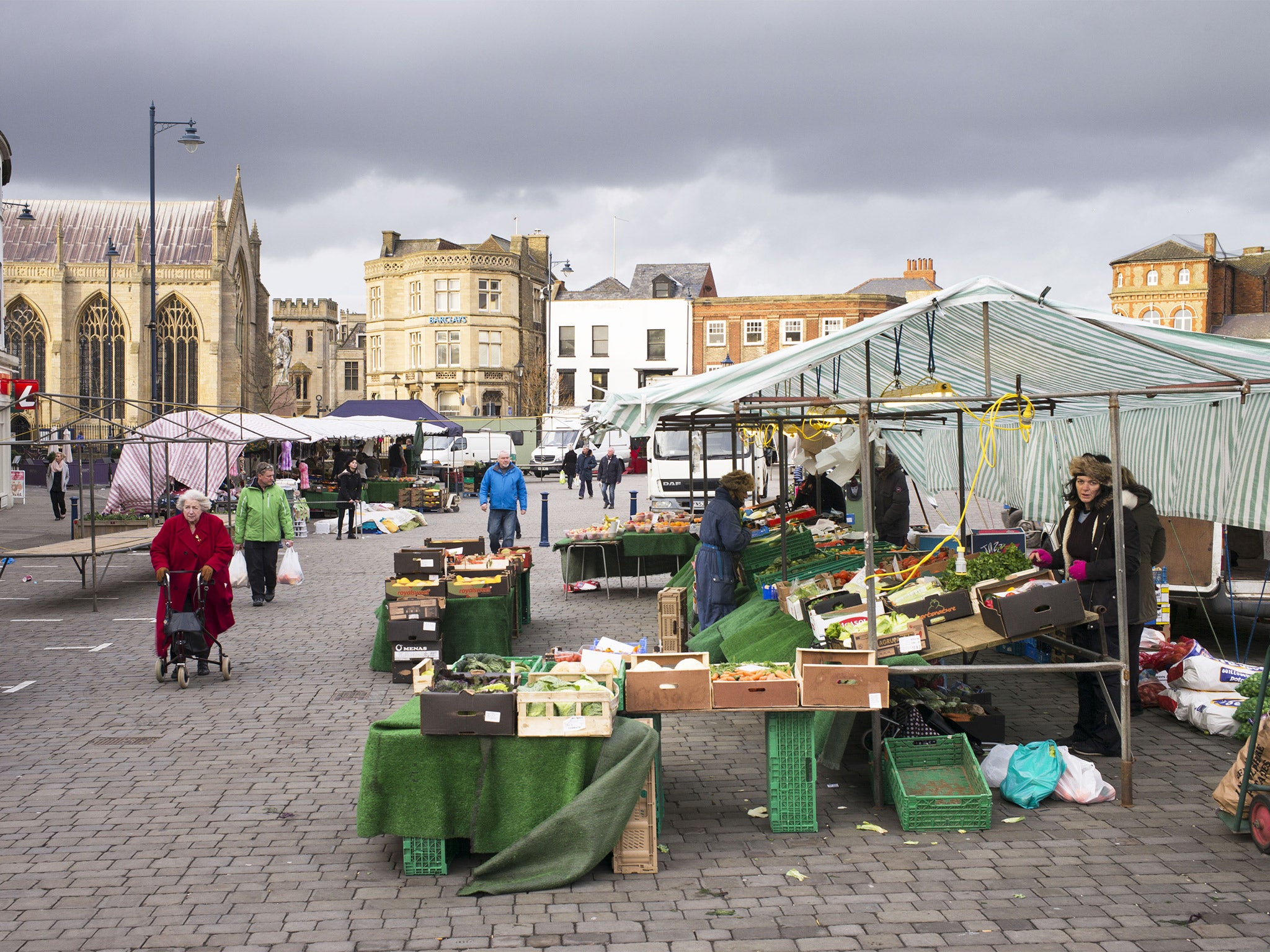 Mention immigration to locals in Boston and they generally mutter excuses and shuffle away, or give a smile and a polite shake of the head. Nobody, it seems, wants to be seen discussing the topic.
It is remarkable given how much this Lincolnshire town has been transformed by huge numbers of arrivals from eastern Europe in recent years that such a talking point elicits such pointed reticence.
Yet it effectively reinforces the impression many now have of a divided town and seething resentments.
"I have nowt to do with them," one of the traders, an Englishman, hard at work in Boston's central market square said, indicating the local immigrants wandering past. He, like so many others, who did not want to be named, highlighted an "us and them" attitude that many in the area feel.
"If you want to see the difference in this town, take a walk along West Street. They have got nearly all the shops along there now. People are bothered by immigration because of the size of the town. It's ridiculous how many shops and supermarkets they have."
According to the 2011 Census, Boston is now home to a higher proportion of eastern European immigrants than anywhere else in England and Wales: 10.6 per cent of the town's population of 65,000 comes from one of the "new" EU countries such as Poland, Lithuania, Latvia or Romania.
More concerning, it has now been named as the least integrated place in England and Wales by a Policy Exchange report.
To mark the launch of its new unit on Demography, Immigration and Integration, the think-tank analysed the most recent Census data to produce an inaugural Integration Index – a list of the best and worst places in the country from the point of view of integration.
The data examines "identity integration", how minorities living in English and Welsh towns feel, and "structural integration", how well minorities living in that area mix with other ethnic groups.
Boston finished bottom of 160 towns and cities with a minimum population of 20,000 and a minimum non-White British minority population of 15 per cent. Amersham, in Buckinghamshire, is the most integrated area.
A large proportion of the newsagents, hairdressers, fast-food joints and other shops on West Street and the surrounding lanes are run, or staffed at least, by immigrants. A Lithuanian woman who manages the European News newsagent was chatting with two friends when The Independent arrived. The pair quickly left when questions started being asked and it took some persuasion for her to speak – without giving her name, of course.
"We have few English customers, it's mainly Polish, Russian or Lithuanian," the woman in her 30s said.
"I've been here two years now and my daughter is in school. I studied English at Boston College and have a few English friends now also. We're happy here," she added.
Whether staff at the Moon Under Water, a Wetherspoon pub on the High Street, had an opinion or not, they were not allowed to speak.
A spokesman from the company's head office said they had experienced "issues in the past" so would not allow any employee to talk, but we could speak to customers. However, that was quickly vetoed by the manager herself. "Er, she doesn't want any trouble," her colleague said.
People are well aware the town has an image problem. Boston Borough Council said it continued to work hard to meet the challenges that rapid population change has brought. "It is difficult to comment further without knowing more about how the Policy Exchange has arrived at its conclusions," a spokesman said.
Everything you need to know about immigration
Just how different the ethnic make-up of the town has become is highlighted on the main doors of the impressive St Botolph's Church, whose extraordinarily tall tower looms over the town. It may be closed for refurbishment, but the Reverend Alyson Buxton has made sure the information about reopening, on 10 February, has been printed in six languages – English, Latvian, Lithuanian, Polish, Russian and Portuguese – so no one feels left out.
Others are also keen to do something about improving integration and the town's image. Last month, the Boston Marathon was set up by Harish Kurup, a consultant orthopaedic surgeon at Pilgrim Hospital, with the support of Mayor Richard Austin.
"Our primary aim is to boost the image of the town, health promotion and for cultural integration of different groups," Mr Kurup said of the event, on 17 April, which will also raise money for charity.
Boston and Skegness was one of Ukip's top five target seats at the last general election. Although their share of the vote rose by almost 25 per cent, their candidate lost out to new Tory MP Matt Warman, who won with a majority of more than 4,000.
"People have to remember this report is based on 2011 data, so it doesn't reflect the world of 2016," said the MP.
"That said, we know that in all areas that have suffered large and rapid changes in population, challenges for community cohesion follow. That is why the town has really focused on how it deals with those challenges."
10 things immigration has done for Britain
Show all 10
Mr Warman cited the local Polish community being part of last year's Remembrance Day services as an example of where the past does not necessarily differ from the present.
"It's not just that we're on the same side now, we've been on the same side for decades," he said. "People have been coming to the town for a number of years because of the work, which is good news.
"Integration is a known issue that Boston has been tackling since well before 2011 – and we will all be in a better place the more we openly talk about what the challenges are and what we'd like to do about it."
Join our commenting forum
Join thought-provoking conversations, follow other Independent readers and see their replies