Boys wear skirts to school in sweltering heat to protest against 'no shorts' policy
'Loads of them have been put in isolation for stupid reasons because the school doesn't like having no control over them'
Chloe Farand
Thursday 22 June 2017 18:26 Comments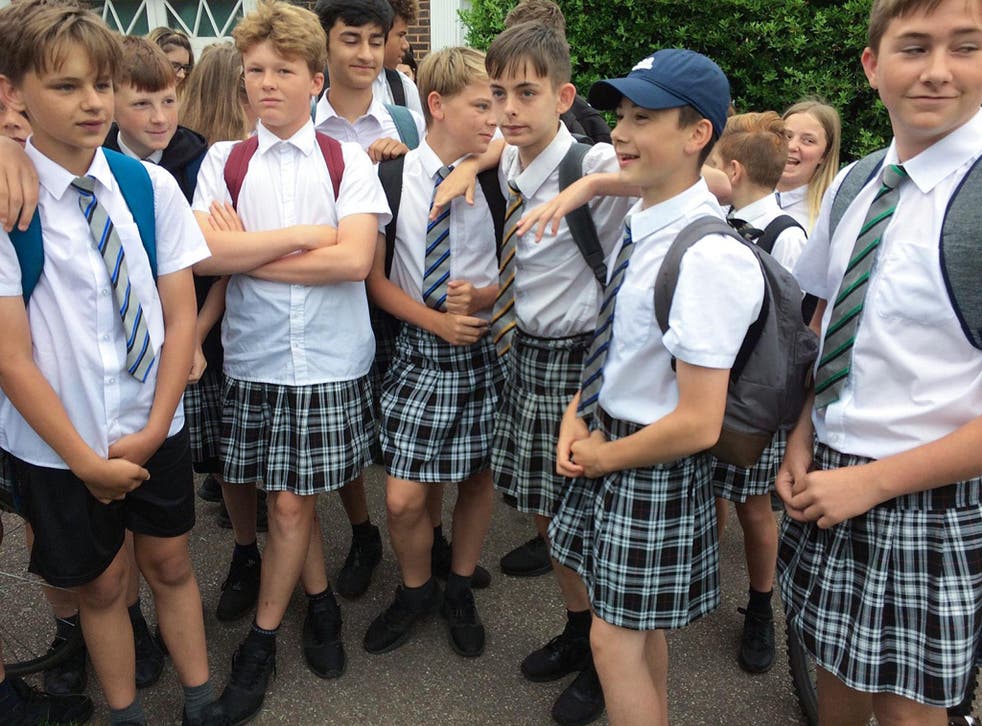 A group of 30 boys turned up to school wearing skirts to protest against a uniform policy that does not allow them to wear shorts despite the sweltering heat.
"Loads of them have been put in isolation for stupid reasons because the school doesn't like having no control over them," one pupil at the Isca Academy in Exeter told Devon Live.
They arrived wearing a skirt over their shorts, instead of the long trousers required by the school's uniform rules.
However, a Devon County Council spokesman said none of the boys were reprimanded and no one was put in "isolation" or given detention for wearing a skirt.
Headteacher Aimee Mitchell said "shorts were not currently part of the uniform policy".
The students said they wanted to continue wearing the skirts because they were more comfortable.
One pupil said: "We aren't allowed to wear shorts and I'm not sitting there in trousers the whole day. It's a bit hot. Girls are allowed to wear skirts all year round and we have to sit there sweating."
The boys and some of the parents had been asking permission to the school to wear shorts in the hot weather.
One mother told Devon Live the idea might have emerged following a "sarcastic" suggestion from the headteacher when pupils asked if they could wear shorts.
UK news in pictures

Show all 50
One pupil was allegedly told to take off his skirt because it was too short and another was told his legs were too hairy.
Claire Reeves, 30, said she called the school several times to ask if her son could wear shorts. She said: "They have told me that if I send my son to school in shorts then he will be sent to the isolation room all day and if I keep him off school then it'll be an unauthorised absence.
"The girls are allowed to wear skirts all year round so I think it's completely unfair that the boys can't wear shorts. Boys just don't have the option and I am just really concerned about how the heat is going to affect him."
In a statement, Ms Mitchell previously said she would be happy to consider a change of uniform in the future because of hotter weather becoming more regular but changes would have to be made after consulting both students and their families.
"We recognise that the last few days have been exceptionally hot and we are doing our utmost to enable both students and staff to remain as comfortable as possible," she said.
On the school's website, the statement says ties can be removed and not worn by students but should be brought to school on a daily basis and top buttons of shirts can be undone.
Register for free to continue reading
Registration is a free and easy way to support our truly independent journalism
By registering, you will also enjoy limited access to Premium articles, exclusive newsletters, commenting, and virtual events with our leading journalists
Already have an account? sign in
Join our new commenting forum
Join thought-provoking conversations, follow other Independent readers and see their replies