David Cameron resigns: Timeline of Prime Minister's political career
The Prime Minister announced his intention to resign following the result of the EU referendum 
Will Worley
Friday 24 June 2016 16:18 Comments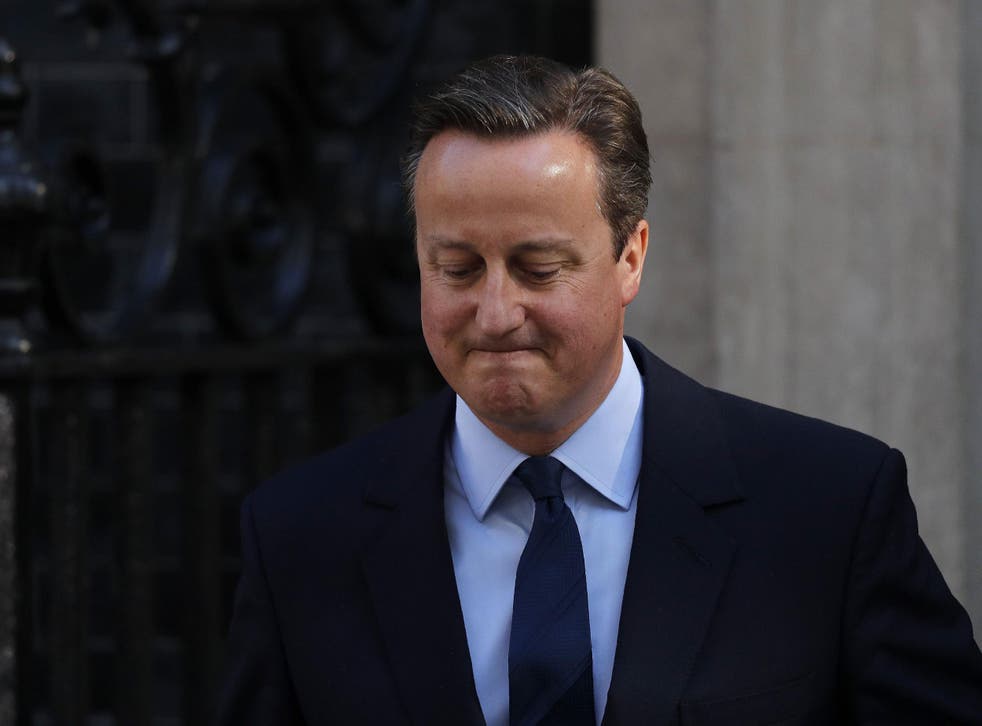 David Cameron has announced his intention to resign as Prime Minister of the United Kingdom, following the country's historic decision to leave the European Union.
Mr Cameron led the Conservatives to their first parliamentary majority since 1992. He portrayed himself as a "compassionate conservative" and was lauded for rebranding the Tories as a "one nation" conservative party and away from the divisive rule of Margaret Thatcher.
However, he will now be remembered as the leader who enabled his country's fateful departure from the EU.
David Cameron tears up during resignation speech
The following is a timeline of his career in politics:
1988 – 2000: Mr Cameron began his political career in the Conservative research department in the eighties and took up a succession of special adviser posts. He left politics for communications in 1994, working on the board of management at Carlton.
2000: Mr Cameron was selected as a potential Conservative parliamentary candidate for the Witney constituency in Oxfordshire.
2001: Mr Cameron won the Witney seat for the Conservative party, where he served on the Commons Home Affairs Select Committee until 2003.
2005: Following another Labour general election victory in May, Mr Cameron was elected as leader of the Conservative party in December, replacing Michael Howard. He won with a mandate to modernise the Conservative party, which many perceived as tired and out of touch.
At the time, he said he was "fed up with the Punch and Judy politics of Westminster" and wanted to make people "feel good about being Conservatives again".
2010: The general election of this year saw the Conservative party form a coalition government with the Liberal Democrats, led by Nick Clegg. David Cameron, aged just 43, became the youngest Prime Minister since 1812. A coalition had not governed the UK since the end of the Second World War.
In his first speech, he said: "I came into politics because I love this country, I think its best days still lie ahead and I believe deeply in public service, and I think the service our country needs right now is to face up to our really big challenges, to confront our problems, to take difficult decisions, to lead people through those difficult decisions so that together we can reach better times ahead."
The government embarked on a programme of economic austerity, blaming overspending by the previous Labour government for the economic deficit the UK suffered. Around £100 billion of cuts were made to government spending between 2010 and 2014.
2010: The government announced higher tuition fees for higher education in England and Wales. Student protests organised in response descended in to violence.
2011: Riots erupted across the UK after the police shooting of Mark Duggan in Tottenham. Mr Cameron vowed to fix a "broken society" and described elements of it as "frankly sick".
2011: Mr Cameron strongly backed a British intervention in Libya, despite advice to the contrary by many military chiefs. He said of their criticism: "I tell you what, you do the fighting and I'll do the talking."
Brexit reactions – in pictures

Show all 10
2013: Legislation to allow same-sex marriage is marriage in the UK is passed. Mr Cameron has often looked back at this as a career highlight.
2014: People in Scotland voted in a referendum to stay in the United Kingdom. Mr Cameron had campaigned for this outcome and welcomed the decision. "It would have broken my heart to see our United Kingdom come to an end," he said after the result.
2015: David Cameron's Conservatives win the general election with a majority. One of the party's manifesto promises was a referendum on Britain's EU membership.
2015: The British parliament voted in favour of bombing extremist group Isis in Syria. Mr Cameron was strongly in favour of the move and had also repeatedly called for Syrian ruler Bashar al-Assad to step down.
2015: An anecdote from an unauthorised biography of Mr Cameron, Call Me Dave, alleges that Mr Cameron inserted a "private part of his anatomy" into a pig's head, leading to widespread ridicule.
2016: Documents leaked from Panama based law firm Mossack Fonseca, known as the Panama Papers, show Mr Cameron profited from an offshore trust belonging to his father. The incident was highly embarrassing for him, as he had spoken on numerous occasions against tax evasion and avoidance.
2016: Following a bitter campaign, the UK voted to leave the European Union. Mr Cameron announced his intention to resign outside 10 Downing Street.
Register for free to continue reading
Registration is a free and easy way to support our truly independent journalism
By registering, you will also enjoy limited access to Premium articles, exclusive newsletters, commenting, and virtual events with our leading journalists
Already have an account? sign in
Join our new commenting forum
Join thought-provoking conversations, follow other Independent readers and see their replies