Brexit: Losing care staff from EU could force disabled people from their homes, report warns
Exclusive: People with disabilities could 'slide back' into heightened state of dependency following UK's departure from bloc, charity claims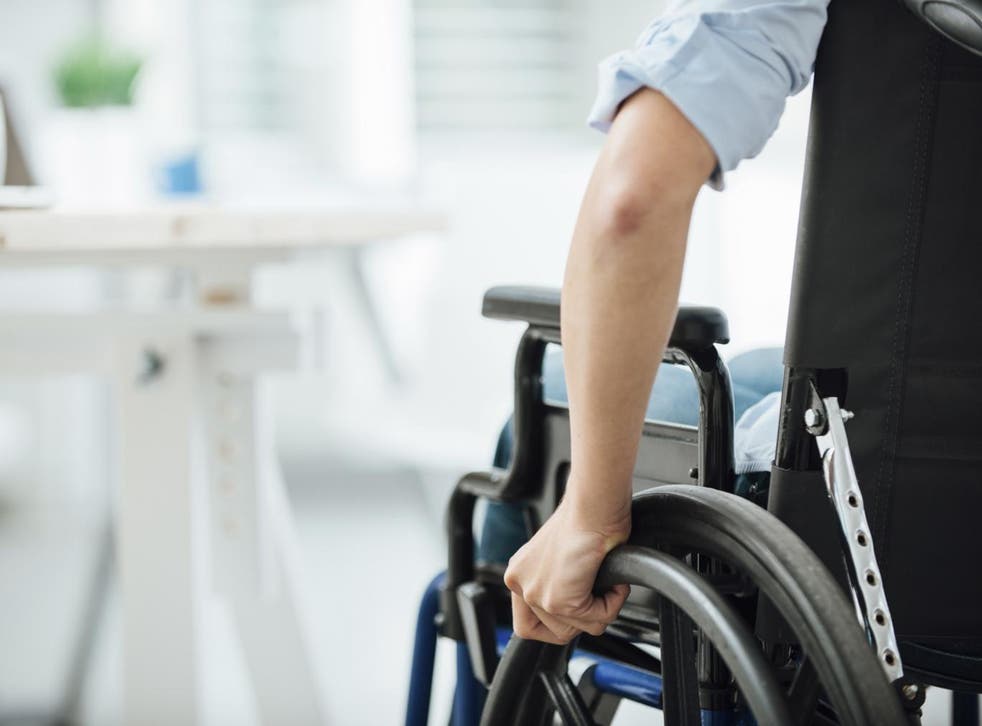 People with disabilities in the UK could "slide back" into nursing homes if Brexit restricts the numbers of care staff coming from the EU, according to a new report seen exclusively by The Independent.
They face losing crucial rights and protections following Brexit and could be forced to move out of their homes, the study, published by charity Disability Rights UK (DRUK), claims.
Britain's departure from the EU could damage disabled people's quality of life of people due to a loss of funding for support services and a potential scaling back of disability rights that sit within EU law, it warns.
DRUK said the impact of Brexit on disability rights has "barely been mentioned" in policy debates, despite disabled people making up one in five of the British population.
Among the most pressing concerns, the report warns that changes to immigration laws are likely to impact personal assistance, warning that the loss of carers from EU countries could see disabled people "slide back" into depending on institutions and unable to live at home.
It states that while the discussion on immigration has so far picked up on highly skilled people and around farm work, there has been little on the people who keep services running like the health and social care services.
The number of non-British EU nationals working in the UK's crisis-stricken social care system has shot up by more than 40 per cent in three years, according to official figures – prompting fears that Brexit will lead to a catastrophic staffing crisis across the sector.
Anna Lawson, co-author of the report who is a professor of law and director of Centre of Disability, told The Independent: "The discussion on immigration has so far picked up on highly skilled people and around farm work. But there's been very little on the people who keep services running like the health and social care services.
"This all links to the right to independent living. If you can't get access to support and services then people slide back into institutions rather than living at home, or living at home without adequate support."
Researchers also warned that millions of pounds of EU funding currently provided to charities and organisations running support and schemes for disabled people are at risk, and urges that making replacing any lost funding must be a "high priority" so opportunities aren't "bricked up".
UK charities benefit from an estimated £300 million a year, the report states. Funding for people with disabilities includes that from the European Social Fund, which helps disabled people with work experience, wage subsidies and support for the self-employed, and the European Regional Development Funds, which offers funding for projects that enhance disability equality and inclusion.
Philip Connolly, policy and development manager at DRUK, told The Independent: "European social fund provides training and employment support to tens of thousands of disabled people.
"The Government has said it will match funds up to 2020, but that's only three years away. What's going to happen after that? A significant move for disabled people into work might be walled up the access route. It will brick up their opportunities."
Based on the assumption that the UK will not be seeking membership of the European Economic Area or single market, the findings also warn that unless urgent action is taken to implement new disability laws in the UK, disabled people will lose important measures that currently fall under EU law.
While some disability-related rights in EU law are already embedded in domestic UK legislation, there are many disability-related rights, such as access to air travel, low flow buses and accessible websites, that are "directly applicable" in the UK but only apply through our membership of the EU laws.
Ms Lawson warned that on leaving the EU it was crucial for the UK to "keep up" with developments in EU law regarding protection for disabled people, warning that if action isn't taken to do so the UK could see a regression in rights for disabled people.
"Currently, travel on board a plane or ship disabled people are protected from discrimination and have a right to assistance only in EU law. There's nothing specifically in UK law," Ms Lawson told The Independent.
"Unless action is taken to ensure these laws are transferred onto the UK statute book, this could see a return to a time where, for example, you could be assisted up to the boarding gate, but not have help getting onto the plane.
"If we don't keep up with the ongoing and fast-moving developments in EU law, we could end up having much lower requirements. It's a complex issue on which our laws are very entangled with EU laws. If we're going to disentangle them, there's a risk things will fall out in that process."
The report concludes that "explicit attention" should be given to this issue in the negotiations to ensure that disabled passengers continue to be able to travel safely and on an equal basis with others.
It also warns that a loss of reciprocal agreements with the EU would have "massive implications" for disabled people travelling in Europe, and could see some people living in Europe forced to return to the UK for medical care.
Ms Lawson said the loss of such agreements would affect a large number of people, but because disabled people have a heightened need to access healthcare they will be particularly "hit hard".
"The loss of reciprocal agreements will affect everybody, but because disabled people disproportionately need access to healthcare, they will be hit hard. The cost of getting healthcare insurance if you go on holiday, for instance, is going to be very expensive without those agreements, particularly for disabled people or those with health problems," she said.
"Also for people who live or work in other EU countries at the moment who are disabled. There are a lot of older people who are likely to be disabled or have ongoing health conditions, and there are likely to be massive implications for them without the reciprocal health agreements that we currently have.
"They might have to come back to the UK for healthcare. That needs to be on the negotiating table, otherwise we won't have reciprocal agreements on that."
Concluding the report's findings, Mr Connolly said: "The implications of Brexit for disabled people are both myriad and huge. Disabled people might struggle to get the support they need to live independently, or get access to transport, and we could see a dilution of disabled people's rights generally.
In pictures: European parliament Brexit discussions

Show all 12
"It's vital that the government starts talking to disabled people and demonstrating its commitment to their needs and concerns."
Responding to the warnings in the report, a Government spokesperson said: "This Government made a clear commitment that all protections in equality legislation will continue to apply once the UK has left the EU.
"There will be no going backwards on this issue. We are carefully considering how best to convert EU law through the Great Repeal Bill. The UK has some of the strongest equality legislation in the world and will continue to address discrimination in all its forms."
Join our new commenting forum
Join thought-provoking conversations, follow other Independent readers and see their replies