Polish community centre head speaks of 'overwhelming' public support following graffiti hate crime
The attack on the Polish Social and Cultural Association was one of more than a hundred incidents of racial abuse and hate crime reported since the UK voted to leave the European Union last week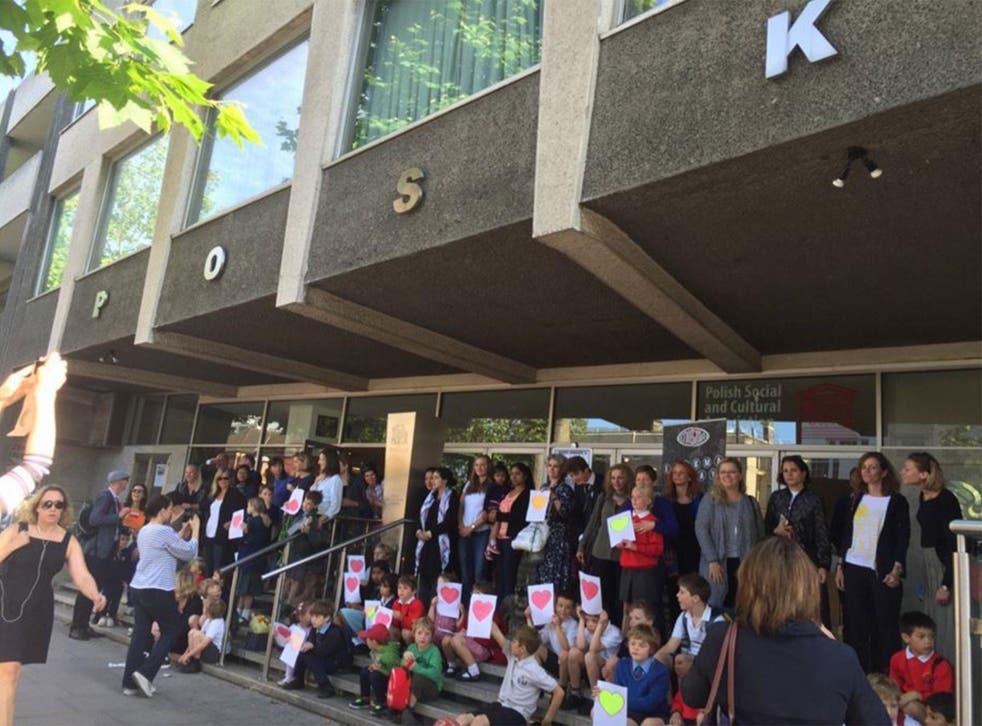 The Chairman of a Polish community centre subjected to an incident of Brexit-fuelled hate crime has spoken out about the "overwhelming" response she has received from the general public.
Mrs Joanna Mludzinska from the Polish Social and Cultural Association (POSK) said the centre had received "around 200 emails, masses of flowers and cards" from well-wishers all over the county after xenophobic graffiti was smeared on the West London building's walls on Sunday.
"The overall response from the general public has been overwhelming," she told the Independent. "Just this morning we had the children and parents of a local school around the corner on our steps who had come to show their support, bringing with them cards the children had drawn. It's been incredible".
One card sent in to the POSK said: "Dear Poles, I am so sorry to hear about what happened yesterday. We the Brits are grateful to you for fighting alongside us in the war and now for the enormous contribution you make to our society. We love you."
Another started: "Dear Polish friends, we wanted to let you know how very sorry we are to hear about the abusive messages graffitied on to your building. It's depressing enough that the UK (or part of it) will be leaving the EU. That the result of the referendum seems to have been interpreted by some as a licence to express their racism and xenophobia is truly horrifying."
Mrs Mludzinska confirmed she was still waiting for an update from police, who said the incident was being treated as a hate crime due to the "racially aggravated nature of the criminal damage".
"People from all over the UK have emailed us to apologise on behalf of the person who has done this," she said, "and that's what we'd expect from the British public really rather than anything else".
Polish ambassador calls on government to condemn Brexit-related hate crimes
The attack on the POSK was one of more than a hundred incidents of racial abuse and hate crime reported since the UK voted to leave the European Union last week.
One video, purportedly filmed in Hackney, east London, shows a man arguing with someone in a car before shouting at them to "go back to your country".
In Cambridgeshire, police said they had met with members of the Polish community in order to reassure them after a wave of abusive fliers were distributed through post boxes and stuck up on primary school walls.
Mrs Mludzinska said her association had never experienced anything of a hateful nature before the Brexit vote, but added that she did not feel unsafe.
"Politcal leaders have made very positive statements saying incidents like this are unacceptable and that nobody is going to be thrown out… this kind of thing, so we just keep repeating that to members of our community to try and reassure them. But nobody has any detail as to how we will be affected."
"The kind of things that have been happening in Huntingdon and other places where people have had individual, direct verbal abuse and been told to go home and so on - that's a very different story. If you've experienced something like that it can be very upsetting and very worrying."
Speaking in Parliament on Monday, David Cameron said: "I spoke to the Polish Prime Minister this afternoon to say how concerned I was about the terrible attacks that have taken place, and to reassure her we are doing everything we can to protect Polish citizens in our country".
Polish ambassador Witold Sobków posted on Twitter that he expects the British government to condemn the acts and that the matter was due to be discussed in the coming days.
Join our new commenting forum
Join thought-provoking conversations, follow other Independent readers and see their replies