UK policy of deporting homeless EU citizens could be illegal, European Commission suggests
Exclusive: Legal experts warn that immigration guidelines behind record numbers of removals of EU nationals may be unlawful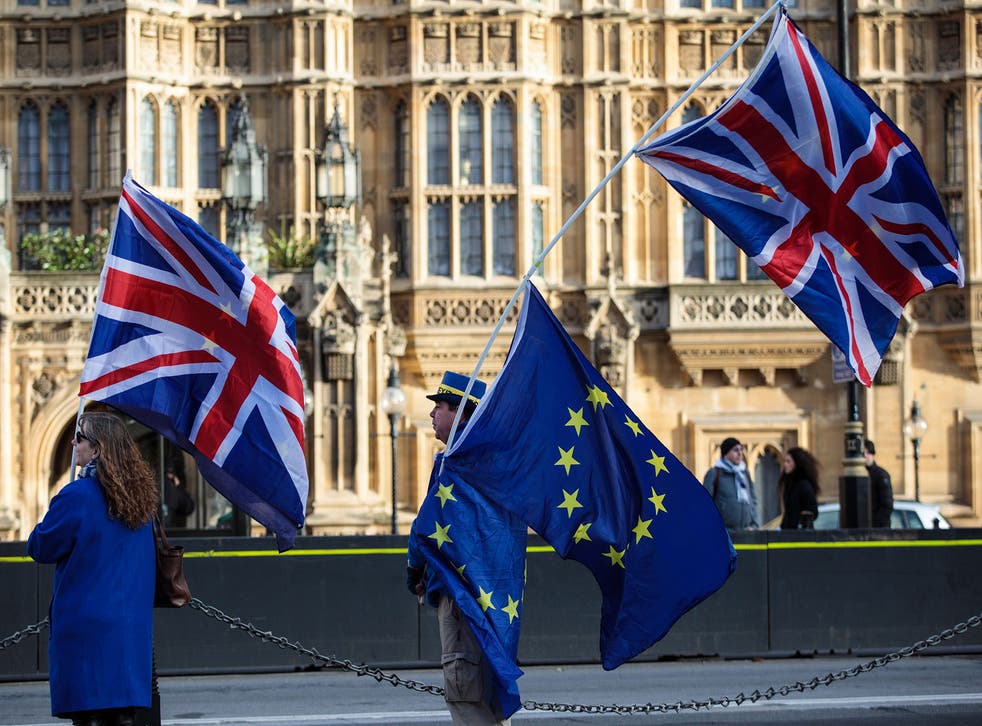 EU member states have no right to deport EU citizens for being homeless, the European Commission has said, raising urgent questions about the legality of Home Office policy of removing European rough sleepers from the UK.
The Independent revealed earlier this year that deportations of EU citizens from the UK have soared since Brexit, in part as a result of new Government guidelines stating that EU nationals sleeping rough in the UK should be removed.
Almost 5,000 EU citizens were deported from Britain in the last 12 months – the highest number since current records began and an increase of 14 per cent in the last year alone.
Legal experts have warned that some of the deportations are illegal and have no basis in EU law – a claim that appears to have been endorsed by the European Commission.
In response to a European Parliament question from Danish MEP Ole Christensen, Vera Jourova, the Commissioner for Justice, Consumers and Gender Equality, confirmed that EU citizens have a right to live in other EU countries "irrespective of whether they are homeless or not".
She said: "The details of conditions for EU citizens to have a right of residence in another Member State are set out in the Free Movement Directive 2004/38/EC. Residence up to three months requires holding a valid passport or ID card, and longer residence essentially requires that the EU citizen is economically active, or, if not, can show sufficient resources not to be a burden on public funds and comprehensive sickness insurance.
"EC law on free movement precludes a Member State from making the right of residence of an EU citizen in another Member State subject to a condition of having a permanent or temporary address.
"EU citizens who meet the conditions set out in Directive 2004/38/EC have a right of residence, irrespective of whether they are homeless or not."
A spokesman for the Commission also confirmed to The Independent that it is investigating the UK's deportations policy.
He said: "We are aware of an increase in the number of EU nationals who are being detained and facing removal from the UK for immigration reasons. We are looking into this issue."
UK news in pictures

Show all 50
Should the Commission formally rule that the deportations are illegal, the UK Government would be forced to stop the policy – or face punishment by Brussels. The case could be referred to the European Court of Justice while the UK still remains an EU member.
Under the deal agreed between Theresa May and EU leaders this week, the ECJ will have powers over the rights of EU citizens living in the UK for eight years after Britain leaves the union.
Under EU law, anyone who has lived in the UK for five years consecutively has the right to permanent residency – regardless of other factors. Campaigners working with migrants say they believe some of those who have been removed fall in to this category.
Even those who have lived in Britain for less than five years cannot be removed without good reason – generally interpreted as having acted fraudulently or criminally, or being a burden on the state.
Rough sleepers who are removed from the UK are not allowed to re-enter the country within 12 months.
The Home Office guidance on deporting rough sleepers is already the subject of a judicial review in the UK and the Commission's response places renewed policy on the Government over a policy that has already been widely criticised by charities and campaigners working with migrants.
The number of EU citizens being removed from the UK has increased fivefold since 2010, reaching 4,754 in 2016 – up from just 973 in the year the Conservatives came to power. The rapid rise followed a fall of more than 74 per cent in the previous six years, down from 3,779 in 2004.
The change stems partly from new immigration regulations introduced by the then Home Secretary Theresa May in May 2016.
The new criteria state that rough sleepers are "misusing" their EU treaty rights and make clear that no other criteria for removal must be met in order to deport someone for sleeping rough. The document says: "You may consider the administrative removal of EEA nationals or their family members who are sleeping rough, even if they have been in the UK for less than 3 months [and] are otherwise exercising Treaty Rights."
The advice to immigration officers adds: "Rough sleeping may be a misuse of a right to reside, therefore EEA nationals or their family members encountered sleeping rough may be subject to administrative removal."
The guidelines use a hypothetical example of an EU citizen who is sleeping rough "whilst working, to avoid accommodation costs", or who is "persistently sleeping rough" as someone who it would be "proportionate" to deport.
Legal experts have consistently raised questions about the legality of the practice, and said Commissioner Jourova's response confirmed the Home Office is acting illegally.
Lara ten Caten, a lawyer at human rights charity Liberty, said: "The Government's self-titled 'hostile environment' spreads far and wide, making life as unbearable as possible for migrants – but the Commission has dealt it a significant blow.
"Deporting rough sleepers simply because they are homeless has no basis in EU law, as the Commission has confirmed. Many of those detained and removed for misusing their free movement rights were actually in work and some even had permanent right of residency, but – in breach of their own policy – the Home Office didn't care to check.
"This unlawful treatment of EU citizens who have fallen on hard times must now come to an end."
Brexit: the deciders

Show all 8
The claim that the Home Office is acting illegally was also backed by Nicolas Rollason, a prominent immigration lawyer and member of the European Immigration Lawyers Network.
He told The Independent: "There are very real concerns about the legality of what the Home Office in doing in relation to some very vulnerable EU nationals who are homeless.
"The UK Government deporting people solely on the basis of them sleeping rough, even when they are otherwise exercising their rights as EU citizens, has no basis in European law and should therefore be considered illegal."
Professor Catherine Baynard, an expert in EU law at the University of Cambridge, said EU nationals who do not have "sufficient resources" can be removed from the UK, but that it is likely that the Government is not following legal due process.
She said: "Under EU law, people have to be given procedural protections and there must be case-by-case consideration. They should also be given a month's notice to leave. I suspect what the UK Government is doing is just rounding up people and getting rid of them. My sense is that this is what is happening, and that would be unlawful.
"If they're just being rounded up and shoved on a plane or a boat, that would be in breach of EU law."
Despite deporting record numbers of EU citizens, ministers have repeatedly said they want to guarantee the rights of EU citizens after Brexit.
In a major speech on Brexit delivered in Florence last month, Ms May said: "I want to repeat to the 600,000 Italians in the UK – and indeed to all EU citizens who have made their lives in our country – that we want you to stay; we value you; and we thank you for your contribution to our national life – and it has been, and remains, one of my first goals in this negotiation to ensure that you can carry on living your lives as before.
"I am clear that the guarantee I am giving on your rights is real."
In light of the European Commission's clarification, Labour called on the Government to urgently review the legality of its deportations policy.
Diane Abbott, the party's Shadow Home Secretary, told The Independent: "Such treatment of the homeless is morally questionable within itself, and the Home Office cannot continue to act with impunity.
"The Government must urgently clarify the legality of their actions."
Ms Abbott also claimed the surge in deportations of EU citizens could prove a barrier during Brexit talks.
She said: "I can't imagine that the illicit deportation of vulnerable EU nationals will have a positive impact on the UK's ongoing Brexit negotiations."
Some of those sleeping rough would previously have qualified for housing benefit to help them find a home. However, in 2014 the government announced that EU nationals who were looking for work would no longer be able to receive housing benefit.
A Home Office spokesperson said: "No one should come to the UK with the intention of sleeping rough, and we will consider carefully the immigration status of those who are encountered doing so.
"We work closely with councils and homelessness outreach services to ensure that those who are vulnerable receive the care they need, while supporting local authorities to tackle the issue of migrants in their communities who have no right to be in the UK."
Join our new commenting forum
Join thought-provoking conversations, follow other Independent readers and see their replies