How you can help EU nationals living in the UK facing Brexit uncertainty
Prime Minister's lack of assurances in Brexit negotiation speech led to pressure groups to call for greater action
Lucy Pasha-Robinson
Wednesday 18 January 2017 19:34 Comments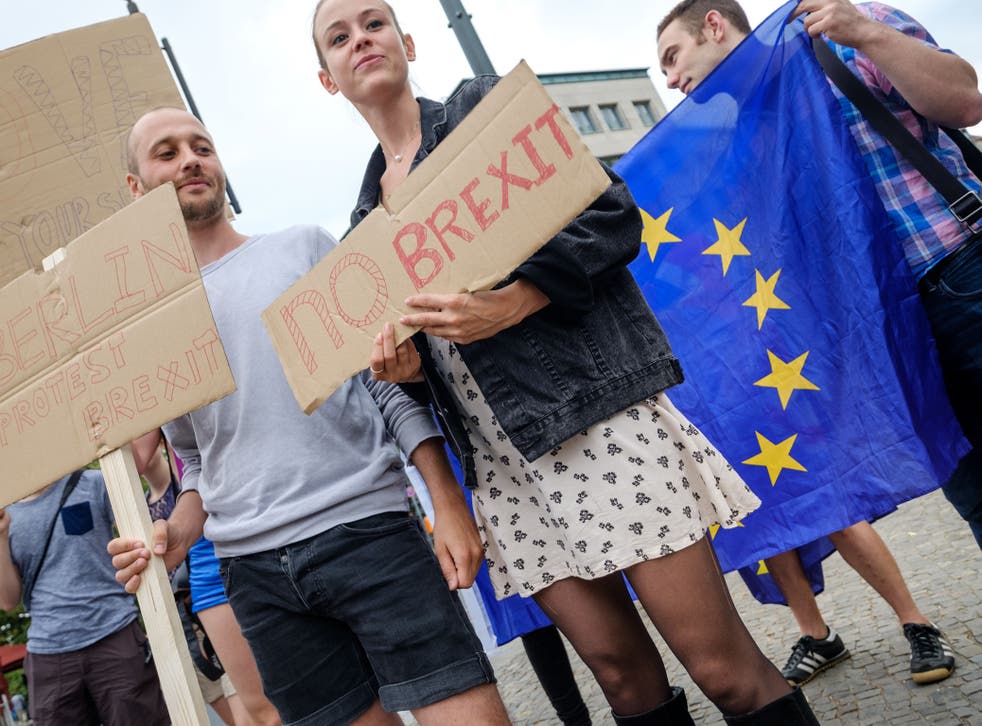 Charities, campaigners and human rights activists have accused Theresa May of using EU nationals as a "bargaining chip" for Brexit negotiations after she refused to guarantee their right to remain in the UK.
Matt Carr, organiser of 1 Day Without Us, a national day of action to celebrate migrant contributions, told The Independent Ms May made a "deliberate political choice" not to guarantee EU citizens' rights.
This encouraged the vilification of European nationals as "the enemy, usurpers and parasites", he said.
In a keynote speech outlining the Government's Brexit negotiation strategy, the Prime Minister said it was "right and fair" to guarantee the rights of EU citizens, but stopped short of offering any assurances.
It adds to months of growing uncertainty and worry for more than 3 million EU citizens living in Britain, who have failed to receive any guarantees of their right to remain in the country after it leaves Europe.
Many had hoped the Prime Minister would seek to reassure EU nationals in the speech.
But her lack of clarity led to an outcry of anger from a collective of Britain's leading migrant charities and campaign groups.
So how can you push for the rights of EU nationals living in the UK to remain on the agenda?
Join a movement supporting EU nationals
Mr Carr told The Independent many people were desperate to do something "to reverse this poisonous current" of vilifying foreigners, and to speak out in support of migrant contributions to British society.
The3million was founded by a group of French people in the wake of Brexit to preserve what they saw as their right to remain in the UK.
Spearheaded by Nicolas Hatton, a Frenchman who has lived in the UK for 21 years, the group is lobbying politicians and Government to push for the rights of EU citizens to remain on the agenda. It also works with businesses and local communities to encourage the wider population to pledge support to EU nationals.
Write to your MP
MPs have the platform to bring community voices into Parliament so continued pressure from constituents can make a real difference. Find your MP's contact details here and encourage them to pledge their support to the UK's EU nationals.
Participate in a protest
On 20 February, the3million and New Europeans are holding a mass lobby in Parliament. They are calling for protesters to come to Westminster and call on MPs to press for unilateral action by the UK government to guarantee the rights of residence for Britain's EU citizens before Article 50 is triggered. You can find the event information here.
It has been timed to coincide with 1 Day Without Us's National Day of Action as part of the UN World Day of Social Justice. The group is calling on migrants from inside and outside the EU, and everyone who supports them, to celebrate the contribution they make by wearing badges, posting selfies, holding mini-rallies or five-minute silences.
On 25 March, Unite for Europe is holding a national march to Parliament to protest the Brexit result.
Lobby your employer
In 2015, a Government report found businesses who employed migrant workers saw significant improvements in performance and productivity, with a larger talent pool producing more varied skillsets and creative ideas.
Many employers recognise the vital importance of migrant contributions to the British workforce. Call on business leaders to show their support for EU nationals by asking them to write to their MP, pledge their solidarity to their migrant workforce and by highlighting their contribution to the business.
Sign a petition
There are plenty of petitions to choose from on Change.org, 38 Degrees and on Parliament's petition website. All call on the Prime Minister to guarantee EU nationals' right to remain in the UK after Brexit.
Alternatively, create your own.
If a petition reaches 10,000 signatures, the Government will respond.
Register for free to continue reading
Registration is a free and easy way to support our truly independent journalism
By registering, you will also enjoy limited access to Premium articles, exclusive newsletters, commenting, and virtual events with our leading journalists
Already have an account? sign in
Join our new commenting forum
Join thought-provoking conversations, follow other Independent readers and see their replies