Brexit march: laughter and anger as hundreds of thousands descend on London to demand People's Vote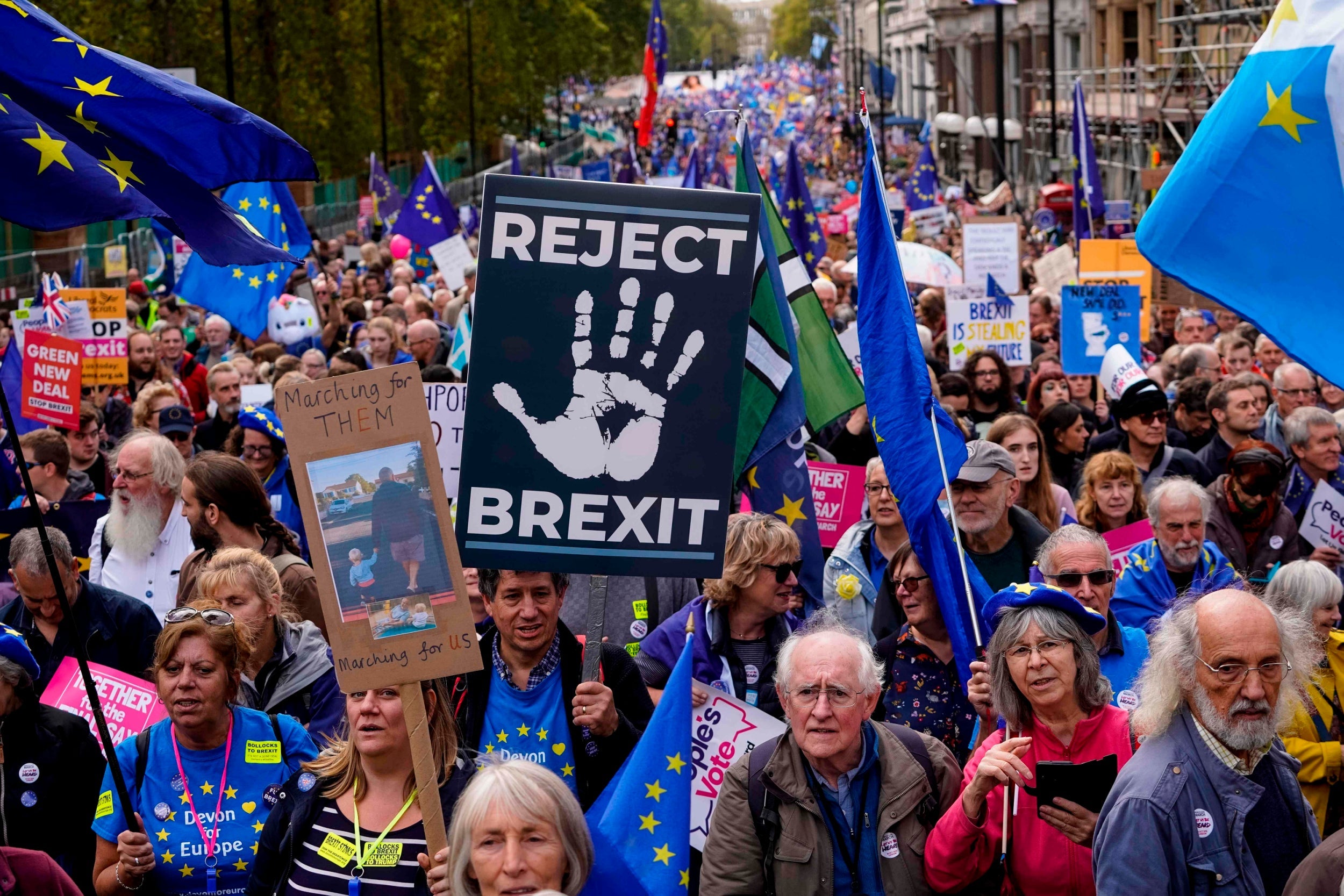 For Pauline Hardman, it was her first ever time in London.
The 32-year-old from County Durham had never been to the capital before Saturday. "I hear it's pretty big," she said from her 5.30am coach down. "They tell me it gets pretty busy."
As a mother-of-four, both the cost and time of a trip down had put her off ever visiting previously.
But she decided she had to break her metropolitan duck this weekend – in the name of demanding a second Brexit referendum.
She joined a million people marching through the capital asking for just one thing: to be asked again.
"I just feel this is so important that I had to come," she said. "It's funny, though. I always thought my first time in London would be for sightseeing. Not because the country was in existential crisis."
The march route, for what it's worth, took in Trafalgar Square, Marble Arch and the Houses of Parliament. "So I suppose I did get to see a few sights," she added. "Two birds, one stone, and all that."
Best pictures from Final Say Brexit march
Show all 76
As MPs sat in the Commons for the first time on a Saturday since 1982, this vast rally outside was the physical embodiment of what campaigners say is the ever-growing support – and necessity – for a Final Say People's Vote to resolve Brexit once and for all.
Supporters came – young and old, Labour and Tory, by train and by coach – from the four corners of the UK to listen to speakers, including Sadiq Khan, Jo Swinson and Star Trek legend Patrick Stewart, make the case for another referendum. They came wearing blue and yellow, and waving EU flags. One arrived, uniquely perhaps, with a saucepan lid and wooden spoon.
"For making a noise," explained 70-year-old Marian Hemsted, from Sevenoaks in Kent, banging them together by way of demonstration. "We want them to hear us in parliament and get the message. I'm not sure I have a strong enough voice to cheer everything I agree with today but I can hit a saucepan lid with the best of them."
She had come with daughter Rebecca and nine-month-old grandson Nathan. "I'm not sure he has an opinion on Brexit quite yet," she admitted of the tot.
There was perhaps not quite the carnival atmosphere of previous rallies.
There were drumming bands, painted faces and a bloke dishing out free vegetarian curries on route (it was nice). There was one woman, Tanya Hall, dressed as an EU fairy: "I made my wings using old coat hangers, tights and blue car spray from the back of the garage," the 51-year-old said. "It represents how wonderful the EU is."
But, with a referendum appearing to be somehow simultaneously both closer and further away than ever, there was also a sense of urgency, anger and purpose – among both the crowd and the speakers.
"I've never seen a greater contrast between a political system that's blocked and broken, versus the energy and clarity that comes from you all marching peacefully through the streets today," Christian Broughton, editor of The Independent, said during his speech. "The importance of giving you – giving everyone – the Final Say has never been clearer."
Others, including Michael Heseltine and Diane Abbott, were cheered as they riffed on other familiar themes: that Britain would be poorer out the EU, that the original referendum was built on lies, that Boris Johnson couldn't be trusted with a pair of scissors, let alone the well-being of an entire country.
Sandi Toksvig compared him to a dodgy used car salesman who had sold the public a broken vehicle from – wait for it – the "Nigel garage".
If that joke got a cheer, it was nothing compared to the reaction when the big screens showed live footage of the Letwin amendment being passed in the House of Commons – essentially making a Brexit delay more likely. Rarely can a vote in parliament have been greeted with such a roar. It was not dissimilar, one imagines, to how a world cup winning England goal might be greeted.
"The whole referendum was built on lies," said 71-year-old Felicity Goodall, who had been walking with three generations of her family. "No one told us anything about the consequences of leaving the EU or the mess it would get us into for three years. We were hoodwinked then and we're being left voiceless now – and that can't be allowed to happen."
It would, as it happens, have been four generations of her family marching but her 97-year-old father, Stephen Goodall, who attended both previous London rallies – one last November and one in March – had come down with a cold on Friday.
"He's devastated he can't be here again," she said. "But he's here in spirit. He is desperate to see the UK remain. He says the EU is the reason there has been 70 years of peace in Europe, and he should know. He fought in World War Two and was in the army for 30 years after."
As ever at these rallies there were plenty of placards. They ranged from the poetic ("Let's stay with the stars") to the risque: "No one consented to this BJ", read one.
Kate Chacksfield's homemade effort declared her to be "middle aged and slightly miffed".
"It's the first sign I've ever made," the 52-year-old mother-of-three, of London, said. "But I think, increasingly, I'm more than miffed. I'm angry by it all. Being in the EU brings so many opportunities – economically and culturally – and we are throwing away those opportunities so our children can't enjoy them."
She would not stop campaigning, she said, until the decision was reversed – nor was she alone in this.
Support free-thinking journalism and attend Independent events
Asked what they would do if a deal was passed and the UK did, indeed, leave the EU, most were defiant.
"I'd start campaigning to re-enter," said Alan Wheeler, a 50-year-old trade association director from Maidstone. "I think all this energy and anger that you see today, it won't just disappear. People won't just accept it if we leave. They will campaign to become a member again. These rallies will continue now until, one way or another, Brexit is no more. It is too important to just let go."
Join our commenting forum
Join thought-provoking conversations, follow other Independent readers and see their replies