Brexit march: How a summer of regional rallies turned the tide in the fight for a second referendum
'The view that the north and midlands was just a homogenised mass of Leave voters had almost become received wisdom – we realised we needed to challenge that myth,' says campaign leader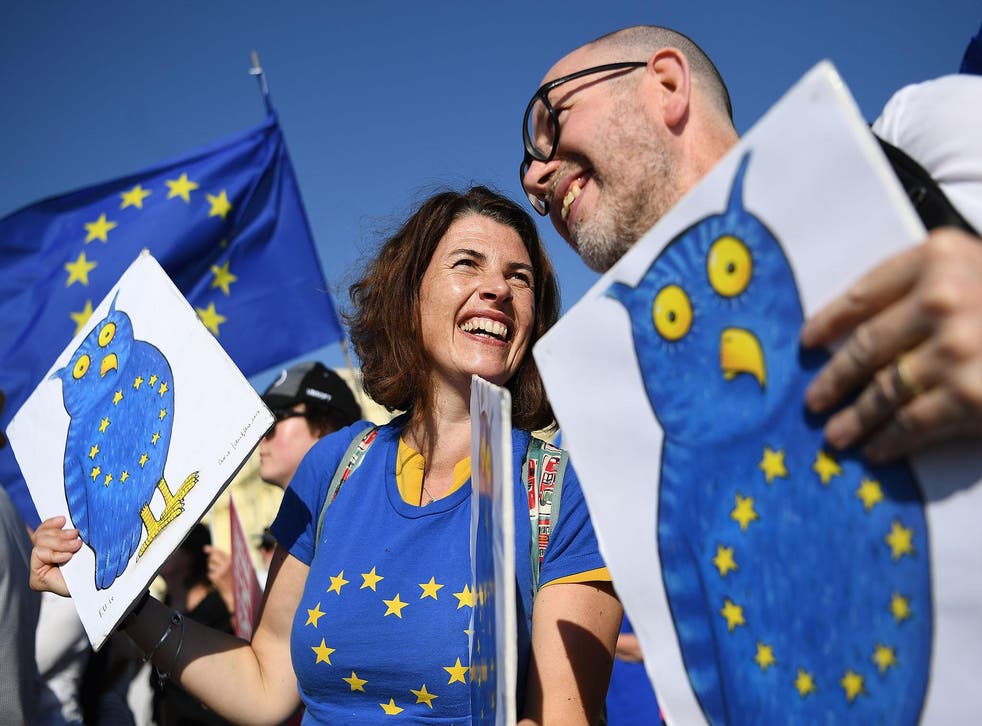 It was in spring, shortly after an estimated one million people marched through London demanding a second Brexit referendum, that leaders of the People's Vote campaign became aware of a troubling paradox. They were winning ever greater support but, somehow, still appearing to lose the battle.
Record-breaking crowds had turned up for the Put It To The People rally in the capital in March. Increasing numbers of politicians and experts – and Gary Lineker – were throwing their weight behind the idea. An online poll asking for Article 50 to be revoked had just topped 4 million signatures.
Yet somehow, despite all this – or perhaps because of it – this mass movement was being characterised, with some success, as representing the views of only a minor metropolitan elite.
It did not, its critics said, understand the midlands or the north. It did not understand small towns. It did not understand the working class.
"Have these people ever even been in a Wetherspoon's?" Martin Daubney, now a Brexit Party MEP, asked me in Wolverhampton in April. Raise the idea of a second vote in there, he added, "and see how it goes down".
By May, on the back of such claims, his group had won 29 out of 71 seats at the European Parliament elections – including almost half of those available in England outside of London.
Best pictures from Final Say Brexit march

Show all 76
"We realised there was a disconnect between this narrative and the actual reality," says Kevin Keith, director of People's Vote North, today. "We knew from polling that support for a second referendum was strong all over the UK, and certainly so in the north.
"But, somehow, this view that the north was just a homogenised mass of Leave voters had almost become received wisdom. It wasn't true then and it isn't true now. So we realised we needed a platform to challenge that myth."
And now, as campaigners prepare for what could become one of the biggest marches ever held in the capital on Saturday, it is perhaps safe to say that challenge has been met and that myth busted.
More than 175 coaches will make their way to London from towns and cities across the UK, full of people asking to be asked again. Underground users have been told to expect large crowds around St Pancras, King's Cross and Euston – the stations that connect London to the north and Midlands.
It comes after 11 rallies were staged across the UK throughout summer and autumn in what were billed by People's Vote bosses as a show of national strength.
More than 12,000 people attended events from Cheltenham in the south to Glasgow and Edinburgh in Scotland and Belfast over the Irish Sea. In supposed Leave-strongholds, such as Sunderland, Derby and Newport, hundreds turned out. In Brighton, 5,000 supporters attended a beach-front Let us Be Heard rally. In Leeds, campaigners cheered as footballing legend Peter Reid dispensed with niceties: "shambollocks", he said when asked to describe the last three years in a single word.
"There was a feeling that yes, big London marches are massively important in helping create real political pressure but we also had to be out in the regions showing what we already knew: that there was mass support for a second vote – everywhere," says Mr Keith. "This idea that Sunderland, for instance, had become a no-go area if you wanted a second vote – it's just a lie. Sunderland is going to be one of the cities hit hardest by Brexit and there is huge hunger there for a chance to have another say."
Among the activists at the Stadium of Light that Sunday afternoon was Louise Brown, a committee member with North East for Europe. "A lot of us will stand on stalls in town centres and it's hard work because not everyone agrees with what we're trying to do," she told me as the day's audience filed past, all EU flags and Bollocks to Brexit stickers. "But when you come to an event like this, it drives home how devastating leaving the EU will be and how important what we're doing is."
The devastation spoken about differed from region to region and depended on what calamitous no deal revelation had been brought into the open that particular week but concerns generally riffed on similar themes: economic deprivation, job losses, an NHS vulnerable to predatory privatisation, a country less able to protect itself against terrorism, climate change and cyberattacks.
"The scale of just how bad a no deal would be was emerging constantly over the summer," says Mr Keith. "And I think that naturally brought more people to us. What we noticed anecdotally was that we were getting more and more Leave voters supporting us because there was a growing realisation that the Brexit we were told would happen in 2016 never really existed."
At each event, an ever-rotating list of political speakers – Tories, Labour, Anna Soubry – were joined by comedians, sports stars and business people. The Derby rally may be the only place Michael Heseltine and Margaret Beckett have ever shared a stage. Almost certainly, these events showed footage of the one time you'll ever hear erstwhile Coronation Street star Denise Welch ponder international import and export tariffs. "Where are all these trade deals?" she wondered in a video message.
In Edinburgh, Alistair Campbell played Ode To Joy on the bagpipes, while in Leeds John Barnes compared Brexit to a bad VAR decision. Let's replay it, he suggested, and get it right.
"I think there's no doubt this is one of the most varied political campaigns in recent decades," says Richard Brooks, the 27-year-old co-founder of For our Future's Sake, ostensibly the movement's youth wing. "The people who come can't be pigeon-holed – they're young, old, middle class, working class. It goes across so many spectrums. We've had events where there's been a 20-something Northern Irish apprentice on stage with someone who's been a member of the Tory party for decades. We're uniting people constantly."
Critics would say, of course, that these are still relatively small numbers.
A ComRes poll published on Wednesday showed that, overwhelmingly, people wanted to honour the results of the original referendum. Fifty-four per cent of those questioned said the UK should leave the EU. Only 32 per cent said it should not. All regions had a Leave majority – save for London, Scotland and Northern Ireland. In a similar survey carried out by BMG between July and October, fewer than one in five people said they wanted another referendum.
And, yet, as the political landscape has changed on an almost daily basis – the first northern rally was held way back in the era when Theresa May was still prime minister; before Yellowhammer was revealed; when the prorogation of parliament was not yet a twinkle in Dominic Cummings' eye – and politics has mutated, something remarkable has happened. Support for a People's Vote – a consistent, accessible plan to move things forward – has kept gaining momentum.
Hilary Benn – who, whatever happens next, may come to be considered one of his generation's few politicians of stature – came on board, despite previous reservations. Every opposition party, bar one, has now said they favour a second vote. Labour's position may still remain ambiguous under Jeremy Corbyn, but, if rumours are to be believed, it won't stay that way if chancellor John McDonnell gets his way.
Support free-thinking journalism and attend Independent events
And now, on Saturday: a new London march, which organisers say could attract up to 1.5 million people from all corners of the UK.
"Only an idiot would dismiss that as anything other than a mass movement," adds Mr Keith. "I compare this to a journey where it's not just the landscape that's constantly changing but even the road you're driving on keeps moving about.
"But if you have your destination in mind – a final vote – it's just a case of keeping your sights steady, holding your nerve and doing your best to get there. I believe we're closer now than we ever have been. The country needs it. One way or another, it's the only possible way out of this mess."
Join our new commenting forum
Join thought-provoking conversations, follow other Independent readers and see their replies