Brexit might not happen at all, says Polish foreign minister
Comments come as Theresa May vows Brexit will 'strengthen' relationship between Poland and UK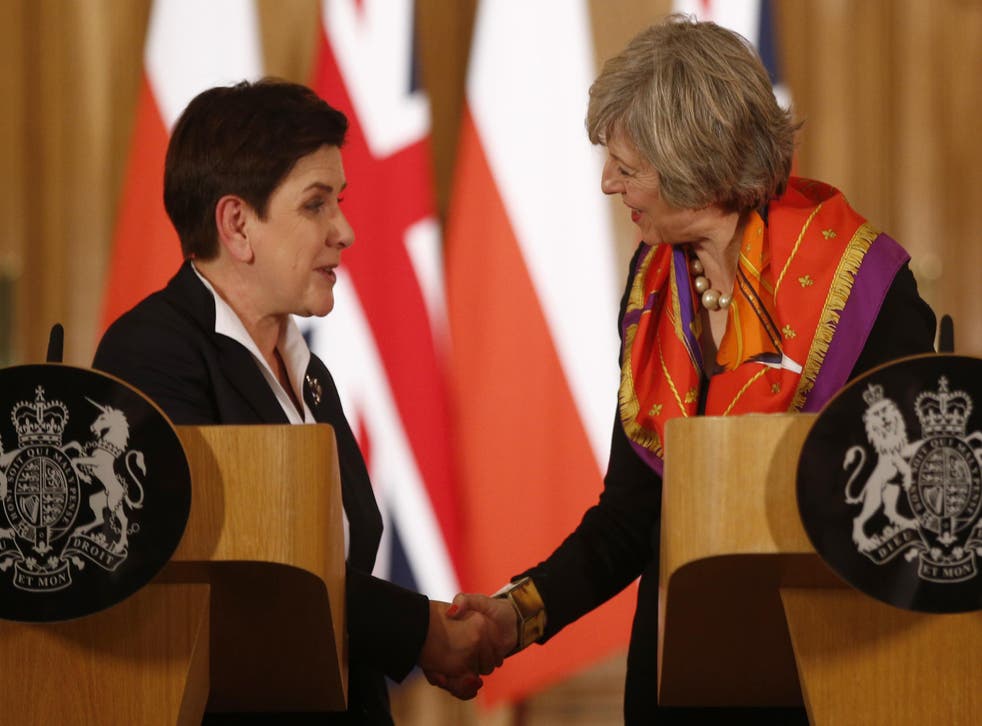 The Polish foreign minister has warned that the process of Britain leaving the European Union could take two to three years, or possibly never happen at all.
Witold Waszczykowski also said it was in Poland's interest for Britain to remain in the European Union and to pay contributions into the bloc as long as possible, in an interview with Polish newspaper Rzeczpospolita daily.
His comments came following a meeting between Poland's Prime Minister Beata Szydlo and Theresa May in London on Monday, in which they discussed how the rights of Poles living in the UK would be affected after Brexit.
"It is in our interest that Britain remain an EU state as long as possible and pay contributions as long as possible," he said.
"Brexit will not take place earlier than in two to three years, if it takes place at all."
Mr Waszczykowski also addressed concerns that the UK may be offered a tougher deal to deter other countries from leaving the bloc, saying there is: "no need to treat Britain as a child with special needs, which is stigmatised and marginalised".
He made the comments after European Council president Donald Tusk told British MPs that discussions over the status of reciprocal rights of UK and EU citizens would be held after the country triggers Article 50.
Responding to a letter from 81 MPs, which sought to secure rights of "expat" citizens abroad, Mr Tusk said: "Would you not agree that the only source of anxiety and uncertainty is rather the decision on Brexit?
"And that the only way to dispel the fears and doubts of all the citizens concerned is the quickest possible start of the negotiations based on Article 50 of the Treaty?"
Ahead of Monday's meeting, Ms May stressed Britain's special relationship with Poland and said it would "never forget the Polish pilots who braved the skies alongside us during World War Two".
She said: "Our ties with Poland are rooted deeply in our shared history.
"I am determined that Brexit will not weaken our relationship with Poland, rather it will serve as a catalyst to strengthen it. That's why I am hosting the first-ever summit of this kind between our countries today.
"It marks the start of a new chapter in our relations and we will work even more closely together to ensure the security and prosperity of our nations in the years ahead."
She also confirmed the UK would send 150 troops to Poland in April 2017 to "deter Russian aggression" in Europe. They will be deployed close to the Polish border with the Russian enclave of Kaliningrad.
Join our new commenting forum
Join thought-provoking conversations, follow other Independent readers and see their replies