Brexit negotiations: David Davis says EU demands on citizens' rights are 'ridiculously high'
Brexit Secretary accuses Brussels of hardball tactics after European negotiators confirm rights should be extended to all family members of EU citizens living in UK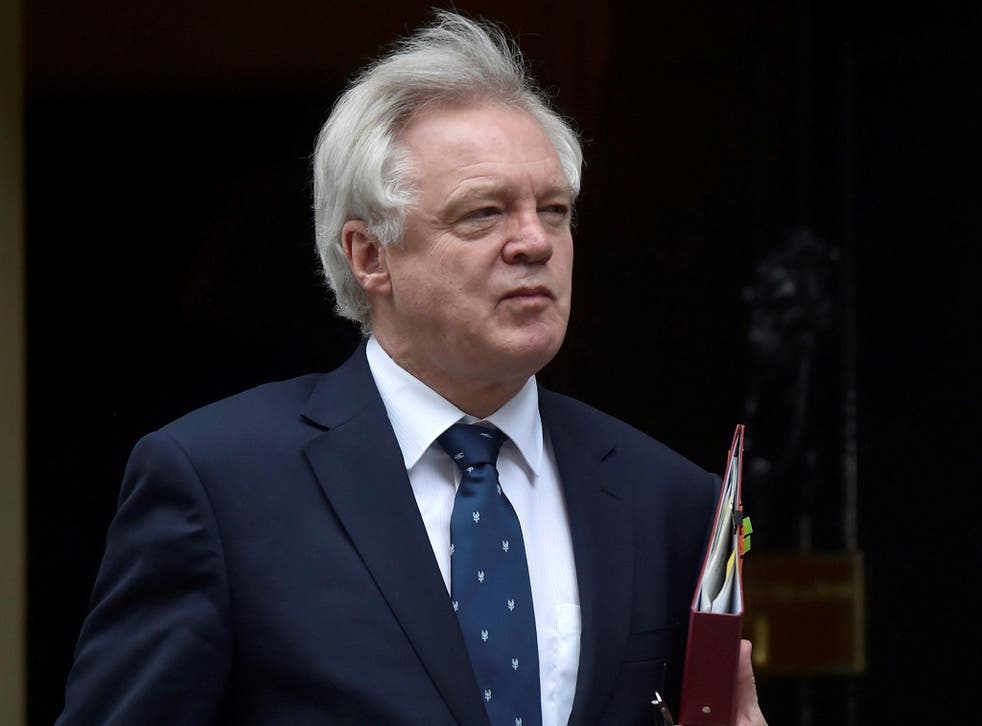 David Davis has said EU demands to protect its citizens' rights in the UK are "ridiculously high" with just days to go until negotiations begin.
The Brexit Secretary accused Brussels of playing hardball after European negotiators confirmed rights should be extended to all family members of EU citizens currently living in the UK.
It comes after Theresa May reiterated her intention to walk away from the negotiating table with no deal if the EU does not give her what she wants.
Speaking to LBC Radio on Tuesday, Mr Davis said European officials were "playing very hardball tactics and someone will have to know how to deal with them".
He added: "The demands they are putting up are ridiculously high on EU citizens.
"We are going to give the European citizens here generous rights. We don't intend to be unnecessarily fierce about this. We will deal with it at the very first negotiations."
Negotiating papers published by the EU ahead of the start of formal Brexit talks on 19 June state that current and future family members of European nationals in the UK should have an open-ended right to settle in this country after Britain leaves the bloc.
In the most detailed position on Brexit talks from the EU yet, a document titled Essential Principles on Citizens' Rights states that the family members of EU citizens in Britain and UK nationals in the EU "will join the holder of the right at any point after the date of entry into force of the withdrawal agreement".
The paper then adds this will apply to "current and future family members", implying that the commitment would remain for generations to come.
It comes after Ms May reiterated her message that no deal with the EU is "better than a bad deal" during the televised leaders' debate on Monday, telling Jeremy Paxman she was "not prepared to sign up for a bad deal".
In pictures: European parliament Brexit discussions

Show all 12
The Prime Minister claimed during a speech in the West Midlands on Tuesday Brussels had adopted an "aggressive negotiating position" for talks, arguing that only she, and not Jeremy Corbyn, is capable of leading Britain's negotiations.
EU chief negotiator Michael Barnier said last week that he would sit down for talks on 19 June before briefing EU leaders at a summit exactly a year after the June 23 Brexit vote, insisting Britain's exit from the bloc would happen in an orderly fashion.
Despite Ms May's insistence that the UK was ready to walk out without a deal, Mr Barnier told reporters: "That's not my option," adding: "I don't want to imagine...a breakdown of negotiations. I would advise everyone to explain what the consequences would be of 'no deal'."
Register for free to continue reading
Registration is a free and easy way to support our truly independent journalism
By registering, you will also enjoy limited access to Premium articles, exclusive newsletters, commenting, and virtual events with our leading journalists
Already have an account? sign in
Register for free to continue reading
Registration is a free and easy way to support our truly independent journalism
By registering, you will also enjoy limited access to Premium articles, exclusive newsletters, commenting, and virtual events with our leading journalists
Already have an account? sign in
Join our new commenting forum
Join thought-provoking conversations, follow other Independent readers and see their replies