Brexit: Loyalist figure suggests 'it may be time to fight physically for our freedoms within UK'
Police chief says it is time for 'wise words' and 'calm heads'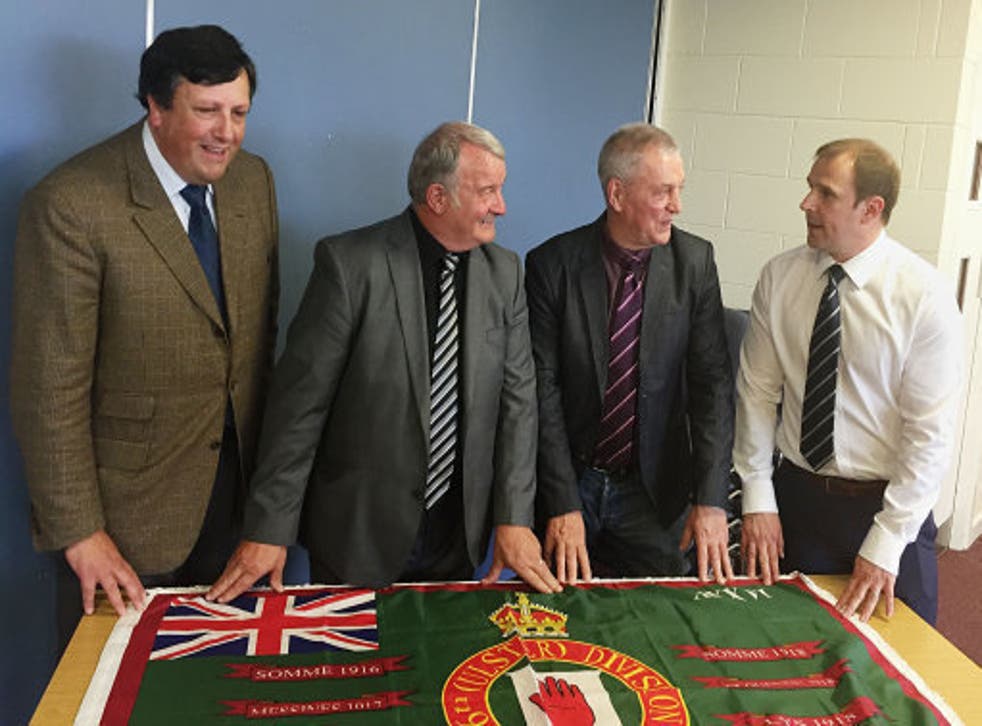 Tensions in Northern Ireland (NI) escalated sharply after a loyalist figure suggested that it might be time for unionists "to fight physically to maintain our freedoms within the UK".
David Campbell, the chairman of the Loyalist Communities Council - which has the backing of paramilitary groups - made the comments to local radio on Wednesday while discussing Brexit.
His remarks came after the Democratic Unionist Party (DUP) announced a strategy aimed at getting the NI protocol scrapped entirely from the UK's Brexit deal with the EU, in a rapid escalation of tension with London.
The party is urging prime minister Boris Johnson to trigger a clause in the agreement that would remove the protocol amid concerns that it is disrupting trade and is stirring discontent within the unionist community.
When asked directly if he was linking the possibility of fighting "physically" to the protocol, Mr Campbell said: "No, absolutely not. This has to be a political fight. It has to be a fight based on common sense."
Mr Campbell's comments were condemned by Alliance councillor Sorcha Eastwood. "We have repeatedly said cool and calm heads are needed," Ms Eastwood told The Belfast Telegraph. "Instead we have continuously seen a ramping up of the rhetoric, some of Mr Campbell's appalling comments being the latest example."
She added: "That sort of approach - a throwback to the dark days of our past - will not deliver mitigations needed for businesses, people and our community."
Police Service of Northern Ireland (PSNI) Chief Constable Simon Byrne has since said claims that loyalists were ready "to fight" were "inflammatory", adding it is "now time for wise words and calm heads".
Mr Byrne warned of a "febrile" atmosphere after 26 graffiti incidents were detected across NI, and officials carrying out customs checks at ports in Belfast and Larne were withdrawn following threats.
Police said they have changed their operational tempo and will be accelerating the development of intelligence. Mr Byrne told the Policing Board in Belfast: "It is now time for wise words and calm heads.
"We need to work together to look at a route map to normality because that seems to be the opportunity before us, to step back from the brink in terms of community tension."
Physical inspections on goods entering Northern Ireland from Great Britain, which are required under the Northern Ireland Protocol, have been suspended at ports amid intimidation of staff.
Police have insisted there is no evidence that loyalist paramilitaries are involved in the campaign and instead blamed disgruntled individuals and small groups.
After the DUP announced its campaign to scrap the protocol, prime minister Johnson said he is prepared to trigger Article 16, adding the government would "do everything we need to do".
But the EU and Irish government insist that removing the NI is not a real prospect.
Irish Foreign Affairs Minister Simon Coveney said: "We need to be truthful with everybody - the protocol is not going to be scrapped."
He said ministers want to be helpful and flexibilities are possible but the problems are a consequence of the UK's Brexit negotiating stance.
Mr Coveney told the BBC's Radio Ulster: "There is not going to be a very dramatic change."
Additional reporting by Press Association
Join our new commenting forum
Join thought-provoking conversations, follow other Independent readers and see their replies