'I thought Britain was welcoming. Now the Brexit vote has driven me and my family out'
Polish national Radek Papiewski tells The Independent he is leaving the UK with his family after 14 years because Brexit has 'massively damaged' their vision of the country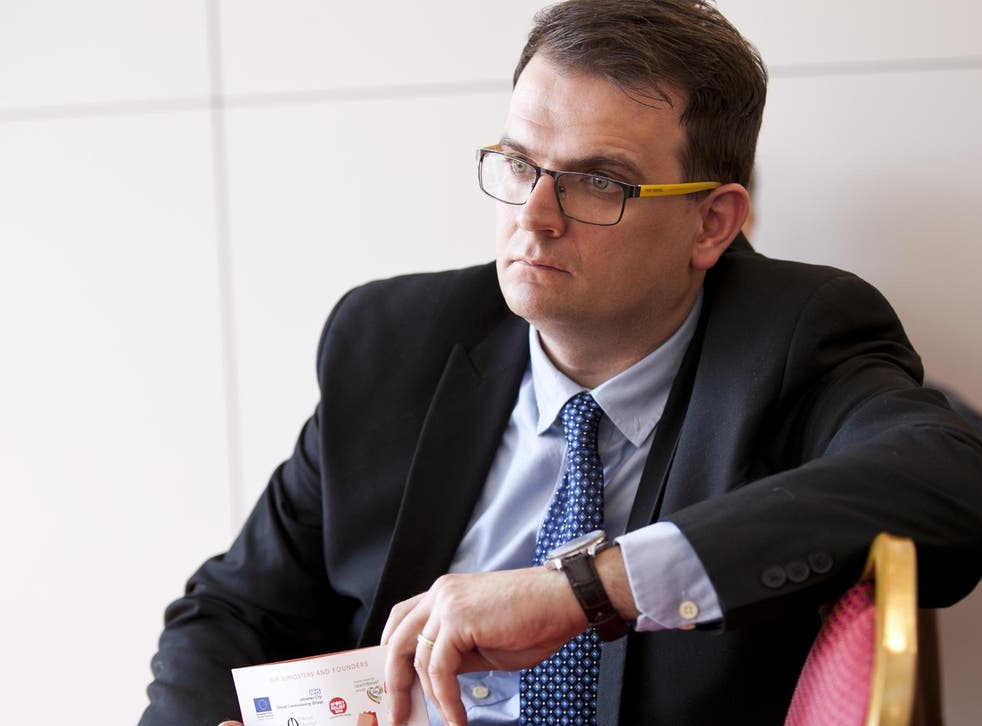 A Polish man who has lived in the UK with his wife and children for 14 years has decided to move back to Poland to prevent his family from becoming a "betting card" in Brexit negotiations.
Radek Papiewski, 35, who made a conscious effort to become fully integrated in British society when he arrived with his wife in 2003, described the referendum result as a "slap in the face" and said the political discourse surrounding Brexit has "ripped him to pieces".
The father-of-two, who began his life in the UK working in a car wash but has since advanced to managing large retail companies, owning and editing a local newspaper and setting up a number of his own projects, is described by friends as "more British than the British".
But he and his wife, a nursery school teacher, decided shortly after the Brexit vote last year that the anti-eastern European rhetoric in the UK had become "too much" and decided to sacrifice the life they had built in Hinckley, Leicestershire, to avoid being bargaining chips in EU discussions.
Mr Papiewski's family moved back to Poland earlier this week, and he is to follow them there shortly once he has finished work on a UK-based project and established what work he will do in Poland.
Speaking to The Independent, Mr Papiewski, who became a member of the Labour Party when he arrived in the UK before switching to the Liberal Democrats a few years ago, said: "The referendum result, and not only that but also the campaign before the referendum, was just a slap in the face.
"I've always been quite active in British politics. I've always tried to follow it closely, but I haven't been able to do it for the past 16 months. It was just one big shambles for me. All of those headlines ripped me to pieces. I obviously did not expect the results that we had, but a year ago, when the result was announced, I said I don't think I can live in the country any longer."
For the past seven years, Mr Papiewski has been running a project he set up called Building Bridges, which aims to help eastern European migrants living in the UK integrate into British culture. But he said that following the EU referendum, he had become a "victim of his own beliefs".
"I'm a very strong believer that if you move to other countries you should integrate, and this is what I've been doing for the last 14 years. I believed this to the extent that I became a British citizen two years ago, at a time before we even started to think about Brexit. But I think I've become a victim of my own beliefs," he said.
"I actually believed that there was this overall welcoming picture in England. But the campaign and everything that happened afterwards made me feel that people had been scared to say things, and maybe they were worried about political correctness so didn't say things.
"It could just be in my head, but it's a very strong feeling that has had an impact on all aspects of my life."
Ahead of the start of Brexit negotiations this week, the UK had promised to unveil a "generous offer" to end the row over the future rights of three million EU citizens in the UK and 1.2 million British ex-pats in the EU. However, Mr Davis said the offer would not be published until next Monday, after Theresa May briefs EU leaders on her intentions at a summit at the end of this week.
Commenting on the dominating political issue of EU nationals' rights, Mr Papiewski said he could not accept the fact that politicians and members of the public were debating his rights, adding that if he hadn't made such an effort to integrate, accepting this may have been easier.
"I cannot get in my head that the people in politics are able to decide on my behalf what I'm going to be allowed and not allowed to do. I didn't come to Britian for someone to be telling me these are your rights, these are not your rights, or when you go through passport control you're going to have to go through this queue not this one, because you are from Poland," he said.
"I don't want to have that. I don't want there to be specific talks about me or be the topic of conversations in the pub with people saying 'are we going to ban them from the NHS?' or 'are we going to pay them child benefit?'. That isn't acceptable to me.
"Maybe if I'd been a warehouse worker who doesn't really give a monkey's about what's happening in politics, it might've been easy to go along with whatever they decide. But I felt I was part of this country, and now I feel I'm not necessary anymore."
Official statistics released in May showed a surge in EU migrants leaving the country last year, most of whom were EU8 citizens – a group which includes citizens of Poland, the Czech Republic, the Baltics and Hungary.
The figures showed around 117,000 EU citizens left the UK in 2016, an increase of 31,000 on 2015 and the highest recorded estimate since 2009, prompting business groups to warn that employers risked "losing key members of staff in positions that cannot easily be replaced".
In pictures: European parliament Brexit discussions

Show all 12
While nationals from all EU countries living in the UK could be affected by Brexit, Mr Papiewski said he felt Poles and other Eastern Europeans are subject to particularly negative press, describing an "overwhelming presence of Eastern European blame".
Although he has managed to forge a successful career in the UK, one in which he has the opportunity to progress further, he said that maintaining his sense of identity was ultimately more important.
"I'm thankful for the opportunities, because within the 14 years I've progressed from a very low position, climbed through the ranks, to manage places with 300 people underneath me. I managed to study and finish management courses," he said.
"I know there is this call for further progression, but I think the rhetoric has become too much. I don't really want to trade my identity just for the sake of a prosperous life. I believe I can get it somewhere else."
He added: "If you had asked me two years ago before the referendum what nationality I am I wouldn't really know what to say. If you asked me which team I support in football I'd go for England or Poland quite happily.
"But what's happened has shown me that a big part of me still belongs to Poland. Despite the fact that all my adult life has been spent in England and it's where my kids were born and grew up, I now feel that there is still a big part of me that actually belongs back in Poland. And I'd never felt this before."
In a Facebook post earlier this week, Mr Papiewski wrote an emotional message to his friends and family​, reading: "So yesterday, after 14 happy years in the UK my family has finally left and returned back home.
"There are now one job vacancy, three NHS spaces, two school places, three dentists' spaces and set of child benefits available to take in Hinckley. Their relocation also contributed to reduction of CO2 and congestion as my wife's car will be scrapped.
"I hope all this stretched services are going to be taken by people who deserve it, but it is now in the hands of David Davis to decide if people like my family are allowed or not. I wish him fantastic negotiation and I am glad that my family won't have to be a betting card in this political game.
"The past 16 months have caused massive damage to my vision of life in Britain, and opened my eyes to wider problems than the existence of my own family. On the other hand, it has created an opportunity for making a decision I wouldn't have made in any other circumstance."
The past 16 months have caused massive damage to my vision of life in Britain
Last week, a survey of European nationals in the UK revealed the majority of skilled EU workers at the largest companies are likely to leave the country before Brexit even happens, exacerbating fears of a severe brain drain.
It indicated healthcare would be the hardest hit, with 84 per cent of employees in the sector saying they would leave, while technology, media, telecoms and financial services would also see big losses of talent.
Register for free to continue reading
Registration is a free and easy way to support our truly independent journalism
By registering, you will also enjoy limited access to Premium articles, exclusive newsletters, commenting, and virtual events with our leading journalists
Already have an account? sign in
Register for free to continue reading
Registration is a free and easy way to support our truly independent journalism
By registering, you will also enjoy limited access to Premium articles, exclusive newsletters, commenting, and virtual events with our leading journalists
Already have an account? sign in
Join our new commenting forum
Join thought-provoking conversations, follow other Independent readers and see their replies