Criminals and terrorists could go free because of 'catastrophic' Brexit security deal, MPs warn
Home Affairs Committee accuses negotiators of 'putting political red lines ahead of public safety and national security'
Lizzie Dearden
Home Affairs Correspondent
Tuesday 24 July 2018 09:21 Comments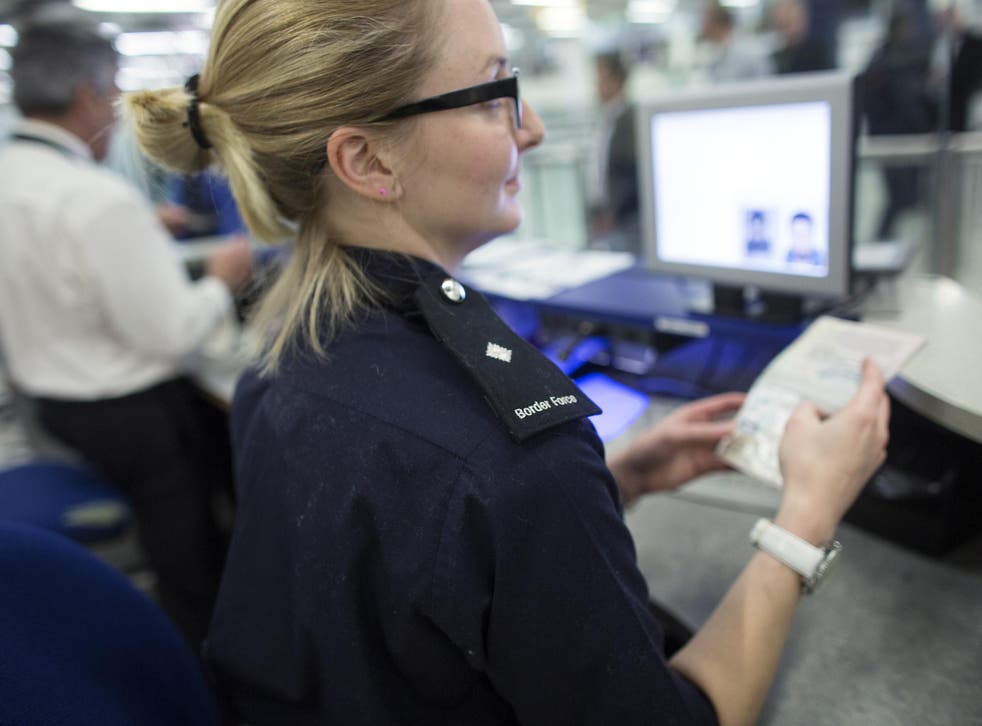 Britain is on course for a "catastrophic" Brexit security deal that could see criminals and terrorists go free, MPs have warned.
The Home Affairs Committee condemned both UK and EU negotiators for putting the safety and security of their citizens at risk by refusing to cross political "red lines".
It called on the UK to submit itself to European Court of Justice jurisdiction – which Theresa May has repeatedly vowed to leave – so security services can retain access to vital databases.
"The gap between the UK government and the EU and the lack of progress on policing cooperation is very disturbing," said Yvette Cooper, chair of the Home Affairs Committee.
"To have no deal on security cooperation would be unthinkable. It would stop the police sharing crucial information on dangerous international criminals, stop border officials getting urgent information on criminals trying to enter the country, undermine investigations into trafficking, terrorism, organised crime and slavery, jeopardise trials and justice for victims, and let criminals go free."
Britain risks losing access to systems including Europol, the European Arrest Warrant and Schengen Information System II (SIS II) – a huge database containing information on terrorists, criminals, missing people and objects that police say there is "no alternative" to.
No-deal Brexit could happen 'by accident', Jeremy Hunt says
British officers checked it 539 million times in 2017 alone, and their equipment currently searches SIS II and the national criminal database simultaneously.
At the end of 2017, there were 76.5 million alerts in relation to people and objects on the system, including 1.2 million from the UK.
The database also contains a warning list identifying suspected terrorists including London Bridge attacker Youssef Zaghba, who was listed on SIS II more than a year before the atrocity.
Government ministers have argued that it would be in the EU's interest to allow Britain continued access because of its intelligence contribution, but the Home Affairs Committee said reaching the "data adequacy" required will be difficult without being governed by the European Court of Justice.
MPs noted that UK access would also cause "additional political problems for the EU" by offending non-EU Schengen countries like Switzerland who have forfeited their own border controls.
"Without UK access to SIS II, individuals who pose a genuine threat will be able to enter the UK or the EU without important intelligence being flagged to border officials," they concluded.
"Losing access to it would be a calamitous outcome for the UK, which would pose a severe threat to the government's ability to prevent serious crime and secure the border effectively, but it is an increasingly likely prospect."
Brexit so far: in pictures

Show all 53
The UK could also be excluded from the European Arrest Warrant system, which drives the extradition of up to 10,000 foreign offenders every year as well as allowing British criminals to be brought back to face trial.
The Home Affairs Committee found that the EU's proposals for alternative arrangements are "significantly inferior" and could cause major delays to justice.
MPs said that being forced to fall back on the 1957 Convention on Extradition would be a "catastrophic outcome" and pointed out that the current transition deal would allow EU countries to refuse extraditions to the UK.
Britain's future membership of Europol remains unclear, and although it may remain part of the EU-wide policing body in the transition period, the draft withdrawal agreement states that it will not be involved in decision-making and governance.
Richard Martin, deputy assistant commissioner of the Metropolitan Police, previously raised concern that criminals could take advantage of Brexit as borders "become less relevant" in the fight against crime.
"Criminal groups aren't daft – it may be that they're already thinking that if certain powers don't exist there are opportunities of them to either operate here knowing it's far harder to be extradited, or vice-versa," he told peers.
The Home Affairs Committee called on the government to make retaining SIS II a "primary negotiating objective" and allow European Court of Justice jurisdiction for data-sharing agreements.
It said ministers must also remove an immigration exemption from the Data Protection Act, and incorporate Article 8 of the EU Charter on Fundamental Rights (on data protection) into UK law.
"Both sides are putting political red lines ahead of public safety and national security – that is completely irresponsible," Ms Cooper said.
"We have a shared interest in continued close policing cooperation, which people in Britain and across the EU would want and expect to continue after Brexit. But at the moment, political posturing on both sides is putting that at risk."
The Labour MP said that even if a transition security deal is agreed, the "cliff-edge" will only be delayed until 2020 at the latest, adding: "The EU is being far too rigid about preventing the UK participating in important criminal databases, and the UK government is being far too rigid about the role of the European Court of Justice.
"The primary purpose of any government is to protect its citizens from harm. That is what we expect the UK government and EU27 countries to do. It would be utterly irresponsible of both sides to fail to secure a deal in this area."
MPs accused the government of "failing to focus requisite energy on security cooperation" and devoting Home Office planning budgets largely to immigration instead.
"A 'no deal' Brexit is an increasingly plausible outcome, but we are unconvinced that the government is planning adequately to prevent the most unthinkable of outcomes from becoming a reality," they concluded. "Without urgent action to make progress in these negotiations, and to put workable contingency plans in place for a 'no deal' scenario, the safety and security of UK and EU citizens will be put at serious and unnecessary risk."
A Home Office spokesperson said: "The government has been clear that we need to continue internal security cooperation with the EU and its member states after Brexit so we can protect mutually important capabilities and avoid operational gaps for the safety and security of all our citizens.
"There is widespread recognition among Member States that the UK and EU can act most effectively to combat security threats when we are working together – and there is therefore a shared desire to maintain close cooperation in the future."

Register for free to continue reading
Registration is a free and easy way to support our truly independent journalism
By registering, you will also enjoy limited access to Premium articles, exclusive newsletters, commenting, and virtual events with our leading journalists
Already have an account? sign in
Join our new commenting forum
Join thought-provoking conversations, follow other Independent readers and see their replies