Brexit could see dangerous criminals go free in UK with police unable to access EU conviction records
Exclusive: 'This is not just something you can pass off and say 'it will be alright',' head of criminal records office says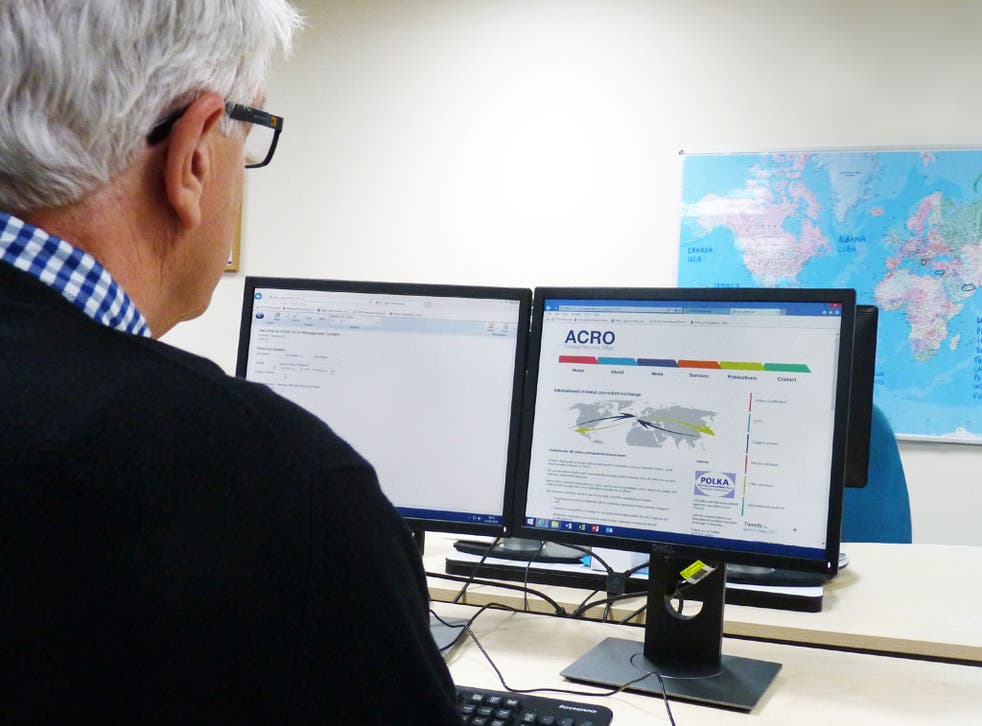 Dangerous criminals could go free in the UK after Brexit if police officers cannot access European conviction records, a senior official has warned.
British police will be left blind to crimes committed abroad if the system for sharing information is switched off after 29 March in the event of no deal, said Rob Price, head of the Acro criminal records office.
He told The Independent that EU conviction records were "critical" to decisions on whether to charge or release foreign suspects, and how to protect the public.
"Now is the time for people to really understand this is not just something you can pass off and say 'it will be alright'," Mr Price said.
"Politicians use the term 'sub-optimal' and what does that mean? It means high risk and less secure."
Police separate clashing Brexit protesters outside Parliament

Show all 11
The official said police officers and staff were "trying their best" to mitigate the loss of EU systems but they cannot be replaced, adding: "Stuff is going to get missed, stuff is not going to get done.
"We're going to have to explain that to the public at some point, we may even have to explain that to victims and witnesses."
Acro makes around 600 requests to other counties for foreign suspects' criminal records every day, and two-thirds of those are European.
Mr Price said the information was necessary to avoid an "intelligence gap" on potentially dangerous offenders, adding: "Somebody may be arrested for shoplifting here but back home they could have a serious conviction. There could be a reason why they are here."
Acro data shows that it currently takes one or two days for most EU countries to answer British requests for foreign suspects' records, but that outside Europe responses can take more than 100 days or never come at all.
The UK and other EU nations currently fast-track data through the European Criminal Records Information System (ECRIS), but Britain will be locked out on 29 March in the event of no-deal Brexit, or at the end of the transition period for any withdrawal agreement.
Mr Price said that both scenarios would amount to a cliff-edge, but Theresa May's rejected agreement would not be "going off the same height of cliff that as in the event of no deal".
Acro is working to set up bilateral agreements with every EU country but conversations are "in their very early days" and countries will have to be prioritised.
"In a short timescale we're not going to be able to get 27 agreements," Mr Price said. "Bilaterals are a lot slower, a lot clunkier.
"ECRIS is a really important part of our business – turning that off is going to have a significant impact on our ability to make this country safer and to make European countries safer as well."
Law enforcement bodies in the UK prefer to steer clear of politics and were reluctant to comment on Brexit as negotiations continued, but have become increasingly frustrated at feeling disregarded and ignored.
As 29 March approaches and the risk of no deal increases, leaders are starting to speak out over the impact leaving the EU will have on policing and national security.
Largely ignored during the referendum and parliamentary debates, the issue warranted only 14 out of 599 pages in the EU withdrawal agreement.
Jeremy Hunt admits the government may need 'extra time' if a Brexit deal is agreed
The agreement itself only grants the UK access to ECRIS, the European Arrest Warrant, Schengen Information System II and other measures until the end of the transition period or shortly after.
For law enforcement, the best-case scenario means replacements will have to be ready by the end of 2020, or 2022 if the transition period is extended.
"Rebuilding what we've got can take a long, long time," Mr Price warned. "In some places you're pushing against an open door and in others you are most certainly not."
He denied being part of what hardcore Brexiteers dub project fear, saying law enforcement leaders now have a "professional responsibility" to spell out the impact of leaving the EU.
"None of us want to look back in three months' time and say 'where were you? Why didn't you say this stuff, why didn't you tell us?'" he added.
Acro has recruited 10 per cent more staff and restricted annual leave as part of what Mr Price called "crisis footing".
It has been forced to put aside a contingency budget of £350,000 for translators, as the 1959 convention being relied upon lets EU countries demand requests in their respective languages.
And there are questions over whether European countries will hold the UK compliant with data adequacy rules after it drops out of GDPR.
ECRIS is also used by EU counties to send the UK information on British citizens' arrests and convictions, so that if they arrive back into the country they can be monitored.
Acro currently holds records on more than 600 British nationals convicted of sex offences overseas, and officials fear the increased time, money and manpower needed to transmit such information in future could stop countries sending it.
A Home Office spokesperson said: "The UK is unconditionally committed to Europe's security now and after our withdrawal from the EU – the continued safety of all citizens is our top priority.
"The government's position remains that the agreement reached with the EU, which includes ambitious internal security arrangements that maintain operational capabilities at current levels as far as possible, is in the UK's best interests.
"However, we are working intensively with operational partners to put no-deal plans into action to ensure we can continue to tackle fast-evolving threats. These plans include moving to tried and tested alternative mechanisms already used for security cooperation with many non-EU countries."
Join our new commenting forum
Join thought-provoking conversations, follow other Independent readers and see their replies