'There is no upside' for UK's national security after Brexit, former head of MI5 says
Lord Evans says it is 'absolutely vital' for Britain's security to maintain ties to Europol and EU nations
Lizzie Dearden
Security Correspondent
Wednesday 30 October 2019 20:14 Comments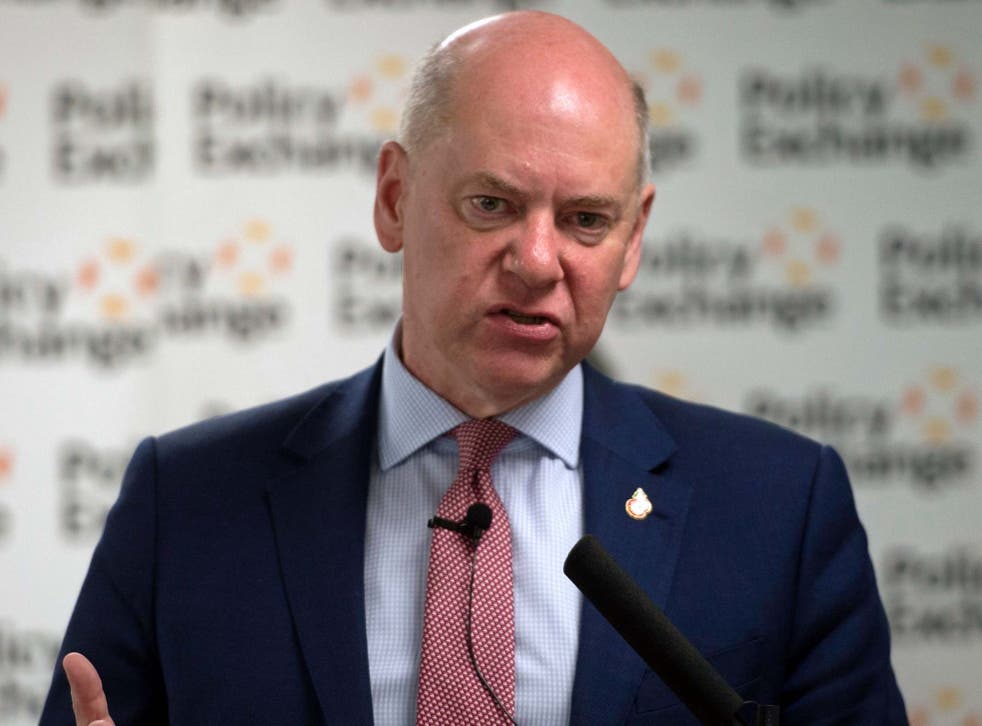 There is no "security upside" to Brexit and the best the government can hope to do is minimise its negative impact, the former head of MI5 has said.
Lord Jonathan Evans, who was director-general of the Security Service from 2007 to 2013, said it was "absolutely vital" to remain ties with Europol and European Union (EU) countries.
"I find it very hard to see any security upside from Brexit. It seems to me that our task is to minimise the downside," he told a debate held by the Policy Exchange think-tank in London.
Lord Evans, who sits as a crossbench peer, said Britain's "security interests remain international and globalised, because that's where the threats come from".
He warned that although intelligence sharing would be largely unaffected by Brexit because of long-standing bilateral relationships, that was "only a small part of the overall picture".
Opposing protesters flock to parliament on would be date of Brexit

Show all 30
He said: "If you look at issues such as terrorism in particular, the whole approach the UK has taken is one of integration between law enforcement and the national security agencies. The risk, in my view, with Brexit is that there will be differential impact on the one hand on the intelligence relationships, and on the other the law enforcement agencies."
British police face losing access to core databases including the Schengen Information System, which holds details of terrorists and criminals wanted throughout Europe, and the European Arrest Warrant system.
Europol, a pan-EU policing body, is used to conduct joint operations against international extremist and organised crime groups, and to pool intelligence.
Lord Evans said it was "absolutely vital" that close links with Europol remain.
"It's hard to imagine that we will be in quite such a good place after Brexit but we need to do our best to compensate for any deficit," he added.
Lord Evans also suggested the UK would also suffer from being cut out of EU policy-making on security, saying that for decades Britain has countered a "disproportionate interest in data protection issues in some part of the EU".
"We need to invest considerably in structures that will enable us to integrate and cooperate with Europe in the new environment," he said.
Weeks after the government hailed a new data access agreement with the US, he implicitly criticised it for prioritising security relationships with countries outside Europe.
"While it's clearly important we need to take forward our relationships in other fora, we need to make sure that in doing that we don't neglect our nearest neighbours and the countries with which on a day-to-day basis our security interests are deeply enmeshed," he said.
Government triggering Operation Yellowhammer as risk of no-deal Brexit has increased, says Michael Gove
Speaking at the same event, Brandon Lewis, the security minister, insisted that Boris Johnson's proposed withdrawal agreement enabled a "really ambitious programme to have a really strong relationship around security" with Europe after Brexit.
He said Britain would pursue an "ambitious and close security relationship with the EU".
"Brexit creates an opportunity to look beyond our traditional methods and to take a global approach to security," he added. "To do this we need to go further in investing in our international relationships, such as with our partners in Five Eyes, with Interpol, and with countries such as Egypt, Tunisia, Pakistan and India, to name but a few."
A year ago, his predecessor Ben Wallace hailed the importance of intelligence-sharing with the EU.
"I have seen intelligence from other EU countries that contribute to saving British lives and other countries interdict UK bound terrorists, and we have done the same in reverse," he told a conference in November 2018. "Only recently key UK information helped foil a plot on mainland Europe."
Lord Alan West, who was the head of the Royal Navy before becoming Labour's security minister from 2007 to 2010, said defence could benefit from Brexit.
He said that although there could be a "slight downside" for crime, some EU systems were "a shambles" and branded maritime border security a "national disgrace".
Khalid Mahmood, a Labour shadow minister for Europe, said there needs to be more "protection" at the UK's borders and a review of the resources being made available, adding: "The election is here and we are all making promises."
Register for free to continue reading
Registration is a free and easy way to support our truly independent journalism
By registering, you will also enjoy limited access to Premium articles, exclusive newsletters, commenting, and virtual events with our leading journalists
Already have an account? sign in
Join our new commenting forum
Join thought-provoking conversations, follow other Independent readers and see their replies