Council tries to close off the sea to stop people from taking a Christmas dip
'This is the nanny state, they should have better things to do,' says health campaigner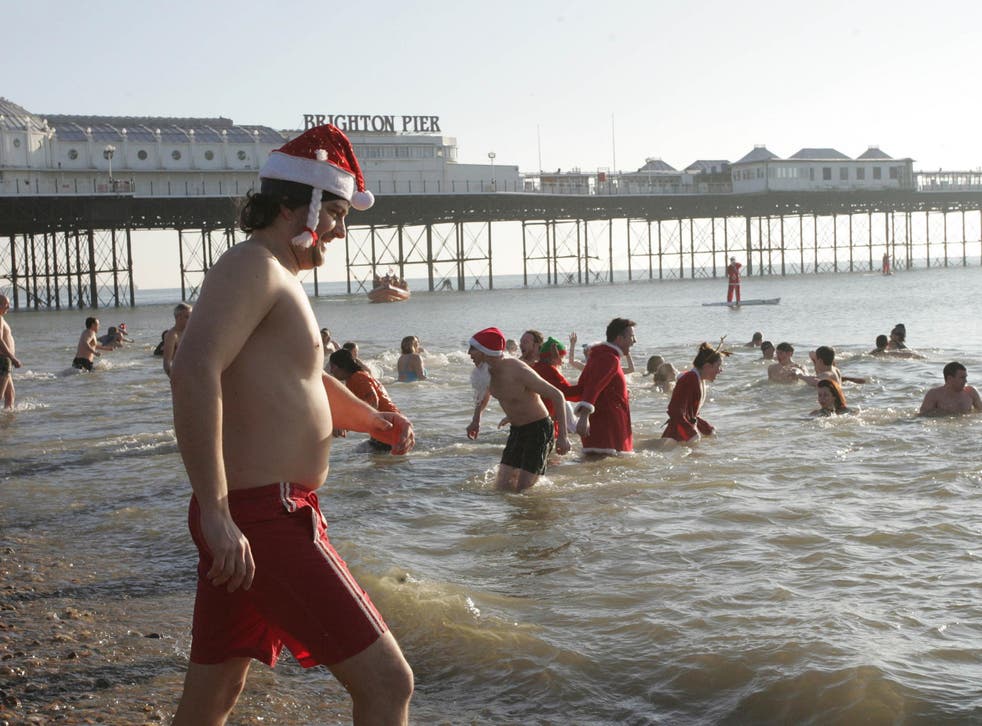 A council is trying to stop swimmers taking a traditional Christmas Day dip by closing off beaches.
Brighton and Hove council said it was prompted to take action after unusually mild weather had drawn more people to the beaches, with "many getting close to the crashing waves".
The local authority fears more Christmas swimmers will be tempted into the sea and get hypothermia.
But the restrictions has been criticised for being counter-productive to people's health and enforcing a "nanny-state".
The council has warned: "Sea temperatures so far this winter are around 11 degrees centigrade but can drop to around 5 degrees or even colder. Even on an apparently clear sunny day, the sea temperature can lover body temperature quickly and fatally.
"It only takes a few minutes for the body's core temperature to drop by two degrees and for the onset of hypothermia to begin."
Several people have drowned swimming off Brighton's beaches in recent years. In July a 44-year-old man from south-west London drowned after getting into difficulties east of Brighton's Palace Pier.
In 2014, the council also closed Brighton's beaches after a swimmer got into trouble, interrupting the 150-year-long Christmas Day tradition.
But health campaigner John Kapp told local newspaper The Argus: "I would say the ban is a stupid idea, I would say that is counterproductive to health.
"I don't think anybody will take any notice, you cannot fence off the beach, you cannot stop people going in.
"This is the nanny state, they should have better things to do."
Splash mob: The British have enjoyed a long love affair with wild-water swimming

Show all 9
Seafront Operations Manager Chris Ingall said in a statement: "The continuing mild weather has meant that, as with last year, the seafront has been much busier than in previous winters.
"It's been great to see so many people enjoying a stroll on the promenade and its good news for seafront businesses, but we would ask people to stay on the path or high up on the beach, especially when the sea conditions are rough.
"Do not allow children to play 'chicken' with the surf washing up the beach – we see this regularly on big winter surf days and this is precisely how people become washed out to sea.
"Sea swimming takes skill, stamina and knowledge of the physical dangers and should only be for the very experienced, using suitable wetsuits, in very calm conditions and with a friend.
"Even on a calm day sea currents, undertow or a sudden change in weather can create life threatening hazards without warning. Even experienced swimmers can get caught out."
Register for free to continue reading
Registration is a free and easy way to support our truly independent journalism
By registering, you will also enjoy limited access to Premium articles, exclusive newsletters, commenting, and virtual events with our leading journalists
Already have an account? sign in
Register for free to continue reading
Registration is a free and easy way to support our truly independent journalism
By registering, you will also enjoy limited access to Premium articles, exclusive newsletters, commenting, and virtual events with our leading journalists
Already have an account? sign in
Join our new commenting forum
Join thought-provoking conversations, follow other Independent readers and see their replies