Brighton Pride: Thousands attend one of world's largest LGBT events ahead of Britney Spears appearance
'Brighton Pride is unquestionably the best Pride festival in the UK, jus' saying London... there's a beach, and you don't have to queue to get into it'
Mattha Busby
Saturday 04 August 2018 18:48 Comments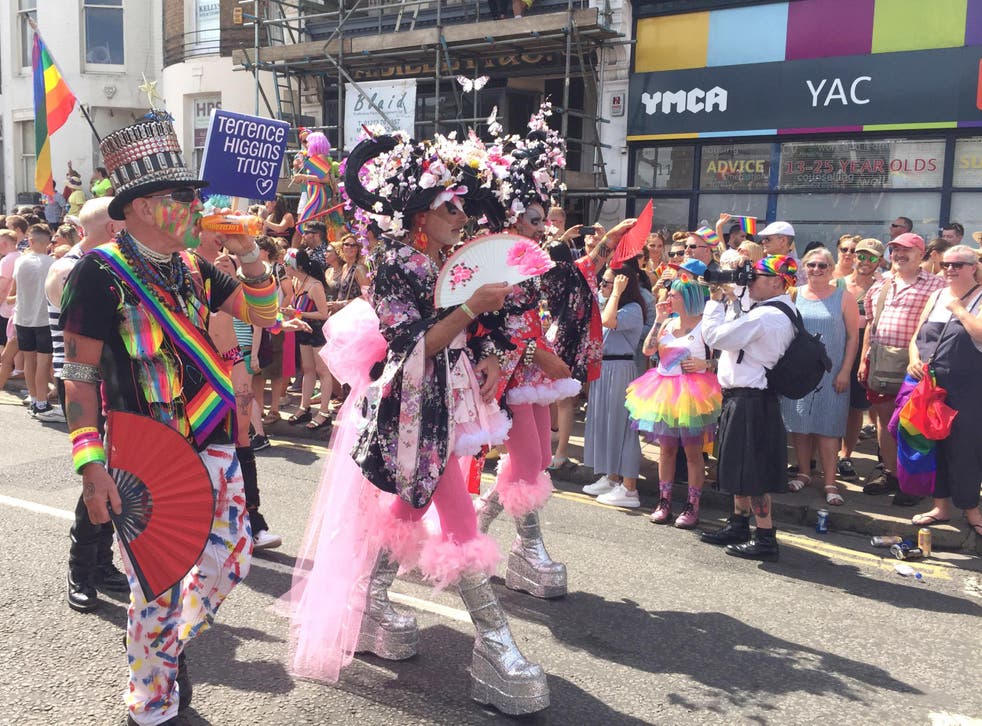 Thousands of revellers have taken to the streets of Brighton to celebrate Pride, in what is one of the largest LGBT+ celebrations in the world.
More than 300,000 people flocked to the south coast of England, which was awash with colour for a march that preceded a series of parties and concerts.
Britney Spears, Ella Eyre and Pixie Lott were among those slated to perform at the Preston Park festival, which promised "a dazzling display of inclusivity".
The theme for this year's event is "Colour My World" and a festival atmosphere subsumed the city throughout Saturday afternoon as teens climbed on to bus shelters and adults swarmed roofs.
Crowds gathered for the Pride parade which started at Hove Lawns at 11am, travelling through the city centre, along King's Road, and past the Brighton Centre.
A giant rainbow flag stretched across the marchers in celebration of the 40th anniversary of the multicoloured banner.
Green MP Caroline Lucas posed in front of an "Equality" sign and tweeted: "With the amazing Brighton & Hove Greens making the case for Equality – that's what Pride is all about!"
Olly Newport, a freelance video editor, tweeted: "Brighton Pride is unquestionably the best Pride festival in the UK, jus' saying London... there's a beach, and you don't have to queue to get into it."
Sussex Police advised party-goers to stay hydrated, as their officers marched along the route wearing flower garlands, while a police car was "pimped out" for the occasion.
"Pride 2018 is now in full swing," tweeted the force. "Enjoy the weekend safely! Stay hydrated, apply that suncream and keep your belongings with you. Please report any suspicious activity."
Prior to the event, leading LGBT+ rights charity Stonewall criticised bookmaker Paddy Power for planning a stunt intended to highlight the absence of any openly gay footballers in the English top flight.
An empty open-top bus was planned to drive through Brighton for the parade to highlight the statistical anomaly; however, the charity said no one should feel pressured to come out.
Charities posted an alert warning attendees that contaminated "Chupa Chups" ecstasy pills were in circulation before the event.
Register for free to continue reading
Registration is a free and easy way to support our truly independent journalism
By registering, you will also enjoy limited access to Premium articles, exclusive newsletters, commenting, and virtual events with our leading journalists
Already have an account? sign in
Join our new commenting forum
Join thought-provoking conversations, follow other Independent readers and see their replies