Police quietly retract claim officers broke bones during Bristol 'Kill the Bill' protests
Neither of the two officers found to have suffered confirmed broken bones, police say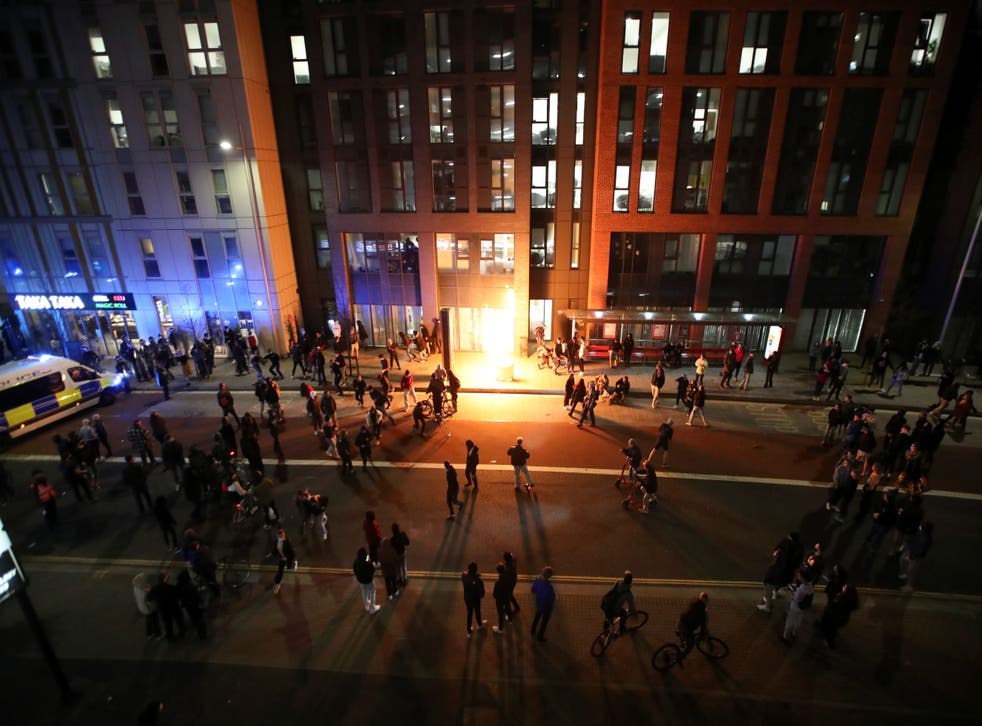 Police have retracted their claim that two officers suffered broken bones during Sunday's protests over plans to give them enhanced powers to shut down peaceful demonstrations.
Nine people who took part in the protest in against the policing bill have been arrested and police warn that "many more" will be detained as CCTV footage is examined.
Although the demonstration in Bristol began peacefully, violence broke out as the night progressed and armoured officers were sent in while a police van was torched.
Avon and Somerset Police had claimed that two officers had suffered broken bones, saying "one suffered a broken arm and another suffered broken ribs". The statement was widely reported, including by The Independent.
On Monday, Chief Supt Will White said: "What started out as a peaceful protest has been turned by a small minority into a violent disorder. Officers have been subjected to considerable levels of abuse and violence. One suffered a broken arm and another suffered broken ribs. Both have been taken to hospital."
Read more:
However, the force has since issued a statement in which it clarifies that neither police officer was found to have suffered a broken bone upon medical examination.
In a statement released on Wednesday, the force also said it had made two further arrests since Sunday's event and said it was investigating assaults on 40 officers and one member of the media.
Regarding the injuries, the press release clarified: "Thankfully following a full medical assessment of the two officers taken to hospital, neither were found to have suffered confirmed broken bones."
Boris Johnson condemned the scenes as "absolutely unacceptable" and said violence towards police "will not be tolerated".
Sunday's protests followed a week of demonstrations in opposition to the bill, many of which were combined with those in response to the death of Sarah Everard. A serving Metropolitan police officer was charged with her kidnap and murder earlier this month.
Responding to the violent scenes on Sunday, the Labour mayor of Bristol, Marvin Rees, said he had "major concerns" about the law that sparked the protest, saying it could impose disproportionate controls on peaceful protests and freedom of expression.
But he added: "Smashing buildings in our city centre, vandalising vehicles, attacking our police will do nothing to lessen the likelihood of the bill going through. On the contrary, the lawlessness on show will be used as evidence and promote the need for the bill."
The proposed legislation would give police forces in England and Wales more power to crack down on non-violent protests, including those considered too noisy or a nuisance. Those convicted could face a fine or jail.
Last week, more than 700 leading legal scholars in a letter circulated by York University law lecturer Dr Joanna Gilmore warned the "draconian" bill amounted to "an alarming extension of state control over legal assembly", urging Boris Johnson to "abandon" this part of the legislation in a letter published by The Independent.
Amid a flurry of denunciations of the scenes by MPs, Nottingham East MP Nadia Whittome refused to condemn the protesters outright until more information was known.
During an interview with on BBC's Politics Live, the Labour MP said that while she did not wish to see "violence against anybody" she was, "not going to get into the business of condemning protesters until we know exactly what happened".
Join our new commenting forum
Join thought-provoking conversations, follow other Independent readers and see their replies