Bristol torn apart over statue of Edward Colston: But is this a figure of shame or a necessary monument to the history of slavery?
Bristol is not the only UK city struggling to agree on a way to face up to its role in slave trading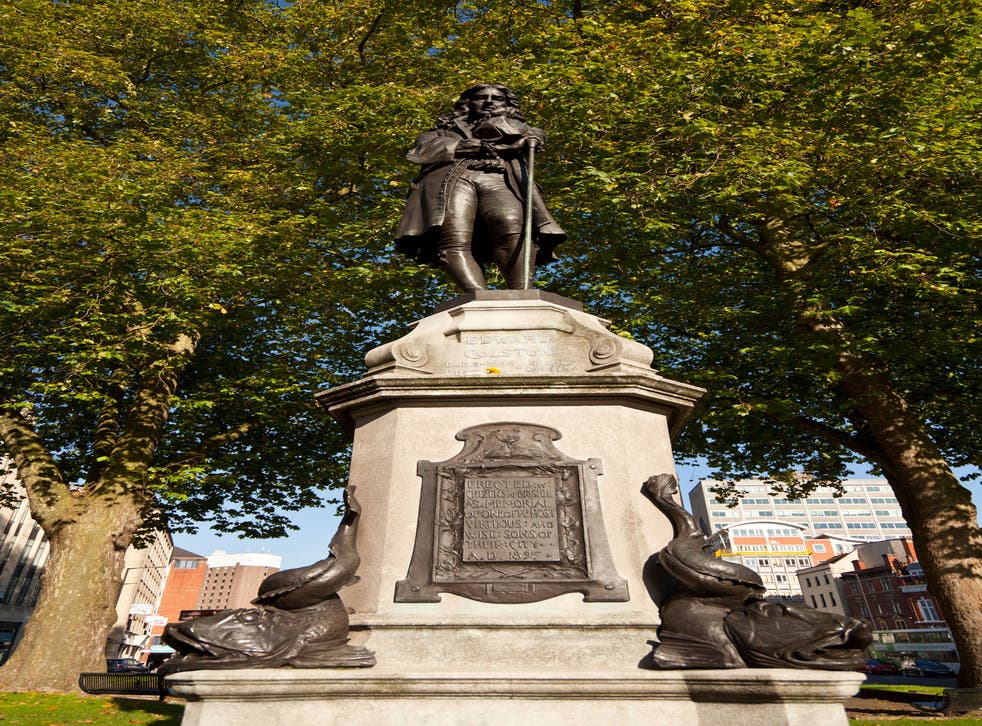 Edward Colston is fondly remembered in Bristol. A grand bronze statue on a pedestal of Portland stone was unveiled almost 120 years ago in the city centre, dedicated to the 17th-century merchant and MP. Depicting a middle-aged Colston leaning pensively on a stick, its inscription reads: "Erected by citizens of Bristol as a memorial of one of the most virtuous and wise sons of their city."
Not mentioned are the thousands of slave victims that Colston and his family trampled over to obtain much of their wealth. He served as deputy governor of the Royal African Company – which held a monopoly on the trade – while his brother Thomas supplied the glass beads that were used to buy slaves.
The debate over how Bristol should commemorate Colston, if at all, has reared its head again in recent days after the Bristol Post asked whether the statue should be pulled down. Just over half (56 per cent) of the 1,100 respondents said it should stay – 44 per cent wanted it to go.
It followed a passionate article arguing for its removal by the retired journalist Mike Gardner in which he calls Colston "one of the most evil men in British history". Bristol has more than a dozen streets, three schools, other buildings and an annual church ceremony named after Colston, but Mr Gardner said the 18ft statue was the worst reminder of all. "It's time to rename the streets, the concert hall, the office block – everything," he argued. "It's time to stop little girls wearing flowers to celebrate his birthday. And it's time to pull down that statue."
Bristol's Mayor, George Ferguson, has described the annual Colston celebrations as "perverse", but his city remains divided. Many residents rage against what they view as sweeping history under the carpet should the statue disappear.
One said that Colston "built a load of schools, hospitals and almshouses for the poor. I imagine the people of Bristol were grateful, regardless of how he came by the money." But another commented: "Whatever 'good' deeds he has done, he did it out of the proceeds of slavery. No one would condone a statue of Adolf Hitler as 'the great builder of superior motorways'."
Aidan McQuade, the director of Anti-Slavery International, said the many calls for an additional plaque acknowledging Colston's role in the slave trade to be added to his statue was "a start" and should be replicated nationwide. "The National Portrait Gallery started to do this in 2007 and it would be nice to see this line of action taken by the City of London on monuments such as Nelson's Column rather than the wholesale pulling down of statues."
Bristol is not alone in paying homage to those who profited from slavery. Plymouth's Sir John Hawkins, acknowledged as England's first slave trader, made three voyages to Sierra Leone, violently taking 1,200 inhabitants to what is now the Dominican Republic and Haiti between 1562 and 1569. Meanwhile William Beckford Snr, the only Lord Mayor of London to have a statue in the Guildhall, is known as "the uncrowned king of Jamaica" as his fortune came from more than 20,000 acres of plantations there.
Liverpool has a much more open relationship with its dark past, having built the International Slavery Museum. But dozens of its streets – including Penny Lane (James Penny) and Sir Thomas Buildings street (Sir Thomas Johnson) are named after local merchants who made their fortunes from the slave trade.
Britain's cities are at different stages of addressing their history in the slave trade, according to Dr Nick Draper, of UCL's Legacies of British Slave-Ownership Project. "Liverpool has now made it an official part of its civic identity. London is too large and has so much history that this issue falls off the edge," he said. "In Bristol the slavery issue is front and centre – and it's still at the confrontational stage.."
And to this day there is no public monument to the thousands of Africans slaughtered or enslaved by British traders such as Hawkins, Beckford or Colston. "The despicable pirate Hawkins is honoured, but those such as the British navy crews who fought the slave traders at sea have been forgotten," Mr McQuade said.
Join our new commenting forum
Join thought-provoking conversations, follow other Independent readers and see their replies