Bristol water slide: Hundreds of people speed through city centre on lilos
The Park and Slide project is the creation of artist Luke Jerram
Antonia Molloy Comments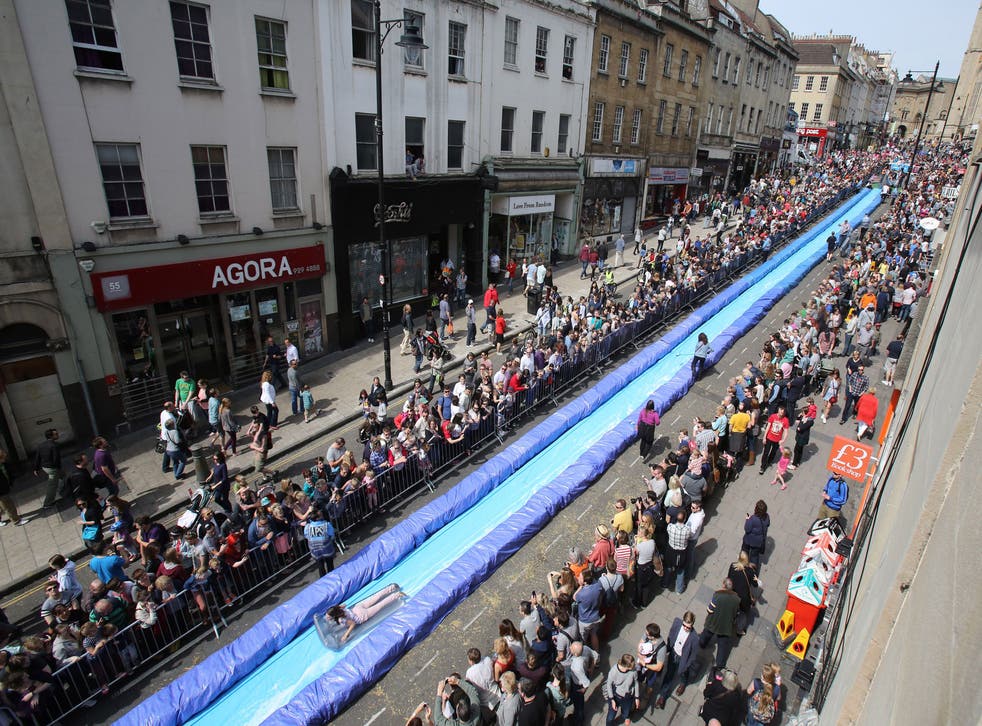 Daredevils in Bristol were enjoying a watery treat on Sunday as the city installed a 90m (300ft) water slide on Park Street.
The brainchild of artist Luke Jerram, the Park and Slide project was authorised by the council and is part of Making Sundays Special and the Bristol Art Weekender.
96,573 people entered a ballot in the hopes of securing a "ticket to slide" on the creation, which is fashioned from hay-bales, water and washing-up liquid.
Starting at 11am, some 360 thrill-seekers sped down the street on lilos to the cheers of onlookers.
Mr Jerram came up with the idea for the project, which he describes as a "playful response to the urban landscape" during last year's summer heatwave.
Park and Slide

Show all 10
But he did not expect such a positive response when he announced his idea in March.
He said: "The amount of interest and demand has been a wonderful surprise. It's obviously an idea that has captured the imagination of a lot of people – we'd have to keep the slide open every day for about eight months to let everyone who has applied have a go. The queue would extend for 30 miles!"
The artist turned down funding from large corporate sponsors, instead gathering local support for his work.
Bristol Mayor George Ferguson said: "Park and Slide is brilliantly Bristol. I'm delighted that Luke has chosen to align it with the start of this year's Make Sunday's Special, when city centre streets will be taken over by the people of Bristol, enabling locals and visitors to see our very special city in a new light."
Speaking ahead of the start of the event, Mr Jerram told the BBC: "I wanted to close a road - if you look at photographs in the 1900s you see these beautiful empty streets with all the kids playing out - it's an extraordinary thing and all that has been taken away.
"I'm happy to take over a street, and this slide is an architectural intervention really."
Register for free to continue reading
Registration is a free and easy way to support our truly independent journalism
By registering, you will also enjoy limited access to Premium articles, exclusive newsletters, commenting, and virtual events with our leading journalists
Already have an account? sign in
Join our new commenting forum
Join thought-provoking conversations, follow other Independent readers and see their replies