UK deports 100 immigrants on 'secretive' charter flight, including bisexual man facing persecution in Nigeria
At least one LGBT asylum seeker was sent back to a country where his life is in danger, another was only saved at the last minute when a barrister lodged an injunction against 'illegal' removal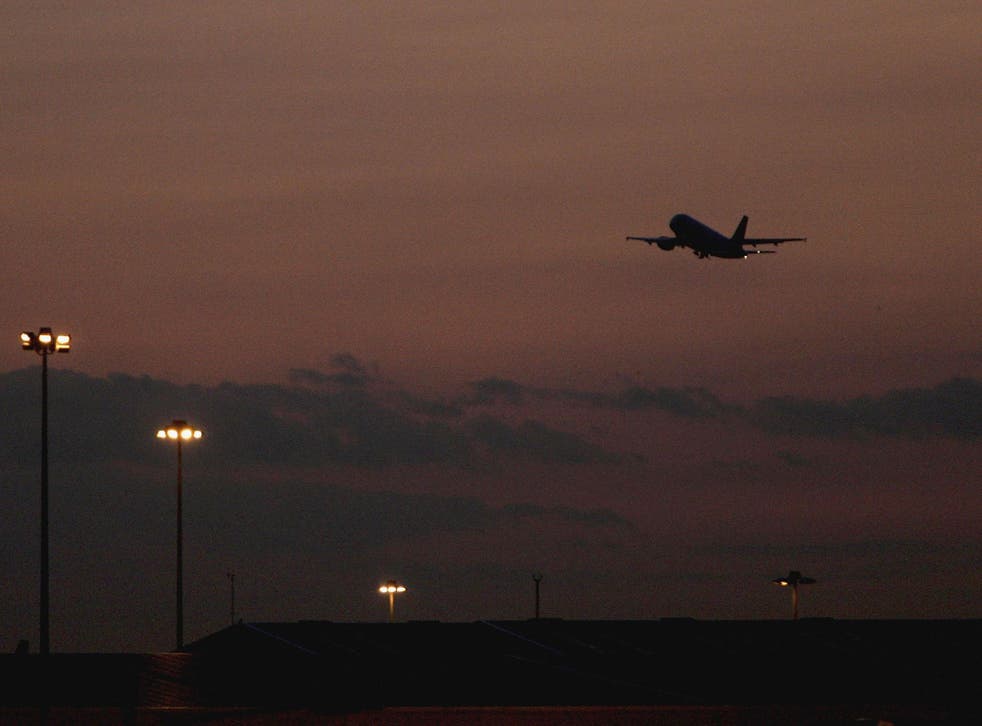 The British Government deported up to 100 people to Nigeria and Ghana last night, including at least one bisexual man who activists say will be persecuted in his home country.
A gay man was also removed from the flight at the last minute, after a barrister filed an injunction arguing deporting him would be illegal.
The charter flight, which deportees have compared to a "slave ship", left Stansted Airport for east Africa at around 10.30pm on Tuesday night, following weeks of protests against mass deportations including an 'ad-hack' campaign on the London Underground.
Other people onboard the flight had been in the UK for years, and many had family, including children, in the country.
Faith Taylor, an activist who was at the airport, told the Independent: "It is such a dystopian sight: people being loaded off these buses literally amongst cargo, no one around to witness it, as if their lives can just be cancelled and they can be posted somewhere that many of them have no connection to, and where some are at serious risk."
She described the site where charter flights leave from, about ten minutes drive from the main terminal, as "very obscure and hidden" with "lots of industrial sites and cargo delivery sites around" and no other passengers around.
One person detained in Colnbrook detention centre said he knew people who would be on the flight. "A lot of people have got mums, and aunties and children here in the UK. They have been here all their life. People might get killed because of their sexuality," he said. "They are going to chain them like animals".
Speaking to activists at blog Detained Voices, he added that he had been issued a ticket and still did not know whether he was going to be deported. "I'm bisexual. I'm fearful of my life. Because the LGBT rights in Nigeria are non-existent. I claimed asylum but they didn't believe me. But I have private life here. I went to sixth form college here."
He said he did not have a lawyer, and felt his personal life had been "ignored" by the Home Office, who had "made up reasons" to dismiss his story in order to remove him.
"I've got family here. My mum is here. I came here when I was a boy," he said. "I claimed asylum but they didn't believe me. But I have private life here. I went to sixth form college here."
Detained Voices said they were no longer able to contact the man on Wednesday and believed he had been deported.
"I spoke to a bisexual man yesterday who had a ticket for the charter flight," an activist from the blog told the Independent. "I haven't been able to get in touch with him today so I presume he was on the flight. He was very distressed, not only because he would have to face homophobic violence in Nigeria, but because he was leaving his home of the last 13 years and was being separated from his mother who is living in the UK."
Karen Doyle, from campaign group Movement for Justice, said it was difficult to know exactly who was onboard because of the secretive nature of charter flights, but added that LGBT asylum seekers are frequently deported to Nigeria, where same-sex relationships are outlawed and LGBT people are "imprisoned, tortured and persecuted".
Oyekunle, a gay Nigerian asylum seeker who asked to be identified by his first name only, was given a ticket for the flight, but was saved from deportation at the last minute when a barrister, alerted by activists on social media, volunteered to act on his behalf without up front payment.
The barrister filed a successful injunction on the grounds that deporting Oyekunle, who has been in the UK for four years and claimed asylum when he arrived, would have been illegal because he had never had an asylum interview. The Home Office sent a letter inviting him to meet with immigration officials to the wrong address and he subsequently missed the appointment, his claim then lapsed, according to the Home Office.
A Go Fund Me page has now exceeded the £1,500 needed to fund his legal representation.
Ms Doyle told the Independent: "Oyekunle is just one example of how brutal, arbitrary and unjust these charter flights are. Were it not for the social media outrage we would not have found a barrister prepared to act at the last minute on promise of payment. Oyekunle could never have done that by himself as someone with little English and no family support.
"There were many more on that flight in similar impossible situations who now face the almost impossible task of appealing from Nigeria, many just disappear."
Activists have condemned the practice of forcibly removing people from the country on charter flights, which take approximately 2000 people out of the UK each year and usually leave in "secret" late at night from Stansted Airport.
Many people do not know if they will be onboard the plane, where deportees are routinely handcuffed and outnumbered two-to-one by security staff, until the last minute.
Detainees in Yarl's Wood detention centre who tried to organise resistance against Tuesday's charter flight were allegedly separated from other inmates by guards.
HM Prison inspectors who accompanied two charter flights in 2011, one to Nigeria and one to Jamaica, condemned the "highly offensive and sometimes racist language" used by guards in their report.
Other concerns raised include the use of handcuffs on detainees "who appeared upset, or who were moving too slowly, despite there being no signs of any violent behaviour which might have justified the use of such restraints".
Immigrants, including asylum seekers, are also often deported from the UK on commercial flights, but their tickets are sometimes cancelled by the airline, particularly if the pilot, other passengers, or air stewards see or become aware of the detainee distressed and resisting removal and object to their presence on board.
In 2010, Jimmy Mubenga died during deportation to Angola, after being restrained by guards on a British Airways flight.
Campaigners say charter flights are designed to hide violent and brutal removals from the public.
Protestors rally at JFK Airport against Muslim immigration ban

Show all 20
Ms Doyle said a campaign in the run-up to the departure of Tuesday's flight had helped highlight charter deportations, but she hoped increased attention on immigration policy would now help end them entirely.
"The two weeks of action, the Stop Charter Flights campaign and the connections people have made with the Muslim Ban protests have all helped bring this silent, hidden injustice into the light," she said, "I hope that can continue and we can end the practice of mass deportation charter flights once and for all".
Other activists also pointed out the charter flight took off just 24-hours after widespread protests against Donald Trump's "racist and unethical" immigration policy, pointing out that Britain's immigration practices are also "violent and unjust".
"It's really important that those who reject Trump and his politics build a movement that opposes the hidden tools of the UK's racist border enforcement - indefinite detention and charter flights," an activist from Detained Voices told the Independent.
Join our new commenting forum
Join thought-provoking conversations, follow other Independent readers and see their replies