Britain gets ready to bask in the sun as emergency services prepare for busy weekend
Sun worshippers are set to enjoy highs of up to 30C in parts of southern England on Sunday
Rob Williams
Friday 05 July 2013 11:47 Comments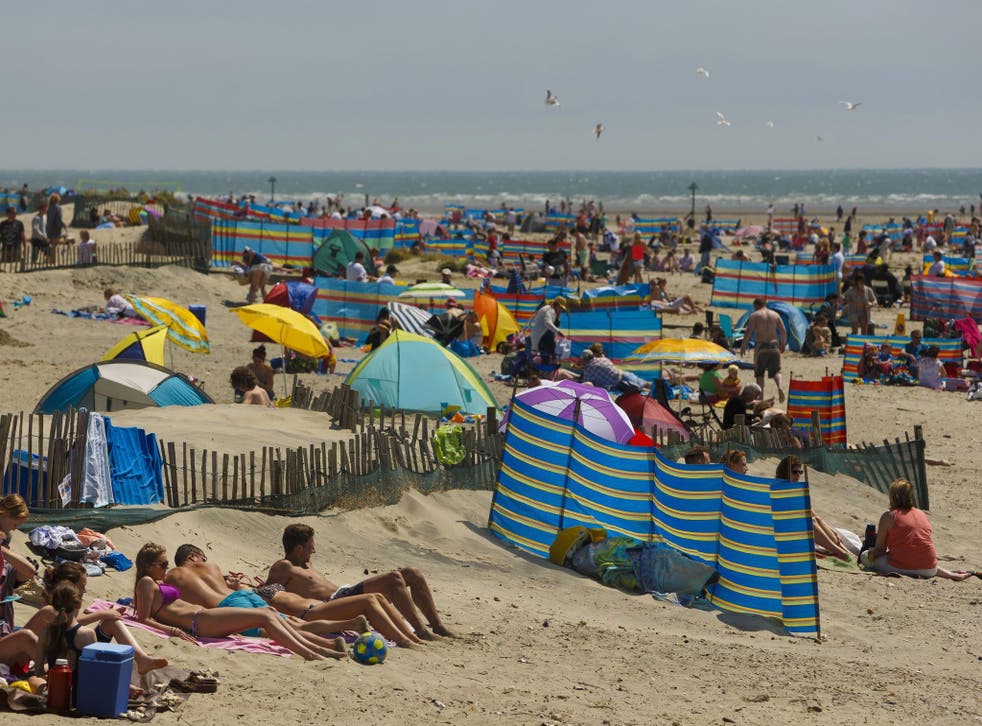 With Britain set to bask in the highest July temperatures for seven years emergency services have been reminding the public to stay safe during the hot weather.
Sun worshippers are set to enjoy highs of up to 30C in parts of southern England on Sunday, while most of the UK will see temperatures in the mid to late 20s.
Forecasters said the weather will be much hotter than usual for the time of year - the average maximum temperature for July in England is 20.9C.
Although the hot weather will be welcomed by many rescue services are anticipating a busy weekend and are urging those enjoying the sun to take care and avoid getting into trouble.
Pip Hare, RNLI Coastal Safety Manager, said: "With the school holidays about to start and the weather set to get better, it's likely people will want to make the most of it and head to the beach. The RNLI's advice is to choose a lifeguarded beach and swim between the red and yellow flags, which is the area most closely monitored by the lifeguards.
"For anyone who can't get to a lifeguarded beach, there are some straightforward steps they can take to help keep themselves out of danger. They can find out about their chosen beach before they visit, check the weather and tide times, and follow the advice shown on safety signs at the beach entrance. By following this basic advice, we hope people will have a great time but stay safe as well.
"It's also really important to protect yourself from the sun. We recommend people remember 'slip, slap, slop – slip on a T-shirt, Slap on a hat and slop on some suncream. Drinking plenty of fluid is also vital as the sun and wind can easily dehydrate you."
West Midlands Ambulance service also warned people to stay safe in the sun. Steve Wheaton, WMAS Assistant Chief Ambulance Officer, said: "Historically, when the weather is good, there is greater demand on both the ambulance service and the NHS as a whole, particularly to alcohol-related incidents and conditions that can be exacerbated by heat changes such as respiratory and cardiac complaints."
Cambridge fire service also warned people to be careful while enjoying the barbecue weather.
Firefighter Nick Brown, of Black Watch Cambridge, said: "Thanks to the sun finally peeping through, we are now well into barbecue season. Over the past couple of months the Service has already been to several fires that have involved barbecues - and could have easily been prevented.
"We want you to enjoy your barbecues for the right reasons, so please, follow our advice and make sure you don't burn more than your sausages and burgers."
They warned barbecuers to: "Turn off gas before switching off BBQ controls so any residual gas in pipeline is used up."
Forecasters have predicted that the good weather could last well into the middle of July and perhaps even reaching the highest temperatures since July 2006.
Register for free to continue reading
Registration is a free and easy way to support our truly independent journalism
By registering, you will also enjoy limited access to Premium articles, exclusive newsletters, commenting, and virtual events with our leading journalists
Already have an account? sign in
Join our new commenting forum
Join thought-provoking conversations, follow other Independent readers and see their replies