Britain prepared to pay more tax to support the NHS, poll finds
Andrew Grice
Tuesday 01 July 2014 06:32 Comments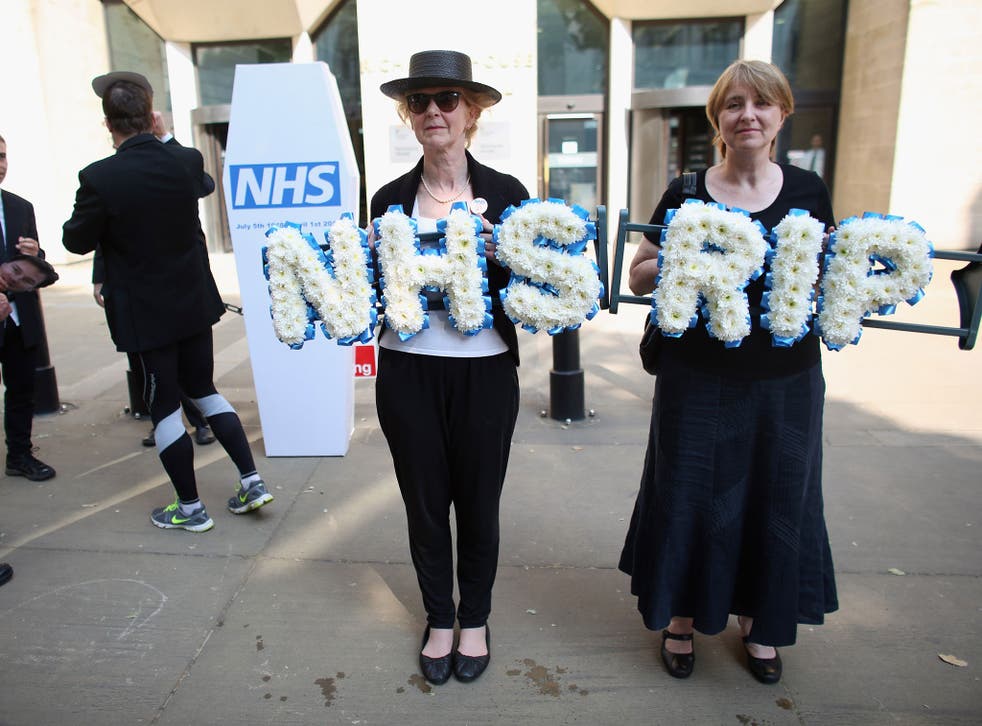 A majority of people are ready to pay more tax to safeguard the NHS and head off a looming financial crisis, according to a ComRes survey for The Independent.
Asked if they would be prepared to pay more tax to maintain the current level of care and services provided by the NHS, 57 per cent agreed and 41 per cent disagreed. The finding will encourage Labour, which is considering a plan to include an earmarked "health tax" in its general election manifesto next year.
But the poll also contains worrying news for Labour. Ed Miliband enjoys only a narrow lead over David Cameron on health, traditionally one of Labour's strongest issues. One in three people (33 per cent) trust Mr Miliband to protect the NHS, while 29 per cent trust Mr Cameron. Three out of 10 Labour supporters (31 per cent) do not trust Mr Miliband to safeguard the NHS, while 64 per cent do.
According to ComRes, Labour's lead has dropped from five to two points since last month. Labour is now on 32 per cent (down three points); the Conservatives are unchanged on 30 per cent; Ukip is up four points to 18 per cent, its highest in a ComRes telephone poll for The Independent; the Liberal Democrats are down one point to a record low of 7 per cent, and other parties on 13 per cent (no change). Although such figures would give Labour a majority of 22 at the election, the party's MPs will be worried that the Tories have closed the gap.
There is a growing acceptance among the three main political parties, health think tanks and NHS professionals that the service is facing huge budget pressures that cannot be met by further efficiency savings. Senior Conservative MPs have joined calls for a major cash injection. The Liberal Democrats may propose higher NHS spending in their manifesto and may press for a £2bn pre-election rise to stave off a crisis in the run-up to polling day.
Labour intends to make a "big offer" on health and wants to make it a key election battleground. It is considering three options to boost NHS spending: a ring-fenced rise in national insurance contributions (NICs) for employers and workers; delaying the deficit-reduction programme and a budget increase once the nation's books have been balanced.
As Chancellor, Gordon Brown raised NICs by one per cent in 2002 to help bring Britain's spending on health up to the European average. Some Labour figures are wary that such a pledge now could undermine Mr Miliband's "cost of living" agenda as higher NICs would put more pressure on family budgets. But last night Labour supporters of a major health cash promise took comfort from the ComRes findings.
Three in five Conservative voters (57 per cent) would pay more tax to protect the NHS, as would two-thirds of Labour supporters (67 per cent). Ukip supporters are split 50-50 on the issue. All age groups are prepared to pay more tax except 35-44 year-olds.
Two in three people (67 per cent) say that they do not mind if health services are provided by a private company or the NHS as long as they remain free of charge, while 30 per cent disagree. A majority of Labour supporters (59 per cent) share this view. Working class people are the most likely to agree with this statement. Some 74 per cent of those in the bottom DE social group do not mind whether services are provided by a private firm or the NHS, compared to 62 per cent among the AB top grade.
Patrick Diamond, a former Downing Street policy adviser to Tony Blair and Gordon Brown, said: "These poll findings demonstrate there is a real appetite among the British electorate for higher taxes to ensure the NHS remains on a sustainable financial footing. The key policy issue is how to make NHS spending more transparent so voters know how well the extra money is being used, combined with measures that widen choice and control over services to maintain the public consensus for a universal, taxpayer-funded NHS."
A survey for Lord Ashcroft, the former deputy Tory chairman, puts the Tories (33 per cent) two points ahead of Labour (31 per cent). The Tories are up five points and Labour down two since his last poll.
ComRes interviewed 1,005 GB adults by telephone between June 27-29. Data were weighted to be demographically representative of all GB adults. Data were also weighted by past vote recall. ComRes is a member of the British Polling Council and abides by its rules.
Register for free to continue reading
Registration is a free and easy way to support our truly independent journalism
By registering, you will also enjoy limited access to Premium articles, exclusive newsletters, commenting, and virtual events with our leading journalists
Already have an account? sign in
Join our new commenting forum
Join thought-provoking conversations, follow other Independent readers and see their replies