Britain's big freeze: Qatari tankers sail to the rescue of UK gas supply crisis as snow and ice sets in
The UK is working at 40 per cent above its usual gas capacity for the time of year - thousands of homes without power as snow continues to fall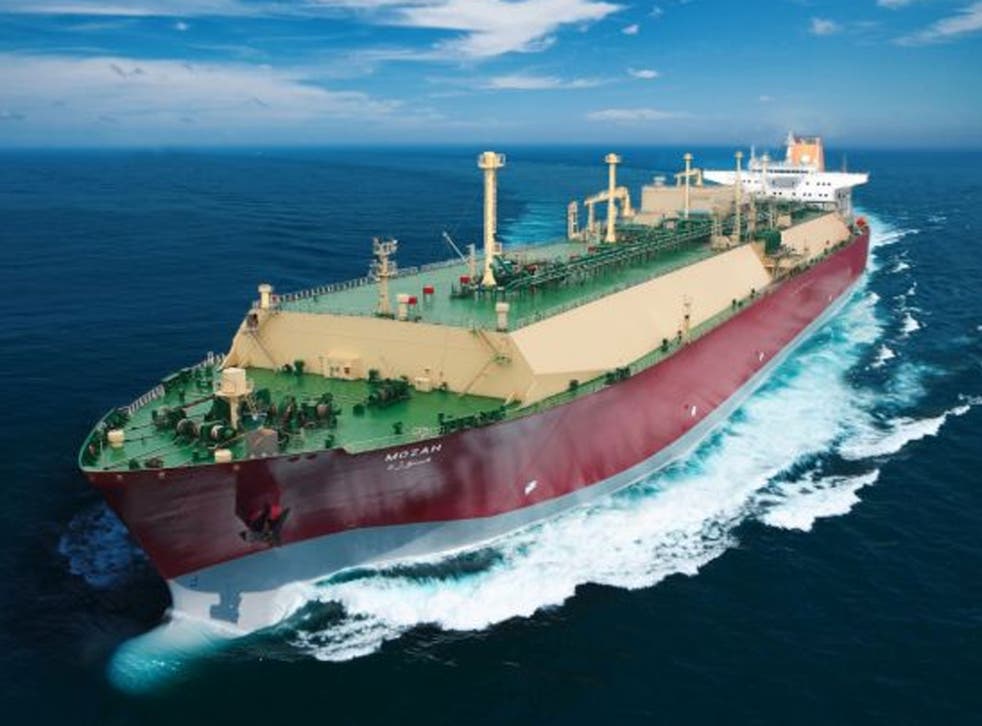 Britain's rapidly dwindling gas supplies will be boosted by the arrival of a giant tanker from the Arabian Gulf today, as the unseasonably severe March weather continues to place increasing demands on the National Grid.
The 350m Varga is expected to dock at Milford Haven in Wales to supply Britain with 266,000 cubic metres of liquefied natural gas (LNG). Another tanker, the Mekaines, docked at the Isle of Grain in Kent yesterday. Both vessels have come from Qatar. Together they carry enough gas to meet Britain's needs for just 12 hours.
The continuing wintry weather had depleted gas reserves to about 10 per cent of capacity – enough to supply the country for just 36 hours. Stored gas is used as a back-up, so low reserves do not mean an imminent blackout. The Government has insisted gas supplies will not run out despite the extended cold snap. The Energy minister, John Hayes, has admitted that storage levels are low and has also told the National Grid to increase the flow of gas from Norway and the North Sea.
The country is currently working at 40 per cent above its usual gas capacity for this time of year and the price of gas hit record levels of 150p per therm (100 cubic metres) on Friday after a key pipeline between the UK and Belgium temporarily broke down.
Increasing gas insecurity has made the UK an attractive market for Qatari gas. A recent delivery of LNG from the Gulf kingdom was reported to have been worth £40m. Buying in LNG is not considered a long-term solution to Britain's gas needs, but is increasingly used to plug holes in demand.
Even as the much-needed gas reserves arrived yesterday, thousands of homes throughout the country remained without power as supply lines were disrupted by further snow. Outages affected 12,500 properties in Northern Ireland, as many as 10,000 in Scotland, 500 in Wales and around 200 in west Cumbria in England.
In some of the worst-hit rural areas, police said villagers had been "cut-off" and were at risk of running out of food. Chief Inspector Derry Crorken of Lancashire Police said officers "simply couldn't get to" villages in the area where a man was found dead under a foot of snow on Saturday.
Police believe that 25-year-old Gary Windle, who was found near Briercliffe, Burnley, had tried to walk home in sub-zero temperatures after meeting friends on Friday night. Ch Insp Crorken said conditions in the area, including the villages of Brierfield, Briercliffe and Wycoller were "absolutely treacherous".
In Northern Ireland, another of the worst-hit areas, emergency oxygen supplies were airlifted to an elderly man trapped by heavy snow. He was one of thousands of victims of blizzard conditions which have lashed the region over the weekend and caused snowdrifts up to 18 feet high.
In Scotland, rural parts of the Highlands and Islands were left without power for a second night running.
Flights were suspended at Leeds Bradford Airport and passengers faced delays for a second day at East Midlands Airport. In Cumbria, dozens of people were forced to abandon their cars and spend the night in local hotels after snow drifts caused by 45mph winds made driving impossible on the A595 late on Saturday. The unseasonal weather has so far claimed at least three lives. The body of a 57-year-old man was found in the Scottish Highlands on Saturday.
On Friday a woman was killed after her house in Looe, Cornwall, collapsed in torrential rain. Police are also investigating whether wintry conditions contributed to the death of a man found in the Wick River in the northern Highlands.
There will be little respite from freezing temperatures anywhere today, according to the Met Office. Unsettled conditions are likely to return over the Easter weekend, with rain possibly preceded by heavy snow – cutting the odds on the prospect of a first white Easter since 2008.
Join our new commenting forum
Join thought-provoking conversations, follow other Independent readers and see their replies