Britain's floods: We can save the town or the country, but not both, says Environment Agency boss
Lord Smith said 'difficult choices' would have to be made over what to protect because 'there is no bottomless purse'
Antonia Molloy
Monday 03 February 2014 08:27 Comments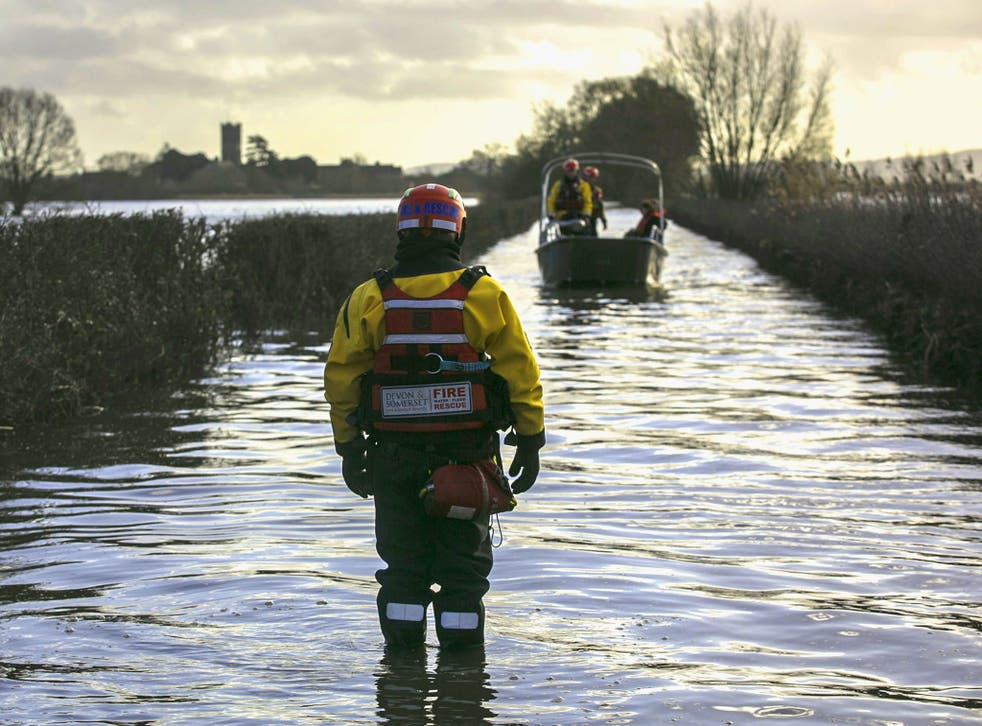 As severe flooding continues to wreak havoc across the country, Britain must decide whether to protect "town or country" because it is too costly to safeguard both, the chairman of the Environment Agency has said.
Lord Chris Smith said "difficult choices" lie ahead because "there's no bottomless purse" to pay for flood defences.
Writing in the Daily Telegraph, Lord Smith acknowledged the "extraordinary combination of weather conditions over the past eight weeks" and defended the EA after a week in which it has come in for heavy criticism over its handling of the crisis.
In the Somerset Levels, large swathes of land have been underwater for more than a month. But Lord Smith emphasised that the situation has been much worse in previous years.
Drawing comparisons with similar floods in 1953, he said that, while the conditions in Somerset have caused "terrible distress for the 40 homeowners who have been flooded", there has not been the "tragic loss of life" seen more than 60 years ago when 300 people died.
"Advances in flood warning and flood-risk management have made a difference," he said.
However, Lord Smith added: "There are no quick fixes in the face of this kind of extreme rainfall, and the solutions are not just for the Environment Agency to find. We all need to work together if we're to solve the problem."
His comments will stoke fears that the Government is considering which parts of the country it can sacrifice to the flood waters.
"Yes, agricultural land matters and we do whatever we can with what we have to make sure it is protected. Rules from successive governments give the highest priority to lives and homes; and I think most people would agree that this is the right approach," he said.
"But this involves tricky issues of policy and priority: town or country, front rooms or farmland?"
Underwater Britain: Scenes from a flood-ravaged countryside
In Pictures: 2014 Winter floods

Show all 60
Lord Smith has been criticised for his agency's decision not to dredge rivers in Somerset.
But he added: "Flood defences cost money; and how much should the taxpayer be prepared to spend on different places, communities and livelihoods - in Somerset, Lincolnshire, Yorkshire, or East Anglia? There's no bottomless purse, and we need to make difficult but sensible choices about where and what we try to protect."
Meanwhile, householders have been told to brace themselves as further wind and rain threatens to bring more chaos to waterlogged communities across Britain.
Around 180 homes were flooded during a busy weekend for the emergency services and EA workers up and down the country.
Following a meeting of the Government's Cobra emergencies committee yesterday, Environment Secretary Owen Paterson said that 73,000 homes in England had been protected from flooding since Friday, and that the EA continued to protect communities by deploying demountable flood defences, sandbags and clearing waterways.
He said: "I have enormous sympathy for those who have been affected again this weekend and the government is working with all local councils to help communities recover. All requests for assistance have been met."
EA staff have been working around the clock to alleviate the flooding hell that people in the county have endured for five weeks, pumping 1.5 million tonnes of water a day off the Levels.
Two specialist all-terrain vehicles have been sent to the county along with extra pumping equipment.
But with further rain expected following the wettest January on record in some places, saturated ground and high river levels could lead to further river flooding this week.
Weather forecasters are expecting winds of up to 70mph today, and up to 30mm (1.2in) of rain.
Officials say fresh flooding could affect the south coasts of Devon and Cornwall today as well as Somerset, Dorset, Hampshire and the Isle of Wight.
As of this morning the EA had three severe flood warnings in place, one covering large parts of Cornwall and Devon, and two for the River Severn in the Midlands. There are also 95 flood warnings and 233 less severe flood alerts.
On Saturday, a 67-year-old woman died after being swept out to sea near the mouth of the River Arun at Littlehampton Pier, West Sussex.
And in Newgale, west Wales, 10 people had to be plucked from a bus in the dark after a large wave swept it on to the seafront.
Additional reporting by Press Association
Register for free to continue reading
Registration is a free and easy way to support our truly independent journalism
By registering, you will also enjoy limited access to Premium articles, exclusive newsletters, commenting, and virtual events with our leading journalists
Already have an account? sign in
Join our new commenting forum
Join thought-provoking conversations, follow other Independent readers and see their replies