Britain's oldest tree, the Fortingall Yew, is 'undergoing a sex change'
The Fortingall Yew is thought to be older than Stonehenge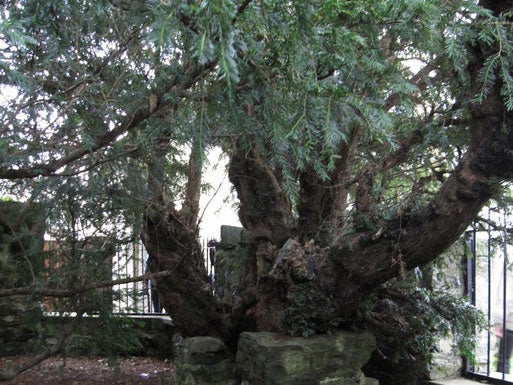 The oldest tree in Britain is undergoing a sex change after 5,000 years, according to botanists.
Perthshire's Fortingall Yew, estimated to be around 5,000 years old making it older than Stonehenge, is considered male as it produces pollen, as opposed to female yews which bear red seed-holding berries.
However, botanists were shocked when "three ripe red berries" were spotted on one of the ancient yew's branches this year, suggesting at least part of the tree had become female.
Max Coleman, of the Royal Botanic Garden Edinburgh who discovered the berries, said it was "quite a surprise to me to find a group of three ripe red berries on the Fortingall Yew when the rest of the tree was clearly male."
"Odd as it may seem, yews, and many other conifers that have separate sexes, have been observed to switch sex," Mr Coleman added.
"Normally this switch occurs on part of the crown rather than the entire tree changing sex.
"In the Fortingall Yew it seems that one small branch in the outer part of the crown has switched and now behaves as female."
The three seeds have been collected and will be included in a project to conserve the genetic diversity of yew trees across Europe, the Caucasus, Western Asia and North Africa where they grow.
The project will involve hedges at Edinburgh's Botanic Garden being replaced with a conservation yew hedge grown from cuttings and seed collections from wild populations and significant Yew Trees such as Fortingall's yew.
The hedge will be a "genetic resource of more than 2,000 individual trees, each of which will have a story and can be traced back to their origins in Britain or beyond," said Mr Coleman.
England's top 10 trees shortlisted for 'tree of the year'
Show all 10
The ancient Yew is planted in Fortingall Church yard and is thought to be one of the oldest trees in Europe.
The area immediately surrounding Fortingall is thought to have been an Iron Age centre with the tree at its focus.
Join our commenting forum
Join thought-provoking conversations, follow other Independent readers and see their replies